Need help looking for the best gift for a Virgo woman? We've handpicked a range of unique birthday and Christmas gift ideas a Virgo girl will love.
Born between August 23 and September 22, Virgo women are perfectionists and have a keen eye for the details. They have a methodical approach to everything they do in life, and plan everything. Virgo never leaves anything to chance.
As we mention in our guide to Virgo women, more than anything, they want to feel loved and valued. This is true in every part of their, personal, professional and love lives. She needs to know that what she is doing is both needed and appreciated.
See our list of the best Virgo woman gifts to show them they're valued and appreciated.
Planners and Organisers
Recommended Gift: BestSelf Co. SELF Journal
Virgo women are extremely goal-oriented and organised. They like to record every appointment, every step they take towards their goals, and every little victory. They are the type of person who has a daily to-do list, weekly mini-goals, and big but detailed ambitions for the future.
A Virgo woman will love receiving a handy organiser as a gift. Something stylish and inspiring, or something specifically for pursuing her goals. Consider the BestSelf Co. SELF Journal (pictured above), the Pursuit Goal Journal, or the Mastery Journal.
She will love some to-do list notepads as she probably uses them every day. She will also use some nice post-it notes to organise whatever she is working on.
If she has a passion for something, like reading or film, she might also like a diary to record what she has been enjoying. Consider something like this Moleskine Book Journal, or this Movie Log Book as a great gift for a Virgo woman.
As well as an organised head, a Virgo woman likes to have an organised space. She will enjoy some funky stationary for the office. Look at these Phyxin expanding file folders or this Smead cascading wall organiser. She will also like to keep her home organised, especially her clothes. Consider some compartment hanging organisers for the wardrobe or this Mvchif Hanging Jewellery Organizer.
Workout Gear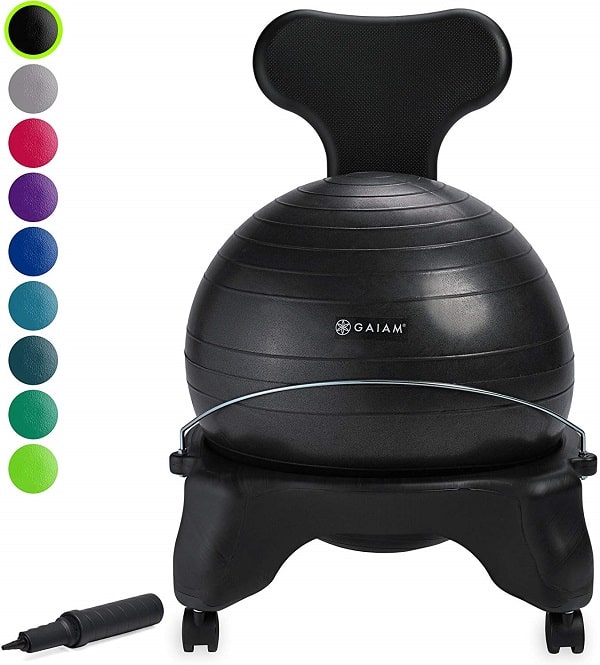 Recommended Gift: Stability Ball Chair
As part of their perfectionist streak, Virgo women take keeping in shape seriously. She probably has a pretty regular workout routine. She works out in order to look her best, but also likes to look her best while working out.
It doesn't really matter how many leggings a woman has, they can always use a fresh pair in a funky print and with a flattering high waist cut. Look out for some of the latest workout tops from Icyzone or Mippo.
If she is into yoga, consider one of the latest yoga mats in an exotic print, like this Trideer Premium Print Yoga Mat. She will also like something like this Galsports Non-Slip Hot Yoga Towel.
Help her up the intensity of her workout with some comfortable ankle or wrist weights or some new resistance bands. Help her with her workout recovery with a nice foam roller. Or let her work on her core while in the office with a Stability Ball Chair (pictured above).
If she doesn't already have one, she will love the latest FitBit (See here on Amazon). She will enjoy setting new fitness goals on a daily, weekly and monthly basis, and tracking the minutiae of her progress.
Health Aids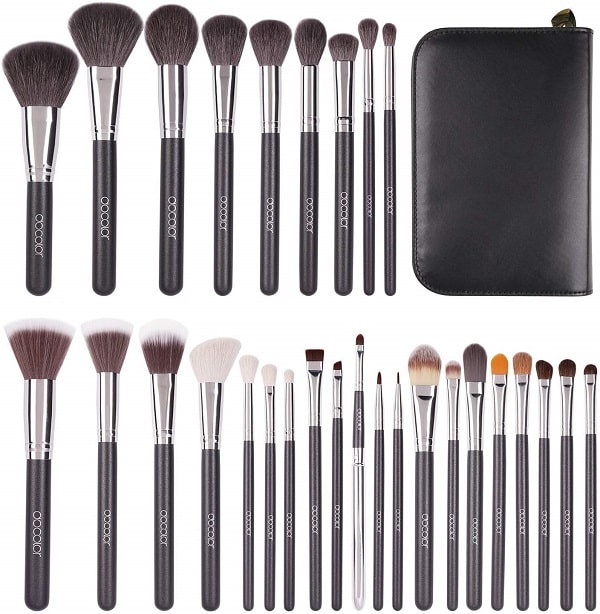 Recommended Gift: Premium Makeup Brush Set
Virgo women take their health seriously. They aren't interested in purely cosmetic beauty, and want to feel beautiful, healthy and strong from the inside out, so what they put into their body is very important to them. She will be interested in trying the latest health and beauty trends, as long as they are all-natural.
Get her on board with the latest coconut oil trend. Try Molivera Fractionated Coconut Oil for external use for glowing skin and glossy hair. Or get her some SKINNY Raw Beauty Coconut Oil.
She will appreciate trying something different from her tried and tested makeup routine with a professional makeup session or a makeup class. If she already knows what she is doing, consider getting her a premium makeup brush set (pictured above). She would never buy it for herself, but she will certainly appreciate it.
Latest Gadgets
Recommended Gift: Sony Noise Cancelling Heahphones
While not all women are into their gadgets, Virgo women certainly are. They don't go for over-the-top, expensive and frivolous things, but they will appreciate the latest tech that makes their life a little easier.
She probably always either has music or a good audiobook in her ears, so the latest headphones make a good present. If she is more of a books and exercise type of girl, go for something like the Mpos Flame Bluetooth Headphones.
If it is music that inspires her, then upgrade to these Sony Noise Cancelling Headphones (pictured above). If she appreciates her daily coffee, she might like a coffee warmer plate, like the Mr Coffee Mug Warmer or the COSORI Premium Mug Warmer.
She probably already has the latest smartphone and likes to take lots of pictures, though she is less keen on social sharing than a lot of others. Virgo will like something like this BullyEyes Phone Camera Lens Attachment so that she can get those wide-angle shots and perfect selfies.
She probably already has quite a lot of tech, that her neat-freak side likes to keep organised. A Virgo woman will get good use out of something like this Jelly Comb Electronic Accessories Cable Organiser Bag.
Intellectual Stimulations
Recommended Gift: a good book
As we mention in our Virgo compatibility guide, Virgo women are deep thinkers and appreciate time alone with their thoughts. When passing a night alone at home, she will rarely choose to just watch TV. Virgo prefers something that lets her mind wander and stimulates her creativity.
A good book is always a good gift choice for a Virgo woman. She enjoys a good work of fiction, but prefers something that lets her learn a bit more about the world. She will also find guilty pleasure in popular psychology and self-help books that play into her deep desire for self-improvement.
Virgo women tend to appreciate things that keeps her hand busy while they are passing time in their own heads. She could happily spend hours on the latest puzzle. Virgo might also appreciate an audiobook subscription, so she can keep up on her reading while doing the cleaning.
Jewellery
Recommended Gift: Kenda Scott Signature Elisa Pendant Necklace
Virgo women appreciate good jewelry, and appreciate pieces that are given from the heart and have special associations. They always prefer simple, subtle, fine designs. She won't be comfortable wearing something overpowering. Virgo probably prefers silver to gold, and chains that are of equal quality to the pendants that they hold. She will like something in oxidized sterling jewelry, like this Sun and Moon Pendant Necklace.
She will like some classic pearl earrings, or something a little different like these freshwater pearl hoops. She will also love something a little different but still clean and classic, such as something in abalone shell, like this vintage floral vine teardrop abalone shell pendant, or the Kenda Scott Signature Elisa Pendant Necklace (pictured above).
Her birthstone is blue sapphire and she also responds to carnelian, zircon, sardonyx, peridot and agate. She might like something likethis Natural Sardonyx and Agate Crystal Bracelet (See here on Amazon).
Also read:
---
For Virgo women, occasions such as birthdays and Christmas are about showing appreciation and respect for the people in their lives. They always put time into selecting gifts for people that show them how important they are to them and how much they appreciate them. They crave the same sentiment in the gifts that they receive.
When selecting something for a Virgo woman, take the time to show that you know them, that you appreciate what they are working on and working towards, and you respect their priorities and interests. Always include a card which tells her exactly how much you appreciate her.