Our readers support us. This post may contain affiliate links. We earn from qualifying purchases. Learn More
The Three of Pentacles Tarot card is optimistic and positive. This card reveals a great passion for working for your goals. When this card appears in a spread, it represents your creative ability and the determination you have when you want to reach a goal. Also, this Tarot card indicates that you have all the tools and support to move forward and that nothing can stop you.
A builder is working on the last details of a Cathedral. It's an image that points to something more than hard work. It also indicates believing in what you do, as well as honesty, faith, and virtue. The youth of the central character is backed by the wisdom of the monk and the devotion of the nun. It is a wonderful card that gives us a lesson about teamwork, communication, and harmony.
Three of Pentacles Tarot Card Meanings:
This is a card that generates a sense of satisfaction and joy. The last details of this sacred building are being polished, and everyone is gathered to make sure everything's perfect. The builder, with the expertise and skills conferred by his years of experience, is advised by a nun and a priest who take care of every detail and encourage him to finish his masterpiece.
When the Three of Pentacles Tarot card appears on a spread, it announces a season of great ingenuity and ability to improve any aspect of your life. The central message is: all your efforts will be rewarded as long as you maintain the discipline and a method that helps you achieve success. Keep going! Do not be discouraged and if you need help. Don't be intimidated. Ask for what you need! There will be plenty of people supporting you.
The Three of Pentacles Tarot Card in the Upright Position:
When we find the Three of Pentacles Tarot card upright in a spread, it is interpreted that the querant is a hard worker that can achieve any goal through their effort. Also, they'll have good luck and the needed support to carry out their projects and ventures. Nevertheless, it will require a lot of energy, work, and polishing of every detail to achieve success.
This card could also be referring to the methods you are using to achieve your goals, whether they are spiritual, emotional, or material. This process has been successful due to the patience and love you have put into your masterpiece. Positive changes are about to happen, but you must be patient and never give up. You can overcome any obstacle that gets in your way.
Finally, the number three is associated with perfection and achieving your goals. As in the other suits, the Three of Pentacles Tarot card marks the culmination of a project that has been completed with great willpower, sacrifice, and determination. Now you can enjoy the rewards of your work. You can also let the success that you have achieved inspire you to continue working on your dreams.
The meaning of the Upright Three of Pentacles Tarot card when it comes to:
Love
In a love Tarot reading, the appearance of the Three of Pentacles Tarot card upright means that there is a willingness to collaborate and support each other. The two parties enjoy great chemistry and share goals that will allow them many years together, living in harmony. People who are single are told that they should open their eyes at work. The love that they have dreamed of for so long is right there under their noses.
Health
In a health Tarot reading, this card indicates that taking care of your physical and emotional health requires effort and dedication. Your body is a temple, and that's a reality that becomes visible when illnesses and symptoms start to appear. Vitamins, exercise, and a balanced diet are the best way to honor your health.
Work
Try to unify the voices and goals of your team to get better results. Collaborative work will be the most effective in addressing recent problems. Do not hesitate to ask for advice. It may be one of your subordinates who gives the precise answer to what your company currently needs.
Money
Earnings and wealth are coming your way. You will be recognized for the quality of your work, and that will bring you great investment and business opportunities. It is an excellent time to invest and acquire new work tools or properties. The message of this card is very positive for your economic growth.
The Three of Pentacles Tarot Card in the Reversed Position: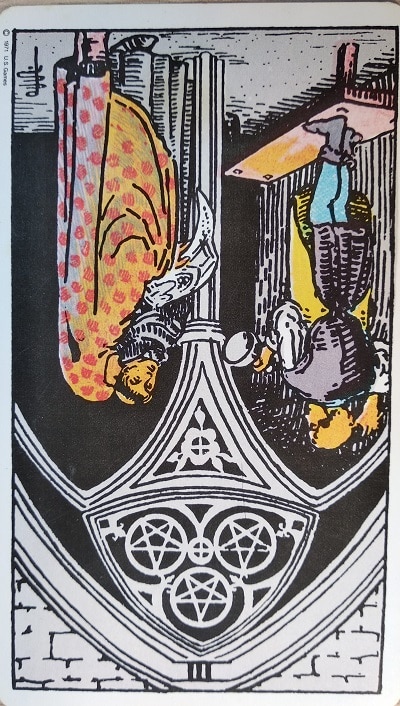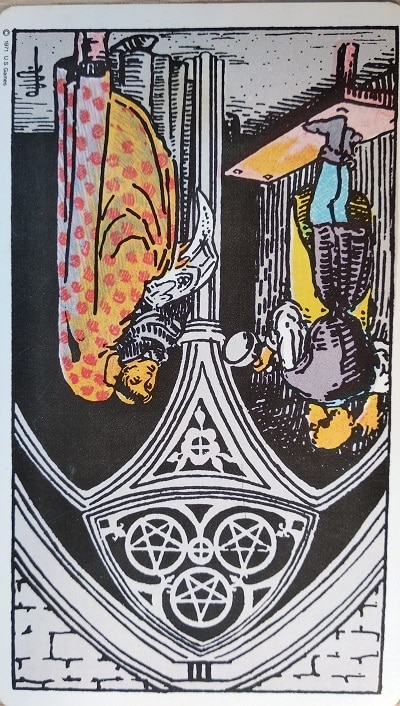 Reversed, the Three of Pentacles Tarot card indicates that there is a situation of tension, distrust, or betrayal in your immediate environment. The voices of support that we find in the Three of Pentacles Tarot card upright have become the detractors of your work when the card appears reversed. Your social circle is contaminated with false friendships that you should be wary of.
On a personal level, the builder confident of his mastery becomes an insecure person who needs to work on his self-esteem. This card indicates that the querant has trouble accepting his own values and achievements. Because of this, he ends up creating tension around him, expressing feelings of being attacked with any observation or offer of help from his collaborators.
You have to work on believing in yourself and laying a solid foundation of confidence in your abilities. Only with those tools will you be able to get closer to reaching your goals. In that sense, check if the group of people around you is positive for your emotional balance or if they are making you doubt yourself instead.
Finally, the Three of Pentacles Tarot card reversed is a card closely associated with the material aspects of life. In this case, it indicates that you are in a situation in which you might feel undervalued, unappreciated, and stagnant. That lack of challenges has diminished your enthusiasm and has dented your desire to innovate.
The meaning of the Reversed Three of Pentacles Tarot card when it comes to:
Love
Be careful. A third person may be working to end your relationship. In a love reading for singles, this card means you aren't making the required efforts to get the love you crave.
Health
You might be feeling social anxiety and difficulty in relating to your environment. It is essential to seek support and advice from specialized therapists. The roots of your problems lie on the foundations of your personality. You are not alone, and seeking help does not make you less intelligent. On the contrary, it makes you braver and more confident.
Work
In a work reading, this card in the reversed position means that huge egos are interfering with your progress. Therefore, there is no collaboration or support from others to reach your goals. This is a message telling you that you aren't taking risks and you can't count on others.
Money
When the Tarot cards appear reversed, they typically change their message completely. In this case, it means that it is time to refuse to listen to any advice. Keep a cautious attitude towards investments, and don't trust in promises as they can end up being scams.
The Three of Pentacles in A Yes Or No Question:
As we mentioned earlier, the Three of Pentacles Tarot card is a very positive omen. It's related to reaching your goals, working for your dreams, and demonstrating what you are made of. The excellence of your results has been decisive to achieve success, and now you can be considered a teacher in the area in which you work or, if it is a relationship, as the most romantic lover in the world.
Therefore, when the Three of Pentacles Tarot card appears in response to a Yes or No Question, the answer is: Yes!
Three of Pentacles Tarot Card Keywords:
Upright: Industriousness, teamwork, partnership, skills, handicraft, perfectionism, satisfaction, making dreams come true, new incomes, job offers, growth, marriage, ceremonies, success, mastery, support.
Reversed: Errors, mediocrity, clumsiness, problems, misunderstandings, failures, lack of collaboration, structural problems, obstacles, problems at the office.
Three of Pentacles Imagery and Symbolism:
At the door of a temple, a builder is dutifully giving the final touches to his creation. Standing upon a workbench, he listens to a nun that's pointing out some details included in the blueprint. He has built a beautiful triangular frame, topped by three pentacles and a fleur-de-lis. A young monk attends the scene with a look of admiration on his face.
The builder represents the ability to create our reality, and the nun represents the wisdom necessary to plan each step toward the final goal. The monk represents the spark that encourages us to continue growing when we still have a long way to go.
The final construction, a portal, is a path that connects the spiritual world and the earthly aspects of life.
Important Card Combinations:
The Three of Pentacles Tarot card usually means excellent news. However, a Tarot reader must consider many factors to arrive at a more accurate Tarot reading result. Join us to discover some of the most important card combinations with the Three of Pentacles Tarot card.
Three of Pentacles combined with Justice:
You will receive all the recognition you deserve due to the great efforts you have made.
Read more about Justice.
Three of Pentacles combined with The Emperor:
Promotion and recognition will come due to your talents and excellent work quality.
Read more about The Emperor.
Three of Pentacles combined with The Moon:
This is a time of great creative ability. You will have the most active imagination, and you can connect creatively with your emotions.
Read more about The Moon.
Three of Pentacles combined with the Three of Cups:
This is an excellent time to work as a team, establish partnerships, and start projects with investors and allied advisors.
Read more about the Three of Cups.
Rider-Waite images used with permission of U.S. Games Systems, Inc., Stamford, CT c. 1971 by U.S. Games Systems.