Our readers support us. This post may contain affiliate links. We earn from qualifying purchases. Learn More
Good decision-making is required when the Justice card comes out in a reading. The message is that the facts are coming out, and someone will render a decision to restore balance to an unfair situation. With Justice, one intends to make equitable and fair choices for everyone involved.
Whether some injustice has been done to you or you have been involved in theft, fraud, or violence, this card says you'll get what you deserve. It's essential to remember this in times of weakness or temptation.
The truth will shine through when you see the Justice card. The facts will be the most critical component in deciding the outcome of any contest or dispute.
The Justice Tarot Card Keywords and Facts
Before you understand the specific meaning, take a look at the keywords and phrases associated with our 12th Major Arcana Card.
| | |
| --- | --- |
| Upright Keywords | Fairness, truth, law, discernment, balance |
| Reversed Keywords | Imbalance, avoiding the truth, indecision |
| Yes or No | Yes |
| Numerology Number | 11 |
| Zodiac Sign | Libra |
| Element | Air |
| Ruling Planet | Venus |
The Justice Tarot Card Symbolism and Appearance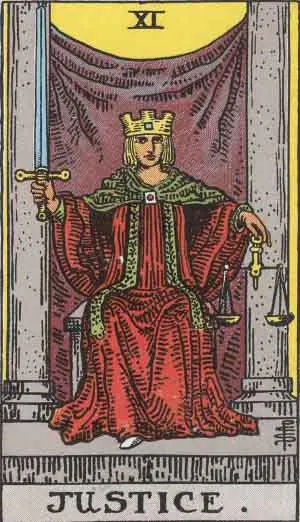 Justice is seated on a stone between two pillars. The Hierophant and High Priestess cards also show a figure sitting between two pillars; in each card, that figure represents the third pillar. You can see them together as the spirit of divine law (High Priestess) and the letter of religious law (Hierophant), with Justice symbolizing the wisdom to balance the two.
Facing the reader, Justice wears a crown with a square gem set in the center, indicating her commitment to uncovering the truth and giving out Justice. The squares on her crown and clasp represent stability, while the circle within the square points to the awareness that we are all one.
No one is immune to the effects of Justice. She understands her decisions will have a lasting impact on the community.
She carries a sword upright in one hand while a set of scales hangs from the other. The sword stands for intellect and a sharp ability to discern the truth.
The sword's blade has two edges, indicating a lack of bias in her judgments. However, once Justice makes the call (or cut), there is no way to undo it. Justice's decisions are final.
The scales represent the goal of Justice: to make choices that resolve conflicts into settled matters. The conclusion means to bring a sense of fairness and satisfaction to all.
A white shoe peeks out from beneath her red robes, and this is said to symbolize her innocence. The Justice she dispenses doesn't reflect her personal bias. Her decision is the natural outcome of one's actions.
The Justice Tarot Card Upright Meaning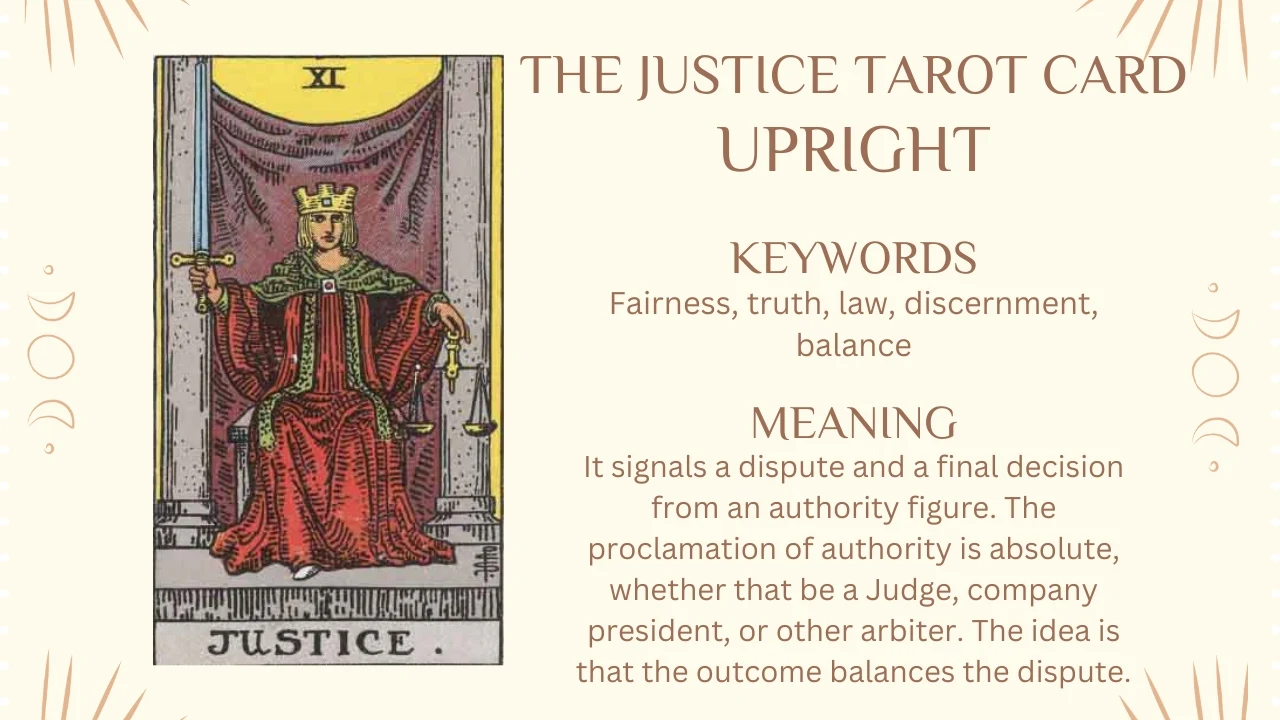 When the Justice card shows up in a general tarot spread, it signals a dispute and a final decision from an authority figure. The proclamation of authority is absolute, whether that be a Judge, company president, or some other arbiter. The idea is that the outcome balances the dispute.
Speak the truth in this situation, for deception will be punished. Emotional appeals will not rise to the level of facts, so lead with facts and articulate what you know to be true. Your words will be assessed with equity and honesty in mind.
You may find yourself called upon to judge a contest or dispute. The way to be impartial is to put aside your feelings and examine the facts. Determine the truth before handing down your decision.
This card can also call your attention to personal choices. If something you're doing feels less authentic, the Justice card reminds you to be true to yourself.
Love (Upright)
In a love reading, the Justice card points to compromise in partnership. The connection will suffer if you can't meet in the middle. The guidance is to come to terms that are agreeable to both people.
It also says that your efforts to find romance will succeed when you exercise good judgment and are fair to others. A person who doesn't go to extremes and seeks not to harm makes an attractive potential partner.
A good paramour will consider your needs and desires when deciding what to do next. If the person you want to be with isn't considerate of you, they may not be the right choice for a romance.
Health and Spirituality (Upright)
In reading about health, the Justice card says it's time to be honest with yourself about your well-being. If you are suffering, it's time to see a medical professional. Be truthful with yourself and your practitioner to find the correct remedy.
If you are weighing options for healthier lifestyle choices, try to get all the facts. Choose moderate new approaches to your mental and physical well-being that are easy to maintain.
Regarding spirituality, the Justice card refers to the balance one has to strike between spiritual or religious life and the practicalities of living. Again, the idea is to avoid extremes.
It won't be sustainable if your faith practice isolates you from friends and family or asks that you deprive yourself in extreme ways. Seek a balance where you can continue participating in daily life while living out your principles.
Money and Career (Upright)
When the Justice card shows up in a spread about your career, it says dedication to your work will be rewarded. The message is to stay the course. You are on a path to success.
If you are in authority, be fair. Use company resources as they are intended. Personal accountability opens doors to professional progress.
Show up on time and deliver the work you promised to complete. Your boss will consider your diligence when it comes time to promote someone or hand out raises.
Financially speaking, the Justice card points to balancing your books and choosing moderation. Especially for significant purchases, ensure you know all the contract details. Make your deals in good faith and according to what is lawful.
Ensure you can maintain your current commitments before taking on anything new. Good judgment is required to ensure you spend less than you bring in.
The Justice Tarot Card Reversed Meaning
When the Justice card shows up in reverse, it indicates an imbalance in your circumstances. The idea is that when you put off an inevitable decision or avoid seeing the truth, these choices disrupt your life.
If you have slipped from the narrow path and begun to engage in shady or dishonest practices, the Justice card reminds you that the law is applied accordingly. You may be able to hide the truth for a time, but it always comes out.
Love (Reversed)
When the Justice card reversed comes out in a love reading, it says you have unrealistic expectations of your love interest. The message is that it isn't fair to hold your romantic partner to a standard they didn't agree to and can't reach. Seek balance through compromise.
Likewise, holding yourself to impossibly high standards is unsustainable. Don't pretend to be something you're not. Be honest with yourself and your partner about your limitations.
You'll get the love you deserve when you can be truthful about yourself and fair with your beloved.
Health and Spirituality (Reversed)
In health spread, the Justice card shows up in reverse to remind you that "you reap what you sow." The idea is to be frank about habits that lead to imbalance. If you notice what you're doing that impairs your wellness; you will have the information you need to improve.
A better experience is available when you add good things to your regimen, be it in media, art, food, and philosophies you regularly consume.
Spiritually speaking, the Justice card says one needs to rely on facts to make good choices. Going on ideals that are unsupported by evidence is a recipe for trouble. Try to balance your faith with an honest assessment of reality.
Money and Career (Reversed)
If you see the Justice card reversed in a career reading, it signals a dishonest or unfair work environment. The message is that one is not being accountable for best practices in the workplace, which may result in legal repercussions. Remember to handle your business with integrity.
In the workplace or career field, integrity means doing what you came there to do. Stay within the scope of your role, and stay focused on work-related things.
Regarding Money, the Justice card in reverse signals you may be engaged in shady financial dealings. The point is that if someone is being dishonest with you, it will result in you getting the short end of the stick. Don't allow a "too good to be true" deal to land you in legal trouble.
The Justice Tarot Card Yes or No Meaning
In a "yes or no" tarot reading, the Justice card indicates a "yes" when you are truthful and accountable in your approach. Yes, to fairness and honest intentions and creating balance with your choices.
Important Card Combinations for the Justice Tarot Card
Justice and the Ace of Swords
When the Justice card comes up in a general spread with the Ace of Swords, it points to the law. The idea is that you need to learn what the rules are that apply to your situation. Know the law, and you are empowered to avoid unnecessary obstacles.
This pairing can also indicate that you are called to study at a law school. If Justice and fair outcomes matter much to you, it makes sense to be educated and involved in the legal system.
Justice and the Five of Swords
The Five of Swords symbolizes an attitude of winning at all costs. Sometimes the easiest way to get what you want is not the best. Coupled with the Justice card, this reminds you to follow the rules and norms in your quest for satisfaction.
When these two come up together, some injustice is known. The lawbreaker will be held to account for their crimes.
Someone may ask you to referee when someone has broken the rules. Do your best to collect and consider all of the facts. Try to make the consequence fit the crime.
Justice and the Fool
In a love reading, the Fool and the Justice card says you can relinquish any guilt you're carrying. There is a fresh start on offer, and the time has come to put the past behind you. In the context of a committed partnership, this comes across as a second chance.
If you're looking for love or newly involved with someone, Justice and the Fool invite you to leave the pain and upset of the past out of any new encounters. Give yourself a fair chance at connection and release the impulse to compare the current relationship to previous romances.
Justice and the Two of Cups
This pairing is about finding balance in a relationship. The message is to allow yourself to rely on someone who holds you in high regard and is interested in the fair exchange of love and respect. You will create good things with this partner.
Do your best, to be honest and fair in love.
If you find yourself in an inequitable relationship, the Justice card and the Two of Cups invite you to tell the truth. A good partner won't ask you to stay in a relationship where one person's needs have been overlooked.
If there is no way to return to equilibrium with this partner, another partner may be on the horizon that will treat you with more consideration.
Justice and the Ace of Cups
The Ace of Cups represents the abundance of divine love and spiritual connection. Coupled with the Justice card, it points to the importance of spiritual laws or best practices. It includes truths such as the unity of all life under divine protection and the mandate to do no unnecessary harm.
Seek out the spiritual laws taught by your faith or practice, and dedicate yourself to them for a better connection to divine light and love.
Justice and the Knight of Cups
The Knight of Cups is a character who knows his own heart. When this card turns up with the Justice card, it indicates the creation of art for matters of social justice. The consciousness of the law and social inequities motivate one's designs.
This card also points to a sense of poetic justice that can come about when an unfair person gets "a taste of their own medicine." It's satisfying to see one meet consequences that fit their crimes.
Justice and the Empress
The Justice card offers a lucrative opportunity in a career or money reading. The message is that you will get a chance that promises wealth and stability. It will be the kind of money that allows you to create on a bigger scale.
The Empress provides and protects; A reminder to protect your gifts and resources, even as you use them to create a life you love.
Justice and the Queen of Pentacles
If the Justice card turns over with the Queen of Pentacles in a career reading, this indicates you are working from home or will have the opportunity to do so. Your best work is done from the comfort of your creative space.
Whether or not you are working at home, it's essential to strike a fair balance between the time/energy you give your career and the time/energy you give your home life and personal development.
The Justice Tarot Card in Numerology
Although it is the 12th card of the Major Arcana, the Justice card's number is 11. Think of this number as being the gate to your next new beginning. Justice guards the entrance, telling the truth about whether you are ready for the next phase.
Your progress is assured if you have dealt honestly with others and with fair intentions. Trust your instincts, and lean on your spiritual guidance.
Next Card: Tarot Card Number 12: The Hanged Man Meanings
Rider-Waite images used with permission of U.S. Games Systems, Inc., Stamford, CT c. 1971 by U.S. Games Systems.