Our readers support us. This post may contain affiliate links. We earn from qualifying purchases. Learn More
The Three of Cups Tarot card is an omen of celebration. On this card from the Suit of Cups, we find three women toasting, dancing, and celebrating together in their happiness.
The Three of Cups Tarot card calls to mind the type of happiness in which satisfaction and stability come together. It is a lasting sensation that you will be able to enjoy in the company of your loved ones and peers.
When it comes to love, this card announces commitments, desired pregnancies, and, of course, weddings!
When it comes to work, this card announces the completion of a significant project, the signing of an important contract, or a career breakthrough. Promotions, salary increases, and recognition are some of the lucky situations you can expect.
When this card appears upright, it symbolizes that you are approaching a peak in your life in one or several aspects at once. Everything that you have desired is now becoming manifest, so it is your opportunity to fully enjoy yourself. The love you have looked for desperately will finally arrive, and it is time to harvest the fruit of your passion and effort.
On the other hand, when the Three of Cups Tarot card is reversed, it is less promising. Even though you will achieve what you have worked so hard for, this achievement won't be as satisfactory as you expected it to be. You may also find troubles which block your path.
Three of Cups Tarot Card Keywords:
Upright: Happiness, a party or celebration, achievements, friendships, family bliss, marriages, creativity, artistic inclinations, sex appeal, abundance, a meeting, a resolution, victory, fulfillment, overcoming difficulties, good news, invitations, travel, pregnancy, recovery.
Reversed: Disappointment, a breakup, bad nutrition, heavy drinking, a loss of perspective, the end of a friendship, infidelity.
Description of the Three of Cups Tarot Card:
In a scene that depicts the harvest season, we find three women wearing laurel wreaths on their heads. Their hands are intertwined holding golden chalices for a toast. These three maidens are dancing in a circle surrounded by fertile land, which is full of fruits. Each of them is wearing a tunic and a cape of a different color: red, white, and yellow.
How to interpret the symbolic world of the Three of Cups:
In this card, full of symbols of prosperity, we find three women crowned with laurels. Laurels have been the leaf of victory since the Roman Empire. This battle was not fought in solitude, however. The support of loved ones, such as our friends and family, has played a vital role in this achievement.
That is why this scene presents us with three young maidens dancing in a circle proudly toasting with their golden cups. Their arms are intertwined, showing they will be there for each other no matter what. Teamwork is indeed essential, but it is also important to recognize individual efforts. The card calls us to celebrate our achievements and to reap our deserved rewards. At the feet of the women, there are several flowers to remind us of life's beauty, the sweet scent of success, and all the future opportunities to come. Flowers also symbolize joy, compassion, and personal growth.
The fertile soil also represents creativity. Examples of this creativity include the artist's will and passion flourishing, businesses becoming prosperous, families rejoicing with newlyweds, and news of a possible pregnancy. Other significations of success include a friendship, fruitful interpersonal and loving relationships that are full of joy, trust, and compatibility. Finally, the Three of Cups Tarot card clearly indicates a party, and it can be interpreted as such without a doubt.
Three of Cups Tarot card: celebrate good times…come on!
There's a powerful African proverb that says, "alone you will go faster, but together you will go further." This is because teamwork, being supportive towards your family, and being in a romantic relationship that is reciprocated will not only spice up your life but will also make it worth living.
Of course, there is a spiritual dimension as well as a material one. Three is the number that represents harmony. It adds the principle of unity (1) to the principle of opposition and balance (2). As it states in the Book of Ecclesiastes in the Bible, "A threefold cord is not quickly broken."
In a team, maintaining balance and equality is part of the formula for success. That's why the Three of Cups Tarot card presents us with advice on how to improve our leadership skills. To be a leader, you must have the willingness to approach others without the urge to impose your will but to share a vision that will help you work together. Learning to be a follower is difficult, but learning how to lead effectively is even harder.
Do you accept help from others?
How do you celebrate your victories?
How do you deal with your mistakes?
Do you recognize your effort and that of others?
How do you rest and recharge your batteries on weekends?
All of these are challenges you will find on your way to developing a healthier approach to leadership and to relationships in general.
The upright position of the Three of Cups Tarot card: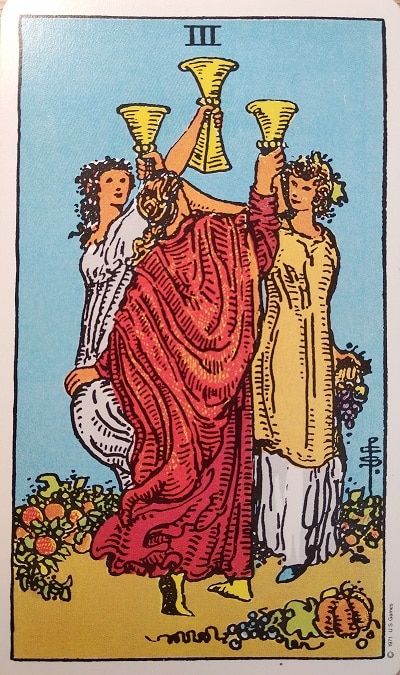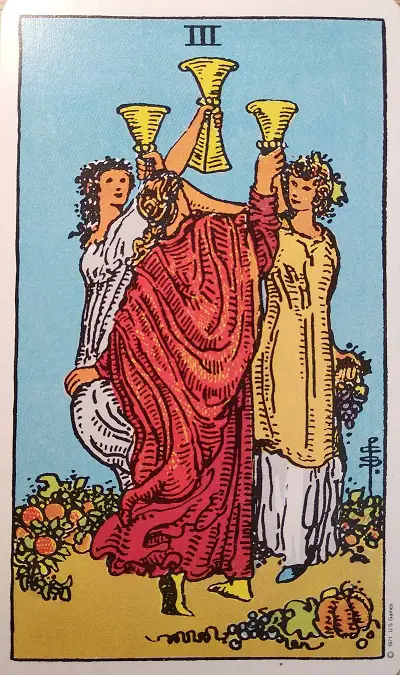 When the Three of Cups Tarot card appears upright in a spread, the message is concise: celebration. It signifies happiness that will come via good news, company, love, a new project, recognition, or a gift that you have been waiting for.
The good news isn't necessarily something that will change your life, but it will open a window that will help you see the happiest aspects of it. It could be a proposal or a new love. Romantic relationships are going well, and friendships are becoming stronger.
The meaning of the upright Three of Cups Tarot card when it comes to:
Love
From births to healthy pregnancies, the Three of Cups Tarot card announces fertility, happiness, weddings, or commitments. It is a time of great family harmony.
This card also announces good news, great communication, and an interconnectedness beyond words. Other indications include excellent sexual chemistry, an exciting romantic relationship, fun new experiences that will make you feel younger, quality time with family members, and the strengthening of friendships.
Health
With respect to health, the Three of Cups indicates fast recovery, fertility, good health, positive results in surgical interventions, and Eureka moments in psychological therapy. Overall, you will enjoy great emotional and physical health.
Work
Group efforts will have great results. Seek support from your co-workers. It is time to lead a team. Promotions, raises, the opening of new positions, awards, and recognition are all on the horizon.
Money
The Three of Cups signifies great success in investments, especially if they are in the creative, artistic, and agricultural sector. This is a time of good fortune and prosperity in all the activities and businesses you undertake.
The meaning of the reversed position of The Three of Cups Tarot card: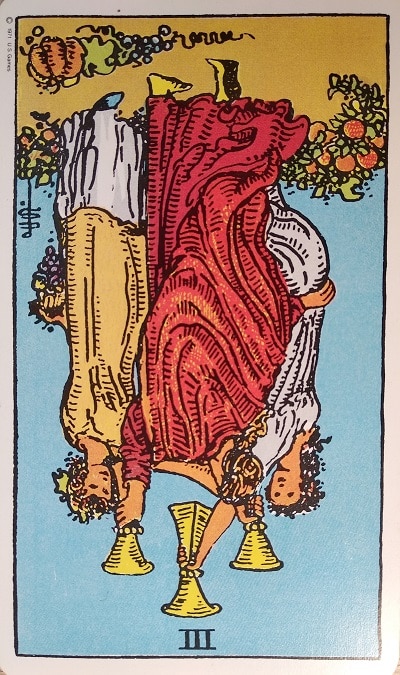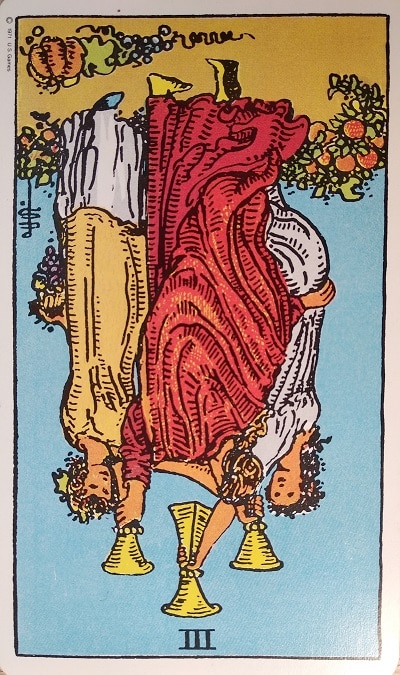 When the reversed Three of Cups Tarot card appears, it immediately leads us to suspect a possible betrayal. Is there someone on your team who may be playing against you? Is someone seducing your partner? Are you self-sabotaging your processes to the point of having nothing to celebrate?
In another sense, it can also indicate that important events are coming your way, but these won't occur 100% free of problems. Are having an outdoor wedding? It might rain. Are you delivering a very important project? Backup all of your information in every possible way. Changing your career path? Well, you'll regret it, at least at first.
Even when reversed, however, this card still shows a positive influence. It tells us about situations that may be complicated but that can also be changed if you take the appropriate measures in time.
The meaning of the reversed Three of Cups Tarot card when it comes to:
Love
This card could show the presence of a third person influencing your relationship negatively, either because of giving poor advice or having bad intentions. This card also calls for you to examine your children's friendships. For married couples, the Three of Cups Tarot card indicates that it is time to assess whether or not the relationship has soured over time. Go on a trip together. It is time to re-ignite the flame.
For singles, there will be plenty of candidates, parties, and pleasures, but don't expect to find anything serious at the moment. They are just flings.
Health
This card indicates that you might be abusing junk food, soft drinks or alcoholic beverages. It can also allude to pleasures in general. When we fail to set limits, our excesses begin to show in our bodies. Obesity, hypertension, cardiovascular problems, diabetes, and other health-related issues are associated with unhealthy lifestyles. Visit your doctor and get a general evaluation. You may also want to change your habits.
Work
Mixing business and pleasure is not a good idea, at least not at this moment. The consequences could be very difficult to manage. This card can also indicate people who maintain a skeptical view of the value of hard work. Effort and dedication are essential for success! Although charisma and connections can take you far, if you lack consistency, it will delay the progress of your career.
Money
You may be splurging your money away. It is time to reflect on your investments and take them seriously. Concentrate on your savings, even if a tempting investment opportunity comes your way.

Rider-Waite images used with permission of U.S. Games Systems, Inc., Stamford, CT c. 1971 by U.S. Games Systems.