Need help looking for the best gift for an Aquarius woman? We've handpicked a range of unique birthday and Christmas gift ideas an Aquarius girl will love.
Aquarius women are fascinated by the world and the people in it. They are interested in experiencing as much of the world as possible. She will enjoy sharing a new experience as a gift, whether it is an international trip to a remote island, or discovering a new corner of her own neighbourhood. Experiences always make excellent gifts for Aquarius women.
The way that Aquarius women are in tune with the world around them means that they are usually highly aware of the struggles facing the world. She will appreciate any gift that helps her learn more about the world, or helps her make it a better place. See our list of the best gift ideas for an Aquarius woman.
Travel Accessory Gifts
Recommended Gift: Full Luggage Set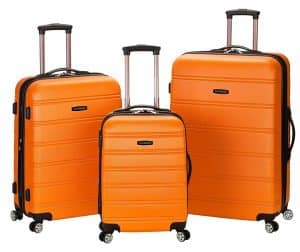 Aquarius women live learning about the world and the people in it, so she is probably a big traveller. A trip away together will make a great gift for an Aquarius woman. But make sure you plan a full itinerary. Aquarius women tend to thoroughly research their holiday destinations before setting off. If you are going to surprise her with a trip, do the groundwork.
Travel accessories for the trips that she already has planned will also make an excellent Aquarius woman gift. Think about the perfect carry-on bag or even a full luggage set shown above. She might also like some of these clear toiletry bags so that she can speed her way through security without any fuss, or something like this hanging toiletries bag to keep all her stuff organised.
She also probably likes to keep in touch with her friends and family while on the go, which can be a drain on her phone batter, so something like this portable phone charger.
Of course, not everything needs to be practical. Why not consider something like a fun passport holder. She might like this world print leather holder which is also RFID blocking. Or why not this carry-on cocktail kit, in case she is flying budget and can't expect the flight attendants to make her favourite Bloody Mary.
As well as being a planner, she also likes to record her travel memories, so will definitely like a nice travel journal, like this Explore Notes Travel Notebook or this Erin Condren Travel Planner.
Books
Recommended Gift: the latest bestseller
Aquarius women tend to be highly intellectual and love learning something new. As such, they are the type of woman that always has a book on the go, and is always grateful to receive an interesting new read as a gift.
Aquarius girls love to travel, guidebooks to plan her next trip, or travel accounts of places she is hoping to visit, or has already visited herself, make an excellent present. She probably also enjoys fiction, and may have more than one book on the go.
Take a look at the new releases and bestsellers, and pick something that seems like it has strong and interesting characters. She also likes to learn about the world and the people in it, so the latest environmental expose, political commentary or popular psychology book will also be well received.
Music and Art
Recommended Gift: Sony Noise Cancelling Headphones
As we mention in our Aquarius compatibility guide, they can sometimes find the world overwhelming and need to take some time out for themselves. They can get to this point as they are women who realise just how special the world is, and want to soak everything up, which can be tiring.
Their appreciation of the world extends to art and music, which is likely a passion for her. They are also things that she can use to ground herself and relax.
If a band she loves is playing in town, book tickets and make a night of it. Make a visit to the latest hot art show, or just arrange to spend the day together at the museum. If you want to get her something to keep, have a snoop around and see if you can pick up on her tastes.
When it comes to listening to music, she likes to soak up every note, so some great headphones will make a good gift. If you know she likes to listen to music while exercising or out and about running errands, consider something like these Bluetooth headphones.
If she is more likely to be listening at home or at her desk, then the Sony Noise Cancelling Headphones pictured above will sound great (See here on Amazon).
Give to a Charity
Recommended Gift: a donation to her favourite charity
Most Aquarius women care a lot about the state of the world. They are conscious of the role that we all have to play in taking care of the planet, and taking care of each other. This means that she is the type of person who will appreciate a gift to charity on her behalf.
If you know her favourite charity, great. If not, then look at environmental charities, or charities designed to give children a better future. Whichever charity you pick, make sure you can share all the details of their work with her. She will want to know how the contribution is making a difference.
If there are volunteering opportunities at a local charity, organising to volunteer together can make a good gift. She will like getting involved personally, and also sharing the experience with people close to her. This could be anything, from volunteering at a soup kitchen to picking up litter at the beach.
Jewelry
Recommended Gift: Blue Suglite Pendant
As we mention in our guide to an Aquarius women, they have a quirky taste when it comes to jewelry. They love receiving unique jewelry gifts, especially if they have sentimental value. She likes natural looks and tones, so things in leather or wood are always a good choice.
If you want something with a stone, think about garnet, amethyst, opal or sugilite as stones that will appeal to her energy. She will like something distinctive like the blue sugilite pendant.
She probably has quite a few bracelets. But this does not mean that she will not appreciate more. She likes to fill her arm. Consider something like this leather wrap and bead bracelet or this chunky leather cuff. She might also like something like this Natural Reiki Healing Lava Gemstone Bracelet or this Solar System Chakra Bracelet (See here on Amazon).
Fun Experiences
Recommended Gift: a group day out
Aquarius women love adventure and are always up for trying something new, different and challenging. They will enjoy being pushed out of their comfort zone, especially if it is an experience that they can share with friends.
Go ahead and surprise her with a group day out to a water park, theme park, paintballing, or maybe the newest escape room, since she loves a good puzzle.
The experience does not have to be high adrenalin, she will also enjoy something a bit more low-key but sophisticated like a wine tasting session. You could also think outside the box and organise a trip to the petting zoo or a visit to the animal shelter, she is probably an animal lover.
Whatever you organise, make sure it is a social experience. Whether it is just the two of you, or you decide to get a group together, make sure there is lots of time for chatting and sharing what you all think. Don't be afraid to go for a surprise. You can probably pull the wool over her eyes, and she'll love the sentiment.
Also see: