Our readers support us. This post may contain affiliate links. We earn from qualifying purchases. Learn More
A Scorpio man and an Aries woman combination are an unlikely couple with mixed compatibility. They work extremely well together, but a romantic relationship can be a bit of a challenge.
On the other hand, these two are courageous and resourceful, and there is no reason they can not work through their differences if they choose to.
If they do, they will be a loyal and devoted couple that can stand the test of time.
Even though he is Fixed Water and she is Cardinal Fire, and even though there are no Ptolemaic aspects between these signs, they have the same Traditional ruler, Mars.
This makes them more compatible than they would be otherwise.
It is unlikely that this pair will form a romantic relationship. They are not really what the other is looking for in a romantic partner.
These two Mars-ruled signs generally want and need a romantic partner who is more of the nature of Venus.
A Scorpio man and Aries woman are often found in the same line of work, and they make very good comrades and co-workers.
Scorpio man, Aries woman: Strongest points of compatibility
Excellent ability to work together
Mutual respect
Strong comradery
Ability to overcome challenges and hardships
Deep loyalty to each other
Protectiveness of their family
Important traits of a Scorpio man in relation to an Aries woman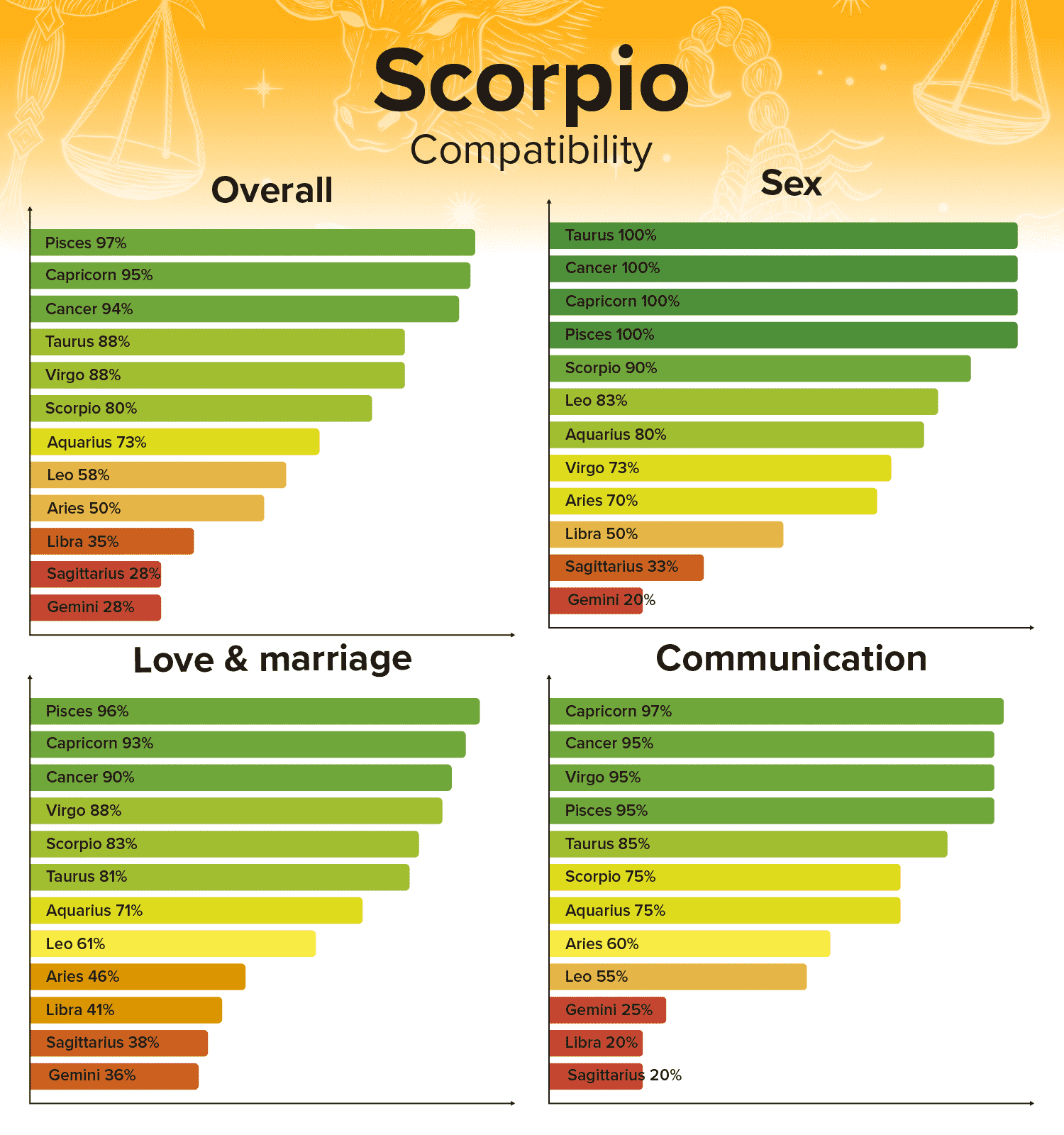 A Scorpio man is deep and mysterious. He is powerful and masculine, but his masculinity is of a more subtle and refined nature.
The most classic depiction of a Scorpio man in fiction is the character of James Bond.
A Scorpio man is a warrior at heart, but his style is closer to that of a ninja, samurai, or martial artist. He also makes a very good spy.
Even though he is subtle, the courage of a Scorpio man is legendary.
Because of the air of mystery about him, a Scorpio man tends to be very attractive to women.
Scorpio has a reputation as the "sexy" sign, and that is not entirely wrong.
On the other hand, with a Scorpio, man or woman, the physical act of sex is only the tip of the iceberg.
What a Scorpio desires is an emotional and psychic connection as well as a physical one.
A Scorpio man has a complicated emotional nature, and he has deep passions. For this reason, he wants a romantic partner who is calming and peaceful.
He may be promiscuous when he is single, but he will be loyal, devoted, and faithful when he makes a commitment.
Important traits of an Aries woman in relation to a Scorpio man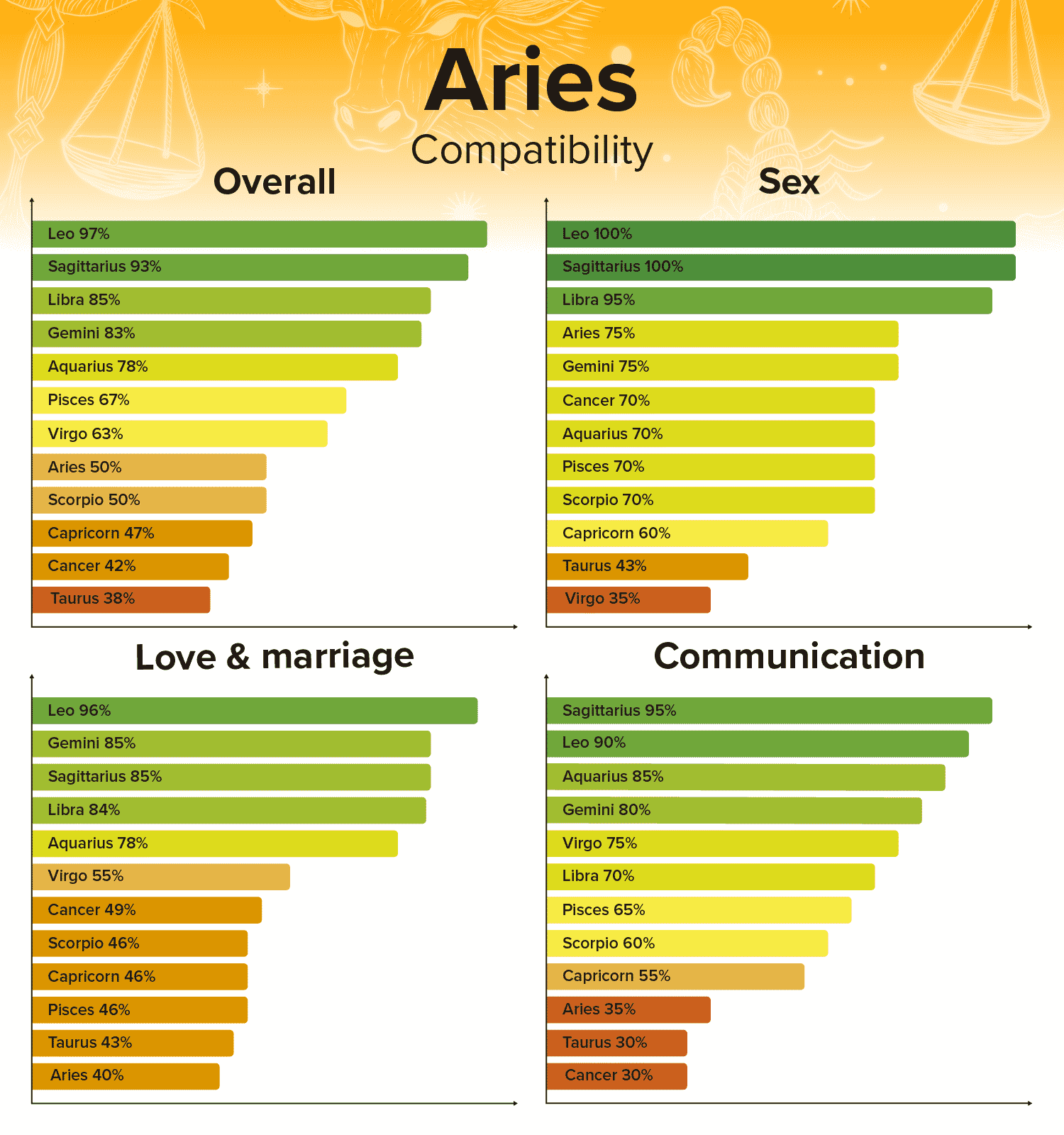 An Aries woman is a firebrand. She is fiery and bold. She says what is on her mind, and she can be honest to a fault.
The Aries warrior is impulsive and charges into battle without considering the danger or the odds of success.
In a woman, this impulsiveness is moderated somewhat, but it is still very much a part of her nature.
An Aries woman does not want a man who will control her, but she also does not want a man who she considers to be weak.
While many men may be stronger than her physically, few will be able to match her courage or her strength of heart!
If she finds one who can, she will have deep respect for him, and she may even fall in love.
On the other hand, an Aries woman really does need a man who can balance her and who can soften her rough edges.
Scorpio man, Aries woman: Dating and early stages of the relationship
It is unlikely that a Scorpio man and Aries woman will date, but it could happen.
They are far more likely to be comrades or coworkers than romantic partners, however.
At first, she is likely to be more attracted to him than he is to her.
An Aries woman will admire the courage and strength of a Scorpio man, and she will be fascinated by him for this reason.
While a Scorpio man will have deep admiration and respect for an Aries woman, he probably will not see her as a potential mate.
She is a little too fiery, a little too temperamental, and a little too independent.
He prefers a woman who he can protect and care for and who will calm his stormy internal nature.
Scorpio man, Aries woman: Sexual compatibility
If a Scorpio man and Aries woman do get together and have sex, it will be hot and passionate.
The subtlety of a Scorpio man makes him quite a good lover. He is patient and has an empathy that many men lack.
He will feel the pleasure of his partner, so he will want to give her as much as possible.
An Aries woman is as fiery and passionate in the bedroom as she is in every other aspect of her life.
This combination makes for a spicy and exciting sex life.
Scorpio man, Aries woman: Marriage and family life
A marriage between a Scorpio man and an Aries woman is a tricky one. In many cases, the relationship between these two will not get this far, but if they have sex, it will likely lead to marriage.
This is because, for a Scorpio, man or woman, sex can create a strong emotional and psychic bond.
Once he has bonded with someone, he will want to marry her. This may or may not be a good idea in the long run.
On the positive side, a Scorpio man and Aries woman are both determined enough to make a marriage work in spite of the obstacles.
To have gotten to the point of marriage, they will have already overcome many of the barriers to their relationship.
On the other hand, they are both of the nature of Mars, the planet of the god of war!
A Scorpio man is usually quite conservative when it comes to marriage, and he wants to be the uncontested head of his household.
An Aries woman will fiercely resist any attempts at domination or control from her husband. This could lead to a stormy marriage.
If a Scorpio man and an Aries woman can be a good parenting team if they can control the potential volatility in their relationship.
Even though he is extremely strong, a Scorpio man can be very gentle and tender to those that are in his care.
He can be quite strict, but he also can understand the emotional nature of his children.
An Aries mother is loyal and protective of her children, and she will appreciate his ability to handle their fears and insecurities, which is something she can struggle with.
Scorpio man, Aries woman: Working together
A Scorpio man and Aries woman will make excellent co-workers.
They will respect each other for their determination and capacity for hard work.
At the same time, they have complementary skills and abilities.
An Aries woman has the ability to start projects and to take the initiative, whereas a Scorpio man has the ability to strategize and see the big picture.
When it comes to work, an Aries woman can take orders, particularly if they come from someone she respects. She is too much of a soldier to do otherwise.
This is good because a Scorpio man will naturally take charge of their working relationship.
He can see several steps in advance, whereas she tends to only see the immediate challenge in front of them.
He wants to lead not out of ego or lack of respect for her as a woman, but because he knows that he is better able to navigate the long-term direction than she is.
She will recognize this as well, so she will generally not object to his leadership.
Typical fights between a Scorpio man and an Aries woman and how to resolve them
The relationship between a Scorpio man and an Aries woman has the potential to be stormy and volatile.
They will not really disagree on many things, but if they fight, it will be for one main reason and that is if he tries to control her.
He tries to control her
Scorpio is a controlling and possessive sign. This is true of both men and women, but it tends to be more exaggerated in Scorpio men.
There are some women who might like this or even find it sexy, but an Aries woman will not!
Yes, an Aries woman likes a strong man, but she wants one that can match her in strength and power, not one who will try to control her life.
Furthermore, a Scorpio man is subtle and notices much more than most men do.
A man of another sign might be content to have the illusion of being in charge while his wife is really in control. A Scorpio man will know the difference, however.
He will want to know where she is going and what she is doing at all times.
While an Aries woman is usually very honest, she will resist responding to his inquiries out of sheer spite.
If this couple is to last, they must talk about this openly and come to a compromise that they both can live with.
Try Our Compatibility Calculator
Conclusion
A Scorpio man and Aries woman will get along better with each other than would be expected.
If they do get together romantically, there is the potential for volatility. Even so, they can have a happy and lasting relationship with each other.