Stuck for ideas of what to buy for a Cancer Woman? When choosing a gift for a Cancer woman, the most important thing to prioritise is that it means something. It does not matter to her if you have spent a small fortune or make it yourself, as long as it is a symbol of the relationship that you have.
She will not clutter her life with things, or people, that aren't important to her. Consequently, cheap or novelty Cancer woman gifts are not ideal. Look for things that she will either love to use, or will remind her of who and what she loves.
As we mention in our ultimate guide to Cancer women, they are intuitive and sensitive, though that doesn't mean they are sentimental. A water sign, they follow their heart in all matters and trust their gut when it comes to making important decisions.
To help you in your search, we've handpicked a range of unique birthday, anniversary, and Christmas gift ideas an Aquarius girl will love.
Here are the best gifts for a Cancer woman:
1. Photographs
Recommended Gift: Digital Photo Frame
The people in a Cancer woman's life are extremely important to her, and she probably has photos of a lot of her loved ones in her home. A new photo celebrating a close group could make a great gift for a Cancer woman.
Consider getting her a professional photoshoot for a group. She will enjoy getting dressed up for the occasion, though it is not something she would want to do alone. She will enjoy sharing the experience with people that are close to her. Get the best picture of the day enlarged and framed.
A good gift idea for a Cancer woman is a nice leather photo album cover (See here on Amazon). She will really appreciate if you start the album off for her by adding some photos, but leave space for her to add more of her own.
While she is not the type to splash her life all over social media, as she prefers to keep private things private, she does like to take photos and keep the memories.
Consider getting her a compact and transportable lens kit for her phone so that she can take better pictures on the run. We recommend the one shown above.
2. Ancestry Items – Cancer Woman Christmas Gift
Recommended Gift: Ancestry DNA Test Kit
A Cancer woman appreciates the importance of heritage and where she comes from. She probably knows all of her grandparents' stories and has a number of important keepsakes from their history. Any tools and guides that can help her get started on that process can make a good present.
If she is a real ancestry buff, she might also have fun taking an ancestry DNA test (see above or here on Amazon). She will both appreciate the novelty and enjoy discovering the secrets it might hold. This gift is best given at Christmas, a time for family gatherings and when she will really appreciate her family's love.
Her interest in the past also means that she has an interest in antiques. If you can find something tasteful that is from her own family history and tradition, it is probably something that she will love to have in her home and will make an excellent gift choice for a Cancer woman.
3. A Journal
Recommended Gift: Gratitude Journal
As we allude to in our fun Cancer compatibility guide, Cancer women appreciate the importance of remembering the little things. She probably already has a place that she records her important memories, but might go through these pretty quickly, as there is a lot to remember.
A good quality new journal will always be a welcome gift for a Cancer woman. She might also appreciate something like a Gratitude Journal (pictured above) which she can use separately to start or finish her day with thoughts of how grateful she is for what she has.
In terms of keeping memories, she probably also has quite a few keepsakes, which she likes to keep private. A Cancer woman will also appreciate something to help her keep her memories safe.
She might like this Enchanted World Polished Wood Floral Box or this Laura Ashley Faux Agate Box. She has probably also always liked the idea of an old fashioned travel trunk, which would make a great addition to her home.
4. Water Gifts
Recommended Gift: biOrb Aquarium
As a water sign, Cancer always finds water to be a source of both inspiration and tranquillity. She is probably her happiest at the beach looking out to the horizon, or relaxing beside a lake or brook. Things that can help her bring water into her space can make a good gift for a Cancer woman.
If she doesn't already have pets, a fish tank with a few exotic fish for her to care for is a great gift. She probably won't appreciate a gigantic tank that takes up the whole wall, but she will like something like a classic biOrb Aquarium (see above or here on Amazon).
She will also like a water feature that helps her bring the sounds of fresh water into the home. Again, it is not a good idea to go for anything too big or over the top, but she might like something like this Small Relaxation Waterfall Feature or this SereneLife Desktop Waterfall Fountain.
5. Something for the Home
Recommended Gift: iRobot Roomba Vacuum
Cancer women tend to invest a lot of time developing their home, as it is a bit of a sanctuary for them. As such, cancer women appreciate gifts for the house that can improve their space. While they are not as particular in their tastes as some, they do take pride in their home and generally believe in investing in quality that lasts, as opposed to cheap things with a short lifespan.
While far from a tech-head, she will appreciate a few of the latest gadgets for the home. She will probably like something along the lines of the iRobot Roomba Vacuum (pictured above), which is a fun way to take the time and effort out of keeping the floors clean. S
he might also like a Nest Learning Thermostat that allows her to control the temperature of her home from her phone. No need to arrive to a chilly house as she can turn the heating on from work.
She will also appreciate some comforts for the home. A good-quality duvet cover will be a welcome addition to her rotation, as will an attractive table runner (See here on Amazon).
While she has probably carefully selected the furniture that she likes, a few small touches can make a good gift. Consider something like this Indian Mandala Floor Pillow, this Ashley Ottoman Footrest, or a classic glass coffee table. Good quality drinking glasses, plates and cutlery also make good gifts for a Cancer woman on her birthday or at Christmas.
6. Jewellery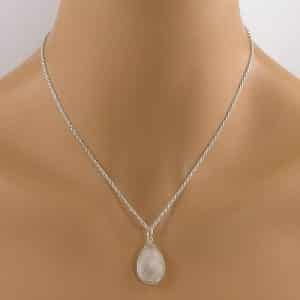 Recommended Gift: Rainbow Moonstone Teardrop Pendant
Cancer women love jewellery as a gift, as long as there is a story or a message behind the piece. They like everything they wear to mean something. Cancer women will treasure the right piece of jewellery, given in the right way, as an important keepsake.
As a water sign, whatever you get a Cancer woman should be silver or set in silver. Cancer women also have an affinity for both emeralds and moonstones. Real emeralds can be pricey, so when selecting a piece make sure to go with something classic that will never date.
When looking at moonstones consider a classic Celtic setting, like this moonstone and sterling silver triquetra Celtic pendant. She will also appreciate something minimalist, like the Rainbow Moonstone Teardrop Pendant (pictured above).
See more: