Our readers support us. This post may contain affiliate links. We earn from qualifying purchases. Learn More
Finding an ace in a Tarot reading is always a blessing. The kind of blessing will depend on the predominant element of the suit. The Ace of Pentacles Tarot card is connected to the earth element. It indicates that this is a very decisive and prosperous time, which is mainly connected to our work and finances.
For any other topic, the Ace of Pentacles Tarot card shows us the path to a new beginning and a renewal of energy that gives us a unique opportunity. Think about the effort you've recently put into a project of any kind. Have you been working in a particular area of your life? If so, a reward is coming.
This is a card that announces stability, happiness, and inspiration to start new projects. You are entering a time of change in which you will be spiritually favored by divinity to achieve all your goals.
Ace of Pentacles Tarot Card Meanings:
The Ace of Pentacles Tarot card is associated with wealth, achieving goals, and success, especially in the concrete and material realm. You will get tangible results from your work. This card indicates financial success, clarity to set your goals, and the ability to get the most out of every opportunity that comes your way.
Also, you will have the ability to lead projects and plan every detail. This card promises a strategic vision to grow in any area where you intend to invest your time and effort. Also, all this positive energy that's coming your way will facilitate unexpected alliances, loans, advice, and mentors who want the best for you.
For traders, business people, and anyone connected to finance, this card indicates a great time of economic growth. It is your opportunity to take advantage of everything you have learned and invest in the business of your dreams, bet on your investments, and believe in your ability to attract abundance.
The Ace of Pentacles Tarot Card in the Upright Position: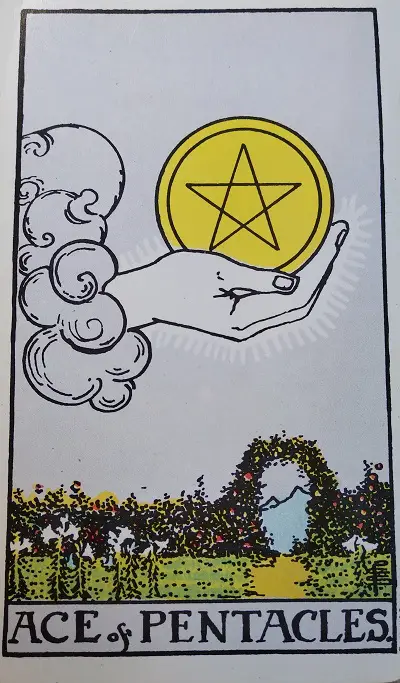 When the Ace of Pentacles Tarot card appears upright in a Tarot reading, it means that the winds of change and new energy are flowing around you. It is time to expect advances in the areas of finance, social status, and health so long as you are willing to work to achieve your goals. Spiritually, it is a time of great abundance and growth.
This card indicates new beginnings, energy to resume studies, or the start of new activities. It is a very beneficial card when it comes to tasks or ventures. If the reading concerns a relationship, it will be one of significant growth and benefit for both parties. Emotionally, this card indicates that it is time to expand your horizons.
This is your opportunity to take action and transform your reality. Stay active to keep up with the dynamic universe that is constantly changing around you. Don't forget to integrate the message of the Ace of Pentacles Tarot card with the other cards, especially the Major Arcana cards, to fully understand your Tarot reading.
The meaning of the Upright Ace of Pentacles Tarot card when it comes to:
Love
This is a fantastic omen when it comes to romantic relationships. The Ace of Pentacles Tarot card indicates that a new relationship is yet to come, but it will be full of new experiences, traveling, and romantic details. This card indicates dating, relationships, and friendships full of understanding, harmony, and excellent communication.
Health
In a reading concerning health, the Ace of Pentacles Tarot card indicates that you have good health and that you should make the most of it. Start new outdoor activities and regain contact with Mother Earth so that you can channel your energies in a more productive and balanced way.
Work
When the Ace of Pentacles Tarot card appears in a work-related reading, it means that you are about to achieve significant goals. Depending on the general nature of the spread, it could mean recognition, a great discovery, or a new job opportunity with a better salary. Your company will continue to grow and prosper. Your employees and co-workers are doing their best.
Money
You will receive good news related to your finances. This card can indicate repayment of a debt, good fortune, a raise in salary, or investors that are interested in financing your projects. If you have a finance-related legal issue, such as an inheritance, you can expect a good result. Unexpected money that comes into your life will increase your prosperity.
The meaning of the Ace of Pentacles Tarot card in the Reversed Position: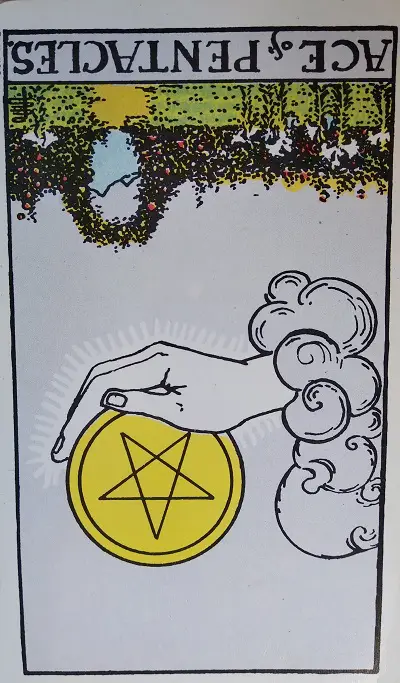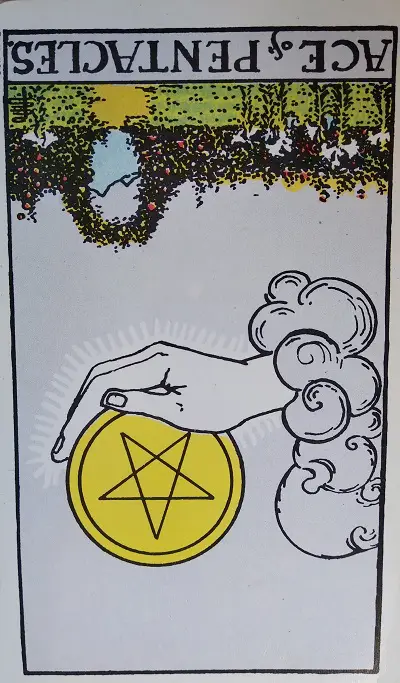 When Tarot cards appear reversed, their meaning can turn 180 degrees or their influence in the spread can be reduced. In the case of the Ace of Pentacles Tarot card, it means that the abundance stream will be stopped or interrupted by setbacks. The loan you expected from the bank will be denied, you won't find the means to pay your debts, or you could lose money on bad investments.
Similarly, it can represent an event in which you lose money fraudulently, due to corruption or even theft. If this card is associated with a person, you should take care of yourself as it is someone unscrupulous who is close to you for your money. If the card alludes to you, you must work on aspects of your personality related to generosity and saving.
You are focusing so much on economic stability and savings that you have neglected your family, your personal goals, and your idea of happiness. Money is vital to reach several personal goals, there's no doubt about that, but it should not be a goal per se. Maintaining the balance between the money you want and the money you need is essential so that you don't waste your life feeding your ambition.
The meaning of the Reversed Ace of Pentacles Tarot card when it comes to:
Love
The reversed Ace of Pentacles Tarot card indicates the foundations of the relationship might be shaking due to financial problems. It represents couples that are constantly comparing their own achievements to those of others. It can also represent couples that are developing a dependent relationship that doesn't make them happy. Misunderstandings, jealousy, and old resentments are the leading cause of your disagreements and arguments.
Health
You need balance! Overwork, anxiety, and worries are taking a toll on your health. You must rest and reconsider your workload based on your physical and emotional well-being. It is highly recommended that you invest in a balanced diet, exercise, and medical check-ups to improve your health condition.
Work
You may be taking unnecessary risks with your company. It is not the time to make hasty decisions or make significant investments. With perseverance and dedication, you can achieve a promotion, but it will take you time to get there.
Money
Stop comparing yourself with others. Your finances can improve if you plan and organize your investments with the long-term in mind. At this time, the recommendation is to save, avoid splurging, and be frugal in your investments.
The Ace of Pentacles In A Yes Or No Question:
As mentioned before, aces are very positive cards that invite us to take full advantage of the opportunities that life is offering us. The Ace of Pentacles Tarot card signifies possibilities of entrepreneurship, economic success, and profits that will allow you to build your dreams. Therefore, when this card appears in a Yes or No Question, the answer is: Yes!
Ace of Pentacles Tarot Card Keywords:
Upright: Stability, good health, good fortune, prosperity, inheritance, extra income, business, happiness, new beginnings, opportunities, generosity, wealth, luxuries, reward, results, savings.
Reversed: Risky investments, losses, corruption, theft, greed, superficiality, wasting money, lack of scruples, poverty, excess.
Ace of Pentacles Imagery and Symbolism:
Emerging from a cloud, a hand floats in the middle of a clear sky. In the background, we see a garden full of flowers and crops. The garden is crossed by a path to an arch through which we can see a mountain. The hand shows us a Pentacle, a coin decorated with a five-pointed star.
This card is associated with the earth element, and with wealth and prosperity. It presents us with a garden in the middle of spring and a cloudless sky. We find a path that leads to a mountain in whose peak we could easily see the Hermit reflecting about life and death.
This hand, which traditionally represents the hand of God, extends an invitation to receive good news. It brings us a message of prosperity, abundance, and rewards for our work. It is there to remind us that everything can be achieved through our honest hard work.
Important Card Combinations:
An ace is always good luck. However, a Tarot reader must consider many details to arrive at an accurate Tarot reading. Finding an Ace of Pentacles Tarot card can be good news if the right cards surround it. On the other hand, when negative cards appear, the message can become sour.
Join us to discover some of the most curious card combinations with the Ace of Pentacles Tarot card.
Ace of Pentacles combined with The Sun:
In the company of this Major Arcane, the Ace of Pentacles Tarot card shows us its most prosperous and positive side. We will have absolute success in all the endeavors we set out to do.
Learn more about The Sun.
Ace of Pentacles combined with The Lovers:
It indicates a very prosperous relationship in which both can grow and develop in whatever they decide to do together. Strong ties, family union, and new beginnings for relationships that had conflict in the past.
Learn more about The Lovers.
Ace of Pentacles combined with The Ace of Cups:
A new romance will come to your life. Your new lover will be a very prosperous and romantic person that will fill your life with pleasant surprises.
Learn more about the Ace of Cups.
Ace of Pentacles combined with The Seven of Swords:
Be careful with your finances. You could have a malicious person around you who is trying to steal from you or take advantage of your prosperity.
Learn more about the Seven of Swords.
Rider-Waite images used with permission of U.S. Games Systems, Inc., Stamford, CT c. 1971 by U.S. Games Systems.