Our readers support us. This post may contain affiliate links. We earn from qualifying purchases. Learn More
When the Strength card comes out in a reading, it represents self-mastery. The message is that when you are patient and compassionate with yourself, you can face your fears and courageously face the challenges that life presents. Self-possession is the goal of this card. A grounded, easy way of being is the hallmark of personal strength.
This card is not about physical power. Instead, it is about what you can achieve with willpower. It takes courage to adopt a path of self-discipline. It takes strength to soothe the inner beast.
When anger and resentment build to needing expression, strategies for transmuting anger into positive action are necessary.
Believe in your inherent goodness and approach difficult circumstances with understanding, not outrage. The Strength card calls you to recognize that punishment doesn't work as well as kindness. Strive to be kind to yourself. This, in turn, allows you to extend service to others when they struggle.
The Strength Tarot Card Keywords and Facts
Before you understand the specific meaning, take a look at the keywords and phrases associated with our ninth Major Arcana Card.
| | |
| --- | --- |
| Upright Keywords | Compassion, bravery, patience, self-possession |
| Reversed Keywords | Shame, insecurity, self-doubt |
| Yes or No | Yes |
| Numerology Number | 8 |
| Zodiac Sign | Leo |
| Element | Fire |
| Ruling Planet | Sun |
The Strength Tarot Card Symbolism and Appearance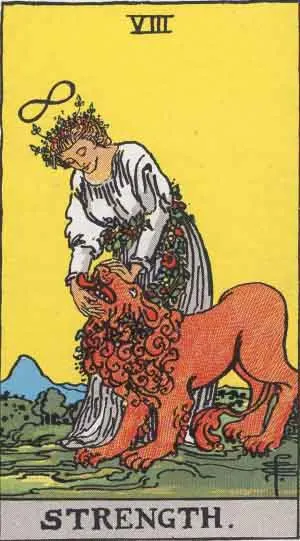 On a golden, sunny day, a woman stands petting a lion. The scene is peaceful. The beast is tame, and the woman's face is serene. She represents inner strength. She approaches all things with a calmness born of her dedication to peace.
She wears a white gown and garlands of red and green around her waist and hair. The dress represents her reverence for the holy spirit's enduring, resilient femininity. The vines portray the ever-green nature of innocence and love.
The sign for infinity seems to float above her head, which indicates the continuum of divine guidance to which she belongs. Her connection to infinity lets her see that all things are one throughout time and space. There is no difference between strength and vulnerability. They are the same.
The lion stands beside her, tail tucked and licking her hand. He represents the inner beast, those aspects of every person's humanity that can bring us to harm. The idea is that the woman becomes strong when she befriends her inner beast and shows herself compassion and kindness in times of struggle.
Having "tamed" the beast with love, she is more effective and more at peace with the world.
There are mountains in the distance. In this context, they represent steadfastness, loyalty, and security. The green grass and golden sky represent a positive, creative frame of mind.
The Strength Tarot Card Upright Meaning
When it appears upright, the Strength card refers to taming your nervous or aggressive impulses so you can have confidence in your ability to respond to challenges with courage, positivity, and compassion. The message is that ruling the self gives one the strength and loyalty to lead in service to others.
There is an element of "soft power" to this card. Distinct from underhanded manipulation, soft power has a gentle way of achieving its aims. Aggression is no longer necessary. One is not inclined to fight or struggle with some enemy. Instead, one chooses sympathy and forgiveness, resulting in friendship and peaceful relating.
The Strength card also emphasizes the other Major Arcana cards that appear in a spread. Represented in astrology by the Sun and the sign Leo, it illuminates or clarifies the meaning of other cards. It brings one's shadows into the light of day, clarifying illusions so you can see the truth.
Love (Upright)
In a love reading, the Strength card points to a secure and considerate partnership. If you're involved with someone, you can take this as confirmation that your mate is loyal and steadfast. As long as you remain true to yourself, the connection will stand.
If you are looking for love, this card indicates you can confidently attract the right romantic partner. Trust your choices now, and you will be rewarded with a good companion.
The Strength card is also a reminder, in love, not to forget yourself and what you are passionate about. With the self-confidence this inner strength provides, it shouldn't be easy for a new lover to derail your plans. A good partner wants you to keep pursuing your goals and aspirations.
Health and Spirituality (Upright)
In a reading about health, the Strength card refers to feeling at a low ebb in your well-being but having what it takes to overcome it. Don't give in to negative feelings, thoughts, or impulses. Have compassion for yourself and believe in your ability to get better.
Self-discipline can also be seen as self-dedication. Become dedicated and passionate about maintaining your physical, mental, and spiritual wellness. This will help you develop good habits contributing to your inner strength by bestowing confidence and optimism.
Spiritually speaking, you may face a crisis of faith. You can overcome this challenge by approaching the situation with a loving heart and a willingness to stand for what you know is right.
The animal part of one's nature is often tempted to go down a path of negligence or excess. Now is the time to lean on what you know to be moral or ethical for support. Stick to the middle path, and you will move in the right direction.
Money and Career (Upright)
When the Strength card shows up in a spread about money or career, it points to mastery of your work through knowledge of yourself. When you develop the ability to be effective and stay engaged in your work, you are empowered to make strides toward more advanced career goals.
Financially speaking, you may be looking at some large purchases due to your ability to curb impulsive spending. Advancement of all kinds comes easily when you focus on your higher goals and exercise control of consumer habits.
The Strength Tarot Card Reversed Meaning
When the Strength card shows up in reverse, it means you may be suffering from low confidence or feeling inadequate to achieve what you desire. The point of this placement is to remind you that shame and insecurity are barriers to self-mastery. If you lack control of your basic impulses, you won't have the courage to stand up for what you know to be right.
The guidance, then, is to set yourself small, manageable goals. Notice and appreciate the sense of attainment that comes with completing even the most minor task.
One doesn't usually achieve great things in one big step. It takes dedication, planning, and compiling multiple small accomplishments to bring the larger plan to fruition.
Love (Reversed)
When the Strength card reversed comes out in a love reading, it points to a lack of self-esteem or a negative attitude about love and romantic connection. It shows that one cannot expect to find a strong and loving partnership while harboring selfish or harmful ideas about love or intimacy.
It's natural to feel insecure about romance. It takes bravery to open up and allow someone to get to know you. What if you get rejected? What if they're not as great as you thought? Things don't always turn out like the ideal, so one may hesitate to take a risk.
Ask yourself precisely what you fear. Receive the answer and forgive yourself for feeling that way. Finding love requires one to embrace some uncertainty. Start with the challenge of loving yourself, even with all your fears and flaws.
Be compassionate with yourself as you take a realistic look at what is holding you back.
Health and Spirituality (Reversed)
In a health spread, the Strength card shows up in reverse when one suffers due to being undisciplined. The point is that if you want improved health, your actions have to reflect that desire.
If you have been lazy or clinging to bad habits around food, activity, and general cleanliness, it's up to you to show your dedication to feeling better.
Spiritually speaking, The Strength card shows a lack of commitment to moral or ethical principles. It is all well and good to espouse a spiritual or religious sense of connection to the divine. It is another thing to embody that transcendent mentality in a way that shines through in your words and actions.
Honor your experience, or that of another person, with compassion, kindness, and reverence. This empowers one to feel courage and faith.
Money and Career (Reversed)
If you see the Strength card reversed in a career reading, it signals a fear of executing big plans. The message is that you're feeling insecure about your position. It may feel like you're in over your head and struggling with impostor syndrome.
Have confidence in yourself. You wouldn't be in this position if someone didn't think you had earned the opportunity. You have what it takes to succeed as long as you don't fall prey to negative thinking.
When it comes to money, you may be overspending without regard for long-term, practical concerns. You may also hesitate to pay for things you want or need because you worry there won't be enough. This part of self-mastery calls on you to create a budget and stick to it.
The Strength Tarot Card Yes or No Meaning
In a "yes or no" tarot spread, the Strength card is an encouraging "yes!" It says you have the bravery and inner strength to tackle the challenge ahead of you.
Important Card Combinations for the Strength Tarot Card
Strength and the Nine of Cups
The Nine of Cups is about the satisfaction of wish fulfillment. When you see it paired with the Strength card, you may be blessed with an opportunity to live your dream. The path ahead will require dedication, but the benefits will make your effort worthwhile.
Try not to let your contentment become complacency. A wish granted is not a guarantee. If you adopt an attitude of being smug or superior, you risk losing what you gained.
Strength and Justice
When the Strength card shows up with Justice, laws are strictly enforced. If you are involved in a legal dispute, these two can indicate solid legal representation on your behalf. The truth will emerge, and a competent judge will make a fair ruling.
Now is not a time to sneak around or keep secrets. Even if there is no legal dispute, the truth will be revealed. You can come out on the right side of any argument if you are honest and dedicated.
Strength and the Ten of Pentacles
Coupled with the Ten of Pentacles in a love reading, Strength indicates sturdy family ties. Whether or not you are related by blood, the family you keep around you has your back. They are there for you no matter what.
Loyalty is essential to keeping those connections solid. An undisciplined person might take such allegiance for granted. Show with your actions your devotion to the kinship that supports you.
Strength and the Magician
If the Strength card and the Magician turn up in a love reading, you will find a lasting, supportive partnership. If you're involved with someone suitable for you, the communication in this relationship is good.
Pay attention to the importance of creativity and integrity in a partner. This person should be capable of imagining what they want, creating a plan, and making it happen.
Having pulled the Magician with the Strength card, these are necessary characteristics for good romantic interest.
Strength and the Sun
In a health spread, the Sun card brings greetings of a joyous and abundant life force. If this comes up with Strength, you can expect improvement with a little commitment to your well-being.
The Sun's heat purifies what it touches, so don't neglect the importance of personal cleanliness in having a good health outlook. Excellent and regular hygiene habits can make a big difference.
Strength and the Five of Swords
If, in a health spread, Strength comes up with the Five of Swords, it points to a deep and irrational fear one may be harboring. Notice what you've been avoiding or perhaps at what point you've been putting up a fight.
This will take some self-examination, but you can progress from avoiding or fighting by addressing your fears in a compassionate, forgiving, but factual way.
Strength and the Queen of Wands
The fiery Queen of Wands finds joy and satisfaction when acting on what she is determined to achieve. Emboldened in the company of the Strength card, one is awarded the charisma and self-esteem for succeeding as an entrepreneur.
If you have an excellent idea for a startup business, now is the time to make moves. Your enthusiasm will inspire the loyalty of others.
Strength and Ace of Pentacles
The Ace of Pentacles refers to financial opportunities. Coupled with the Strength card, one can see that you are passionate about earning and saving money. Frugality is encouraged now, as you are beginning a cycle of financial opportunities.
The Strength Tarot Card in Numerology
Although it is the ninth card of the Major Arcana, Strength's number is eight. This is another signal that a key chapter in your life is just beginning. Your steadfast dedication to inner strength stands to bring you material success.
By approaching your ventures with a calm and self-disciplined attitude, your earnings will grow, and you can celebrate more financial security.
Next Card: Tarot Card Number 9: The Hermit Meanings
Rider-Waite images used with permission of U.S. Games Systems, Inc., Stamford, CT c. 1971 by U.S. Games Systems.