Stuck looking for the best gift for a Sagittarius Woman? As one of the fire signs, Sagittarius women tend to be extroverted. They tend to thrive on the unknown and change and are at their most comfortable when things are in a state of flux. Therefore, gift ideas should match their adventurous personalities.
Here are some wonderful gift ideas for Sagittarius women:
Travel Gear
Recommended Product: Carry on Luggage
Sagittarius women tend to be keen travellers, as they like to feel like they are a citizen of the world. Therefore, good quality travel gear that helps her travel light always makes a good gift for a Sagittarius woman.
If she tends to plan a lot of city breaks on the weekends, get her the perfect carry on suitcase, since she doesn't like waiting for her luggage. She might also like something like these clear toiletries bags for organising her essential carry on liquids.
If she is more about hitting the road for an extended adventure, get her a ladies size backpackers backpack that doesn't swamp her and is a bit easier to carry that some of the standard models.
Sagittarius women might also get good use out of the latest Inflatable Travel Pillow (See here on Amazon), which won't take up much room in her luggage, but is much more comfortable than what they provide on the plane.
She probably likes to take quite a few snaps of her travels and is quite the social media sharer. With that in mind, consider getting her something like this Xenvo Pro Lens Kit for iPhone and Android (See here on Amazon), to improve the quality of the pictures that she can take on her phone while on the go.
An Adventure
Recommended Gift: Engraved Swiss Army Knife
Sagittarius women thrive on the new, trying new things, meeting new people and seeing new places, so an adventure is always the perfect gift. Whether you plan a trip away or something closer to home, make sure it involves doing something new, preferably in the company of people that make her laugh.
Don't be afraid to pick something that pushes her out of her comfort zone. If she is a bit of a girly girl, plan that challenging hike and camping trip. She will enjoy the challenge of learning how to make a fire and read a compass.
Maybe get her a keepsake to commemorate the occasion, like the Swiss Army Knife shown above, which can be engraved and personalised, or a top-end emergency survivial kit which will both be useful and is an effortlessly cool thing to have around the house.
If she is more of an outdoors type, maybe treat her to a day of pampering at the spa, or a glamorous photo shoot with her friends and family. Just because it is not the type of thing that she would usually plan for herself doesn't mean that she won't have fun. Sagittarius women are generally up for trying something a bit different, so let your imagination go wild.
Reading Material
Recommended Gift: the latest political memoir
Sagittarius women tend to be highly intellectual and deeply curious about everything. While they are firm in their opinions, they love to learn what other people think and have their preconceptions challenged. She is able to admit when she is wrong, at least after a good and thorough argument.
Sagittarius women tend to be avid readers and always in need of new material. A good book always makes an ideal present for a Sagittarius woman.
She will probably prefer something fact-based rather than the latest fiction, unless she has a favourite author that she reads regularly. She will always like the latest political memoir or historical biography, or the new pop-psychology read.
As she is often on the road, she doesn't like to full her home with too many books and often gives them away after reading. As such, consider digital subscriptions, Kindle editions, or even audiobooks so that she can read while on the run.
Something to Relax
Recommended Gift: Acupressure Mat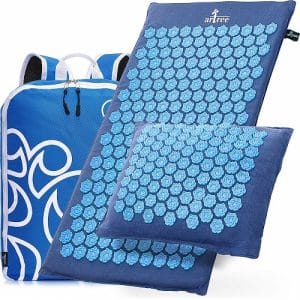 Sagittarius women love always being on the go and jumping between one thing and the next. They rarely schedule downtime into their day. While she thrives off this, it does not mean that she doesn't get a bit run down sometimes.
Gifts that can help her take some time out for herself are always good for a Sagittarius woman. This is something that she needs but will rarely organise independently.
Go ahead and schedule a spa day, massage or even a mud bath. She will enjoy doing something a bit different and appreciate being pampered for the day. Instead of organising a day out, you could organise a day in where you pamper yourselves with spa treatments, like these Brazilian Belle Detox Body Wraps. Don't forget the bubbly and chocolate to go alongside.
If she is the type of person that you think needs to integrate self-care into her routine on a more regular basis, then consider things like this Zyllion Shiatsu Back and Neck Massager or the latest acupressure mat (shown above) to help her wind down in the evenings.
Plan something social
Recommended Gift: plan a day out
Sagittarius women love being around friends and family, having deep conversations and share their lust for life. This means that planning something social is always a great Sagittarius woman gift. Plan a day out with friends, a night out with the girls, or a surprise party with her friends and family. She will appreciate the gesture.
Don't be afraid to make it a surprise. If you do plan a surprise, also don't be afraid to buy her something special to wear for the occasion. She has pretty eclectic tastes so it should be possible to find something that she will like. If you aren't sure about a nice party dress, consider accessories like a beautiful clutch bag (See here on Amazon).
Jewellery
Recommended Gift: White Gold and Saphire Pendant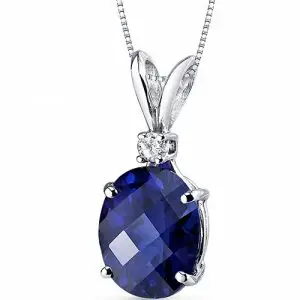 Sagittarian women do not tend to wear a lot of jewellery at once. They do like to wear a couple of nice pieces that work with their outfit. They are also quite eclectic in their tastes. No matter what you get for them, they probably have an occasion for which they will love to wear it.
Blue is the colour of Sagittarians. She probably likes wearing sapphire or turquoise. She will also probably like something with a bit of a natural or bohemian feel. Consider this leather bangle with turquoise beads. She likely favours silver over gold. If you are looking for something a bit special, consider this 14 karat white gold and saphire diamond pendant - she will never want to take it off.
See more:
---
Sagittarius women are adventurous by nature and love trying something new and are very eclectic in their tastes. This can make them easier to buy for then some women. She is not so set in her preferences that you will suffer if you get the wrong colour or brand.
They don't like to fill their lives with a lot of clutter, so often experiences make better presents that things. However, travel gear and reading material are some of the best gifts that she will always welcome and use.