Our readers support us. This post may contain affiliate links. We earn from qualifying purchases. Learn More
When the Hanged Man card comes out in a reading, it means a pause in the action enforced by powers beyond your control. While in this state of suspension, you can look at the world differently. Embrace this moment of non-action and see what you can learn.
What you gain in wisdom will be worth sacrificing time and opportunity. The Hanged Man is the setback that precedes a significant change. You may be on a time-out, but you can use this time to form a new plan.
The guidance is to let go, for now, of the need to make progress. Allow events to unfold without your involvement. When the time is right, you can return to the action better informed.
The Hanged Man Tarot Card Keywords and Facts
Before you understand the specific meaning, take a look at the keywords and phrases associated with our 13th Major Arcana Card.
| | |
| --- | --- |
| Upright Keywords | Perspective, sacrifice, letting go, suspension |
| Reversed Keywords | Hesitation, needless sacrifice, disappointment |
| Yes or No | No |
| Numerology Number | 12 |
| Zodiac Sign | Pisces |
| Element | Water |
| Ruling Planet | Neptune |
The Hanged Man Tarot Card Symbolism and Appearance
The Hanged Man is a figure hanging upside-down from his ankle, tied to a tree. The idea is that this is a time to learn and reflect before moving on.
He doesn't appear to struggle, instead seeming very relaxed. Understand that this suspension from day-to-day progress is imposed for a good purpose. You will learn more if you don't fight this opportunity.
The Hanged Man has a glowing halo around his head, meaning he has attained spiritual light during his confinement. Having accepted his circumstances and opened himself to insight, his consciousness is illuminated with transcendent wisdom.
The Hanged Man Tarot Card Upright Meaning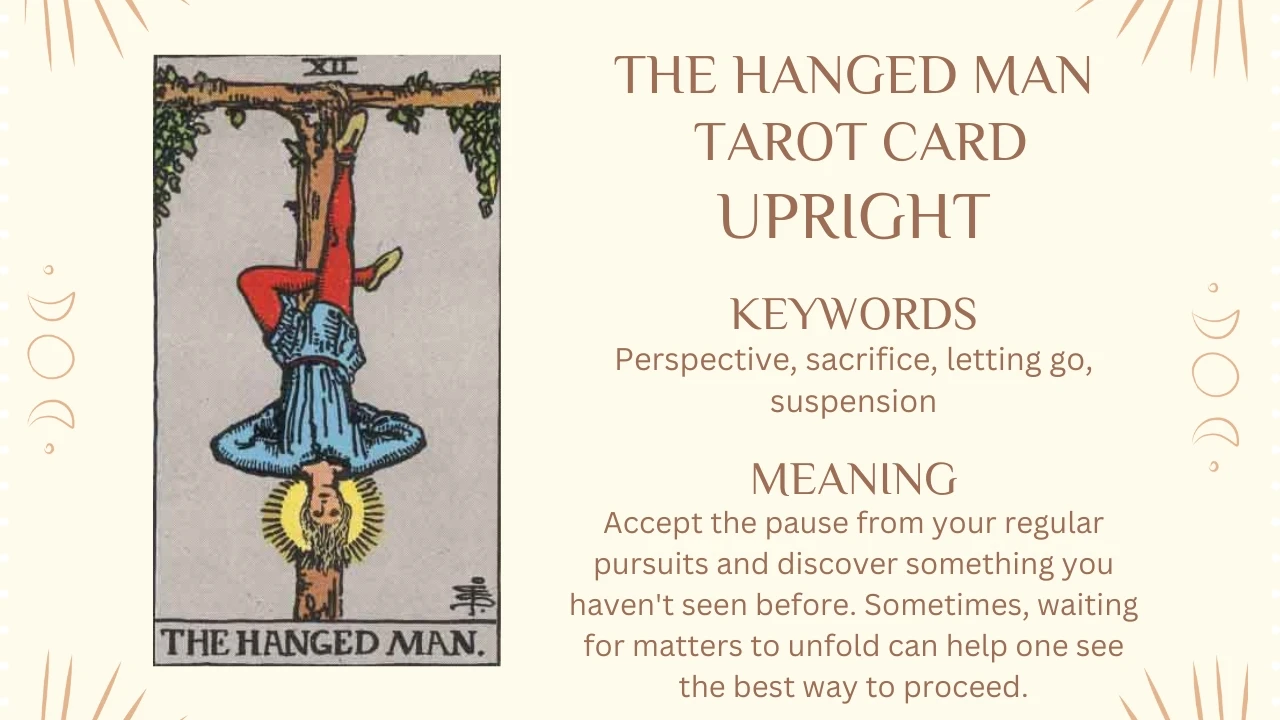 When it appears upright, the Hanged Man card means letting go of control. The message is to accept the pause from your regular pursuits and discover something you haven't seen before. Sometimes, waiting for matters to unfold can help one see the best way to proceed.
The Hanged Man sacrifices agency in the interest of personal growth. When you see this card in a general spread, the guidance is to take a wait-and-see attitude.
Now is not a time to take action but to observe events from a new perspective. Wisdom is gained when you don't struggle with your confinement.
Love (Upright)
In a love reading, the Hanged Man says you can't push good love. The message is to avoid putting pressure on yourself or someone else to be intimate or romantically involved. It's best not to hurry when you develop feelings for someone.
If someone is putting pressure on you, it's time to put the brakes on. When you see the Hanged Man, it means there is more to understand than meets the eye.
Step back and observe how they behave. When asked to wait, a good potential partner will respect your wishes.
Health and Spirituality (Upright)
In a reading about health, the Hanged Man card points to a period of rest and recovery following an illness, surgery, or some other interruption in your mental or physical well-being. You can use this time to reflect on your habits, making plans to get better.
In questions of spirituality, the Hanged Man card refers to a retreat to gain perspective and feel more spiritually connected. Transcendent illumination is available when one pauses day-to-day life. A more profound understanding of your faith is the outcome of intentional reflection.
Money and Career (Upright)
When the Hanged Man card shows up in a spread about career, it says you feel uncertain about your career path. An enforced break has you waiting and thinking of your next moves. It's essential to approach this hiatus with optimism.
If you have to walk away from a job or take your time to find a suitable workplace, it is vital to have a positive, relaxed attitude. Take it easy in your downtime and be open to a broad scope of possibilities.
The less you struggle, the more you can see what comes next.
Financially speaking, the Hanged Man card points to a necessary delay that will help you change your perspective on money. The message is to reflect on your spending habits and investments. If they don't serve to lift you toward your more important goals, it's time to change your ideas about money.
The Hanged Man Tarot Card Reversed Meaning
When the Hanged Man card shows up in reverse, it shows an attitude of indifference about your current circumstance. Disappointment could have made you hesitate. The guidance is to be open to new possibilities.
Don't let a pause lead to long-term stagnation. If you didn't get what you wanted, it's time to release that frustration and make a new plan.
If you're idling because you don't know what you want, the idea is to get moving again. Even aimless progress is better than not trying.
Love (Reversed)
When the Hanged Man card reversed comes out in a love reading, it says there are changes on the love horizon. The message is that this is the moment to act. You may have experienced a dry spell in your romantic life lately, and that period is ending.
You might hesitate to commit to a course of action, whether getting together with someone, getting engaged, or breaking up. In any case, you're gaining a new outlook on love that will necessitate an inevitable transition.
The Hanged Man, in reverse, can also point to a situation where one makes too many sacrifices for romance. If that love interest keeps leaving you hanging, take it as a sign to move on.
Health and Spirituality (Reversed)
In a health spread, the Hanged Man card shows up in reverse to indicate a lack of dedication to your mental and physical well-being. The message is to take stock of your relative fitness and then act to remedy any illness. It takes commitment to keep oneself well.
You could struggle to come to terms with a necessary course of action involving medication or surgery. The sooner you commit to positive action, the less you will suffer.
Spiritually speaking, the Hanged Man card points to avoiding valid moral or ethical ideals. The message is to remember your responsibility to the community and behave accordingly.
A selfish or materialistic way of being might hinder your feelings of inclusion and collective support. Consider giving some time to a charitable cause to be reminded why your participation in the greater good is so valuable.
Money and Career (Reversed)
If you see the Hanged Man card reversed in a career reading, it signals that you are procrastinating or stalling for time. You may have tried something new for your career, but it isn't working out now. Don't hesitate. The time to act is now.
When it comes to money, the Hanged Man card refers to money wasted due to a lack of sound judgment. The point is to notice where your funds are misspent and make an immediate change. It's time to get control of your impulses so you can reach your goals.
You may feel frustrated about a financial loss and lack faith in yourself to make good choices. The message is to learn from the failure and get back on track.
The Hanged Man Tarot Card Yes or No Meaning
In a "yes or no" tarot reading, the Hanged Man is a "no." Much like the Hermit card, the Hanged Man card advises a pause from the progress. Take a "wait and see" attitude when you would typically spring into action. While you watch and wait, you may observe something that will help your progress.
Important Card Combinations for the Hanged Man Tarot Card
The Hanged Man and the Three of Cups
This pairing is a sign that it isn't yet time to celebrate. If you've been planning to attend a social event or raise a toast with friends, the guidance is to postpone the event or bow out. The Hanged Man and the Three of Cups may also turn up to advise against social drinking.
Remember that the point of withholding your participation is to observe what happens and gain insight that will add value when you begin again to take part. It might feel unfair to sacrifice this time with your friends, but the perspective gained will be worth it.
The Hanged Man and the World
The World card points to the end of a cycle. When it turns up with the Hanged Man card, it says this chapter isn't over. Some unforeseen circumstances may be causing a delay.
Ask yourself if there is any unfinished business that needs your attention so that you can move on. After all, when you walk away from an era of your life, as with a graduation or a divorce, you don't want to find yourself back in the same old place, completing something that should have been done by now.
The Hanged Man and the Two of Pentacles
In a love reading, the Hanged Man comes out with the Two of Pentacles to say you hesitate to commit. If you seek a companion or are newly involved with someone, it is only sensible to hold back. Rushing into an engagement or cohabitation arrangement at this point would be unwise.
If you're in an established partnership, it is natural to want to celebrate certain milestones as a sign of your trust and companionship. Hesitation at this point is going to require observation and radical truth-telling.
The Hanged Man and the Eight of Cups
The Eight of Cups is about walking away from something that wasn't emotionally satisfying. In a love reading, the Hanged Man shows with the Eight of Cups to say that it's time to take a break, though you may eventually get back together.
The guidance is the same if you seek love or are newly involved. You will benefit from a pause in the pursuit of romance. Notice what you want when your desire and anticipation don't revolve around searching for a soulmate.
The Hanged Man and the Seven of Pentacles
In a reading about health, the Hanged Man will show up with the Seven of Pentacles to indicate a prolonged healing time. The message is to relax and allow yourself to get better. Be patient with your limitations at this time.
You may be tired or feeling sick and tired. Your recovery depends on practicing self-restraint.
Take rest, even if you feel restless. You are on the mend, and this calls for a dedicated, conservative approach to renewing your body and mind.
The Hanged Man and the High Priestess
When these two come together, the High Priestess card emphasizes the importance of epiphany or increased spiritual awareness. The advice is to take an intentional break from day-to-day life or from the progress you're making. Take the downtime to embrace a path that aligns with your values.
The spirit of things expresses itself in subtle, non-material ways.
Imagine if you want to see what life in the woods is like when you're not there. When one blunders into a natural space, the life there hides in silence.
If you relax and sit quietly, things gradually return to normal. It is this way with spiritual understanding. It hides until you become passive and receptive to its message.
The Hanged Man and the Magician
In a reading about career, the Hanged Man appears with the Magician to indicate the gestation of a transformative new story. The message is to take time to reflect on the narratives by which you live. It's what you think and say that determines the direction of your life.
You could write a novel that touches readers and changes their perspectives. Or invent something that improves life for everyone in a magical-seeming way.
Don't let other people tell you the story by which you must live. Instead, take the time to formulate a narrative that inspires you.
The outcome will be worth the sacrifice.
The Hanged Man Tarot Card in Numerology
Although it is the 13th card of the Major Arcana, the Hanged Man card's number is 12. The message of the number 12 is that you will benefit from trying something new.
Perspective is everything. You may not always think you have a choice about how you perceive circumstances, but the truth is that this is your most important power.
If your progress is slow or feels hollow, take a time-out and see if you can reform your attitude to be more forgiving, optimistic, and gracious.
Next Card: Tarot Card Number 13: Death Man Meanings
Rider-Waite images used with permission of U.S. Games Systems, Inc., Stamford, CT c. 1971 by U.S. Games Systems.