With the increasing trend of Yoga and Meditation practices, there is an increasing need for Props for proper posture, and painless practice. Today we will review props for Meditation which are available in the Market, as Meditation Cushions or Pillows.
Why do we need a Meditation pillow or cushion?
Our current lifestyle has become more and more sedentary, which has made our body weak for sitting on a bare floor, or hard floor, as it may harm our spine or result in a painful posture. This could instead of providing us with required benefits from practising Meditation, result in long-lasting pain, sprain, or even injury. Thus, we need a soft cushion to sit on, that provides us the requisite support for the correct posture to practice for a longer time, without the fear of getting injured. This will make your daily or weekly practice of Meditation much more blissful and enjoyable.
Many people while doing meditation use accessories such as blankets or a floor Rug to practice meditative postures, both of which are an incorrect way of getting a cushioned surface. A blanket, when folded doesn't give you the correct posture, while a Rug is not completely a soft cushion. Moreover, both Blankets and Floor Rugs are not handy, and are not portable at all. Therefore, this particular gap is to be filled only by a professionally designed Meditation Pillow or Cushion. Needless to say, these cushions are a style statement too, and a conversation starter after our meditation sessions for good networking!
Types of Cushions and Price Range:
If we search for Meditation cushion options, we will find that they come in all shapes and sizes, with different materials used, and the prices vary from $10 to $500!
So, how do we make the correct choice? Here, we will review a few of the very popular options from the different price ranges, and discuss their pros and cons to enable you to make an informed decision.
---
1. Aozora Zafu Meditation Cushion Yoga Inflatable Cotton Bolster Pillow Cushion
Description: It is one of the most basic Meditation cushions available and is round in shape with about 16" diameter, and 4.5" height. It comes in many vibrant colors and patterns, making it a style statement. The cushion comes with a Full Zip cotton cover, which is removable, and machine washable. It is easy to use, wash and its inflatable, making it easy to carry. It also comes with a free hand pump to inflate and deflate. The fabric is very sturdy, and does not tend to slip on floor tiles or Marble flooring. This makes a great alternative to a meditation chair or rug.
Pros:
Portability is high as its an Inflatable cushion.
It comes with a free Hand Pump.
The size is adequate.
The colors are quite vibrant.
Price Range is very genuine.
Cons:
Air filled cushions are typically not as comfortable as solid filled ones.
With regular inflation and deflation it may not last long as the valve or the air sealing may give way with daily wear and tear.
Price Range:
The price range leaves no space for complaints. It is one of the cheapest Meditation Cushions available.
Final Verdict:
At such a good price range, options of vibrant colors and patterns, and a free hand pump, this is one the best options to start with. We recommend this as a great beginner option!
---
2. Bean Products Zafu Meditation Cushion – Organic Buckwheat Fill
Description: This one is Buckwheat filled, which removes the problem of inflatable cushions being more uncomfortable, or troubles with inflation and deflation. Bean Products have 30 years experience in producing props for Yoga and Meditation, and thus, came up with this wonderful product. The size is adequate, and you have the option to select an XL one also. With 14-18" diameter, and 6" height, this one is not only broader, but also has more cushion to it. It can be emptied out to clean, or for a refill. It is therefore a much more durable and long-lasting option.
Pros:
Comes with beautiful Yoga patterns printed on it.
No need to inflate or deflate it again and again.
Freedom of refilling as and when required.
Comes in 42 different shades, and patterns.
Cons:
Buckwheat Hull is prone to mites and bugs infestation.
Buckwheat dust may spread on your floor.
Price Range:
The basic option presents good value for money. The XL option offers a bit of a larger size, but comes at a higher price.
Final Verdict:
It is a good and comfortable option, and more comfortable than the air-filled one. We recommend this product if you live in a dry environment, not in a humid one, due to the aforementioned cons.
---
3. DharmaObjects Traditional Tibetan Yoga Meditation Accessory Cotton Mat Cushion
Description: This is more of a mat than a cushion, filled with cotton itself rather than Buckwheat Hull or air. Therefore, it rectifies the problem of any potential mite infestation of Buckwheat Hull, and is sturdier than an air filled cushion. This comes with a carry bag, and is quite portable. You have options to select from a range of vibrant colors and some interesting patterns. It looks like traditional Indian Mat, and is a style statement for an Indian Meditation Camp.
Pros:
It is filed with Cotton, and therefore has no problem of a mite infestation.
Comfortable to sit on, and can be used as a regular sitting mat.
Comes in Vibrant colors and patterns.
A free carry Bag.
Cons:
The material of the cover is very thin, and may not last during daily wear and tear.
The filling is also minimal, making it quite thin for sitting for longer durations.
Price Range:
The price range is suitable for the material and filling provided. It comes in 29 variants of color and shapes.
Final Verdict:
We recommended this for beginners who do not wish to go for air filled or buckwheat Hull filled cushions, as it is clean, easy, and portable while featuring in the same price range as before. The only flaw is, it cannot be used for longer meditation durations, and hence, it is suitable for beginners and not for advanced level meditation practitioners. This product is recommended as an extra mat in your collection of Meditation Props.
---
4. Peace Yoga Zafu Meditation Buckwheat Filled Crescent Cotton Bolster Pillow Cushion
Description: It is a buckwheat Hull filled Meditation Pillow rather than a cushion, but an oversized one. This is the perfect balance of shape and size, designed specifically for various postures of Meditation and Yoga to support the spine. The cover comes with a zipper, to provide ease of opening, refilling, or cleaning the pillow. It comes in 6 different shades, and the quality of build is very sturdy!
Pros:
The crescent shape allows maximum support in various postures.
It can be used as a pillow, cushion, or leg support during various postures.
Cons:
It is filled with Buckwheat Hull, which can be prone to mite infestation.
Price Range:
The price range is a bit higher than other Buckwheat Hull filled cushions, but that is compensated with the crescent Shape, and nice build quality.
Final Verdict:
If you are looking for a beginners cushion with no reservations for Buckwheat Hull filling, then you should opt for this Pillow, as its shape and size is very good, and will provide better support to the spine. It is also long-lasting.
---
5. Mobile Meditator Inflatable Meditation Cushion and Travel Pillow
Description: This is an interesting option of a meditation Pillow as it comes with three different chambers, which can be inflated and deflated as per the needs of different postures. This provides dynamic cushioning for your needs, and yet its portable to carry. It features in 4 color options.
Pros:
Three Inflation Chambers for dynamic cushioning.
Crescent Shape for better posture.
Cons:
Price Range:
It comes at a very reasonable price range considering its functional design.
Final Verdict:
This option really is worth the money spent, as it should provide an excellent experience in your meditation session.
---
6. Bean Products Zafu and Zabuton Meditation cushion Set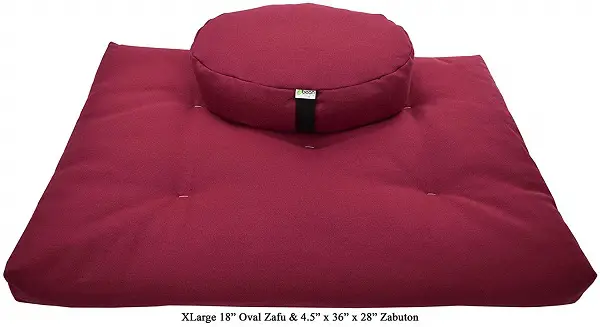 Description: This is another option for a Meditation cushion and mat, combining both a Cushion and Mat in one. Generally, when one sits on a cushion alone, it leads to sleeping legs sometimes, and is quite uncomfortable for the feet. This particular option takes care of these problems, by providing a mat below your feet.
With almost 28 choices of color it is an excellent option. It comes in three sizes ranging from 14" to 18". It also comes in handy when you need to rest on your knees, where the cushion alone won't help. The mat further solves this problem.
Pros:
The two-in-one option of Cushion with Mat.
The filling is both of Cotton and Buckwheat Hull.
The comfort provided is excellent.
It has an innovative design.
Cons:
The cover of the mat is not washable and hence prone to dirt.
The problem of Buckwheat Hull mite infestation still remains with this one too.
Price Range:
As this is a two-in-one, the price is significantly higher than the previous cushions, but definitely a viable option.
Final Verdict:
It is innovative in its design, and a worthwhile purchase, but the higher price may put some people off.
---
7. Alexia Meditation Seat
Description: This is by far the most expensive option that we are reviewing here, but it is worth mentioning. It is not a simple Cushion or Meditation Mat, but a complete ergonomically designed Seat with back and feet supports for a sitting posture. It safeguards you from any injury while practicing meditation. This is a premium option, and will provide the perfect support and comfort.
Pros:
Ergonomic Design.
Back Support and Arm Support.
Very Good quality Build and Premium Looks.
Cons:
Price Range:
This is almost 10 times more than the starting range of Meditation Cushions, but still, it cannot be compared with those. It is a product in its own league, and thus doesn't fall into the same categories as above.
Final Verdict:
The longer you meditate, you realize that you need a comfortable option with back support to let you focus freely rather than being concerned about your back pain. This particular product is for all those who are doing meditation for a longer duration, or are suffering from back pain due to any reason. Sooner or later you will realize the need for this meditation seat, and therefore, it is a good investment.
---
Concluding Remarks:
In this review we talked about various options for Meditation Cushions, Pillows and Seats. We have seen that they come in various shapes and sizes, along with different materials like Buckwheat Hull, Cotton, or Foam Fillings. Though we have covered many options, many will typically spend spend somewhere between $30-$50 for a good Meditation Cushion.
We would personally recommend one to go for a good Cotton filled Meditation Mat, with Air-Filled or Buckwheat Hull Filled Crescent Shape Pillow. That will be good for beginners as well as for advance level practitioners.
You can make the choice for Buckwheat Hull filled cushions based on the humidity of its usage, as it may prone to Mite infestations. Adding an extra cover is always recommended to keep the dust inside, and makes it easy to be washed. Feel free to ask us any questions, or let us know why you have chosen your cushion or pillow.
Summary
Article Name
The Best Meditation Cushions and Pillows - What You Need To Know
Description
Find the best Meditation Cushions and Pillows at different price ranges. We also share what you need to know before buying a Meditation Pillow or Cushion.
Author
Publisher Name
Publisher Logo