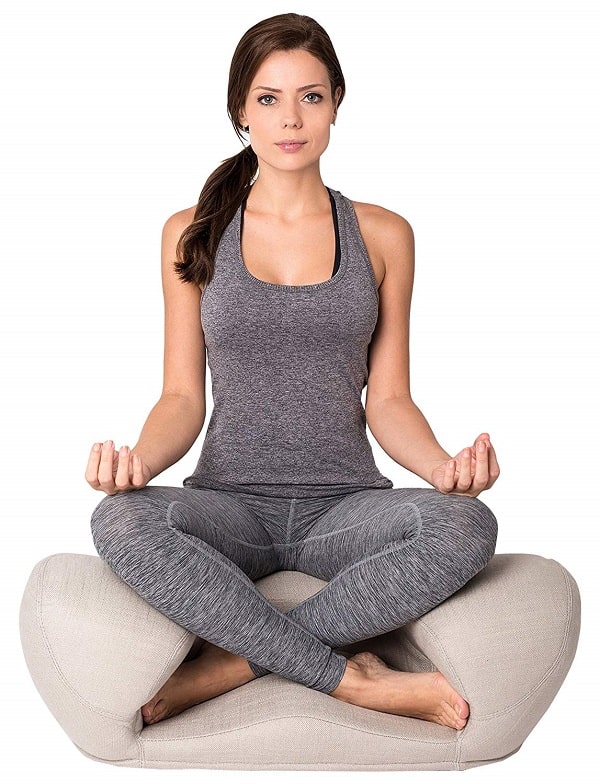 Meditation is described as an art in which a person sits quietly to attain peace, to heal their body, mind and soul. One feels active after a good meditation session and that helps achieve higher satisfaction in life. The ultimate purpose of meditation itself is to give one relief from all the ailments by a neutral blend of energies.
Let's first pay attention as to why this should be a regular practice. It is simple folks, any form of healing helps when a person follows it consistently. Meditation is a healing process that has long term benefits, but for those benefits to be permanent, one should practice it daily.
In saying this, we can also say that anything that is a daily routine has to be comfortable. When it comes to sheer comfort, there are certain accessories that make the daily meditation / yoga experience more comfortable and therefore enjoyable! When you enjoy something you are far more likely to stick to it, meaning that in this case you are more likely to see the benefits from meditation and yoga.
The Best Meditation Benches and Chairs
There are numerous health benefits of a meditation bench or chair in any meditation / yoga practice. Meditation benches are small benches that can be used in various meditation positions and yoga postures for better comfort while sitting for a long duration. Highlighting some of the proposed benefits are;
Meditation stools and chairs can provide better comfort to your back and spine.
There are some meditation chairs that are good for people who have problems sitting for longer periods while meditating.
They can provide better concentration and reduce tiredness.
They can relax muscle tension.
A meditation seat may help a person sit straight and align all the body Chakras.
A meditation bench can be good for overall blood circulation.
There are meditation chairs with back support that not only balance the body but also offer all round support.
So that you can make your next meditation / yoga experience wonderful, we have thoroughly researched and recommended below the different types of meditation benches and chairs.
---
Kneeling Bench for Yoga, Meditation and Namaz

Description
A foldable kneeling meditation bench is something a person looks for when they have problems concentrating during meditations, when they are not able to sit for longer durations – either their back starts to hurt, they are not able to hold their position for long, or they feel tired and distracted. 
Pros
Foldable kneeling bench. The good thing about foldable benches is that they are really easy to carry. For people who meditate on the go, in parks etc, it is one of the best benches for them.
If anyone has a spine problem and they still want to go ahead with meditation, they can take the help of this kneeling meditation bench but after consulting with a doctor. Generally doctors prefer these kind of accessories so that it does not affect your spine.
There are many yoga positions that requires sitting for long hours on your knees (like vajrasan), the bench is good and recommended for those postures. If you go wrong with such asanas then the entire body weight falls on the knees which can injure them.
Light weight and inexpensive.
Portable – simply dismantle, pack in its bag & carry.
Cons
Can bear weight up to 200 pounds only.
Low in height, if you are not used to such low benches, you may have to practice a little but that can easily be resolved after a few days.
Made of plastic.
Final verdict
This is one of the lowest priced meditation benches. It is a multipurpose bench with a cushion cover on its top making it an excellent purchase if you want to meditate for longer periods of time or if you have a spine problem (anything above 10 minutes can be a longer time).
---
Meditation Bench, The Original Kneeling Stool, Posture Certified
Description
This is one of the best meditation stools we have reviewed. A thorough research on this product shows that it is a CERTIFIED bench specifically made to provide comfort and at the same time it is travel friendly so that you can perform yoga on your favourite stool anywhere. It has a new and comfortable design for people who have knee / back pain. The curve of the bench and the smart incline promotes your body and pelvic area to balance your body and promotes maximum comfort. No cushion is required for this bench.
By using this meditation stool, your body automatically adjusts to balance the areas which are most used for meditation and soothes them so that you can have a better meditation experience. You also get a money back guarantee if you are not happy with the product withing 30 days of the purchase.
Pros
Improves body posture.
Offers great design that offers comfort & relaxes muscles.
Designed to promote maximum health benefits that promotes good blood circulation as well.
Does not make your feet sleep for long meditations.
Can also be used as a normal sitting table if you have problems sitting on regular chairs.
Lightweight product and can be easily assembled for travel.
Cons
People who prefer a cushioned seat may not feel comfortable on this. But they can add a suitable pillow of their choice & comfort at anytime.
This is made of wood but it still cannot be left in gardens or outside the home. The reason is that it can easily catch moisture and require a little extra care.
Final Verdict
We really like this product and highly recommend it. It is simple, sober, durable, budget friendly, travel friendly, provides good comfort and helps in long meditations. When looking at other meditation stools within this price range, this looks to be very affordable.
---
Meditation Chair, Correct for the Human Physiology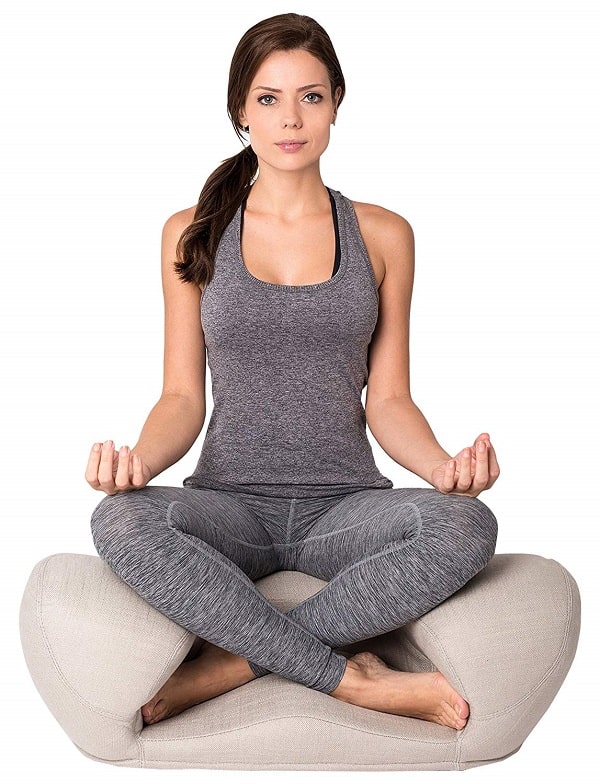 Description
This is a finished hand crafted Meditation Seat in 3 different fabrics – Vegan leather, Genuine leather & Fabric. Dimensions are L 26" x W 32" 1/2 x H 11" ½. It has been designed in a way that it supports your body while meditating especially in the lower back area. You can easily try different postures on this meditation chair and while you try these, relax your muscles as it will hold your weight.
Pros
Good for someone with any existing pain – back pain or knee pain or disability.
It is also a good choice for people who are overweight or they find it difficult to balance while meditation.
Well designed and solidly constructed.
Good choice for all round comfort while meditating
Keeps your back straight & puts no stress on the spine
Cons
The Alexia meditation chair may be a little pricey for some. For beginners especially, there are some great products available at a cheaper price, although this product will provide extra comfort.
Final Verdict
For heavy weight people and elderly people this can be a good support for meditation to hold their body. We do agree that this is a little more pricey but its an excellent choice for people who don't mind paying a extra for comfort. It is a durable and sturdy choice to give you maximum lower back and knee support.
---
Extra Large Meditation Chair with Back Support and Block
Description
This is a good product designed by Swami Dhyan Unmesh who is a registered Yoga Teacher & Osho Meditation Facilitator. They have applied innovative advanced techniques to this product for better comfort and style. It comes with a simple water resistant bag in which there is a meditation chair, back support cushion and a 3 inch zafu to sit. There are multiple color variants to choose from – bluish-purple, black, maroon, brown.
Also, as the name suggests it is extra large but this can be used by anyone. It is designed as extra large to give maximum support.
Pros
It was ranked the number one Meditation Chair by Wiki ezvid under the "10 Best Meditation Cushions 2016" (source: amazon).
Helpful for people who face numbness in legs in cross legged posture, especially during long hours of meditations.
Comes with a 7 year warranty.
Fits well for children as well as adults.
Easy for travelling. You simply have to dismantle and fold. That's it!
It comes with a water-resistant bag.
The entire set weighs almost 5kgs (without packaging).
Cons
The back support is tied with elastic & you cannot lean down on it. It is meant only for sitting with some support.
Fits anyone below 6 foot 2″.
Final Verdict
To be honest, we do not feel there are any other cons to this extra large meditation chair. It is simply a great new comfortable product and can be easily used for day to day meditation. Plus, the amount they are offering for this product is apt as compared to market. It has got numerous benefits, fits any age, almost any size and can be easily taken along while travelling.
---
Simplysitting Handcrafted Meditation Bench – Meditation Seat
Description
This meditation stool comes with a really nice design & made from sustainable American Cherry heartwood which is 100% solid and durable. It skips the idea of a regular bench with two legs and has a sturdy & self-centering single leg which balances and holds weight in a smart manner. Additionally, It has a really cute design, very simple and portable. It is smaller and lighter than a notebook, can you imagine how light it can be?
It is really good for beginners as well as longtime meditation practitioners for a better meditation experience and can be carried anywhere you want to follow your yoga / meditation practice to. The description of this product also says that it is handcrafted in the Pennsylvania Wilds.
Pros
It has a cute & stylish design
It puts almost no strain on the back during meditation & keeps the spine straight.
This is a thin & feather light product.
If you have a problem of sleeping feet then this is good for you
You can easily break it down to take it for travels. It is small and easily portable product.
Cons
It can be a little difficult to balance with this for elderly people. They can still do it will a little practice
It has been mentioned that it can be used by anyone but we feel that obese people can also have discomfort with this one
No other leg size variants available.
Final verdict
This is no doubt a stylish as well a unique product. Price range is also as per market standards. It is a beautiful work of art – very delicate & gentle. To use this product, one needs to do a little practice of balancing. Honestly, it is designed to give overall support & is able to balance but you still need to be a little more careful with this one. Rest assured it is a great product. You can take it anywhere, use it anywhere – it is a product worth trying really!
---
Concluding remarks
After this entire review of 5 products, we recommend product number 2 from SPOKO because it has all the qualities that a good meditation bench / stool should have. It is made from wood, gives a neat & sturdy look with 100% comfort. It is also a folding meditation bench, can be easily dismantled and taken along while travelling.
Whether you have any existing body pains or you are a meditation beginner, these meditiation benches, stools and chairs will give you good comfort, helping you to balance your body so that you don't feel tired for long hours of meditation. Whether you use a seat for 10 minutes or the 10 hours, it will improve your body posture, blood circulation and give you a wonderful meditation experience.
If you have a higher budget we also recommend Friends Of Meditation Extra Large Meditation Chair as it presents excellent value for money and has been designed by a yoga instructor & spiritual guide keeping in mind the prerequisites of meditation. When you are meditating for long periods of time, it's always worth getting high quality products to ensure you have the maximum comfort available. This will increase the chances of you enjoying it and therefore sticking to it daily. After all, it is a matter of good health!
Summary
Article Name
Best Meditation Benches and Chairs for Yoga and Meditating
Description
We have researched and listed the different types of meditation benches and chairs. They offer a variety of benefits when practicing Yoga or Meditating!
Author
Publisher Name
Publisher Logo