Our readers support us. This post may contain affiliate links. We earn from qualifying purchases. Learn More
Signs next to each other in the zodiac do not have much in common with one another. For this reason, with a few exceptions, they are not very good matches by zodiac sign. A Pisces man and an Aquarius woman are not one of the exceptions. On the other hand, because of the general nature of these signs, they will be able to make a relationship work between them if they want to. A Pisces man is loyal and devoted to a partner, and an Aquarius woman is remarkably stable. For this reason, if they do form a commitment with each other, it is likely to last.
Pisces man, Aquarius woman: Strongest points of compatibility
Her curiosity
His charm
Balance
Interest in each other
A desire to be together in spite of their differences
Mutual acceptance
Important traits of a Pisces man in relation to an Aquarius woman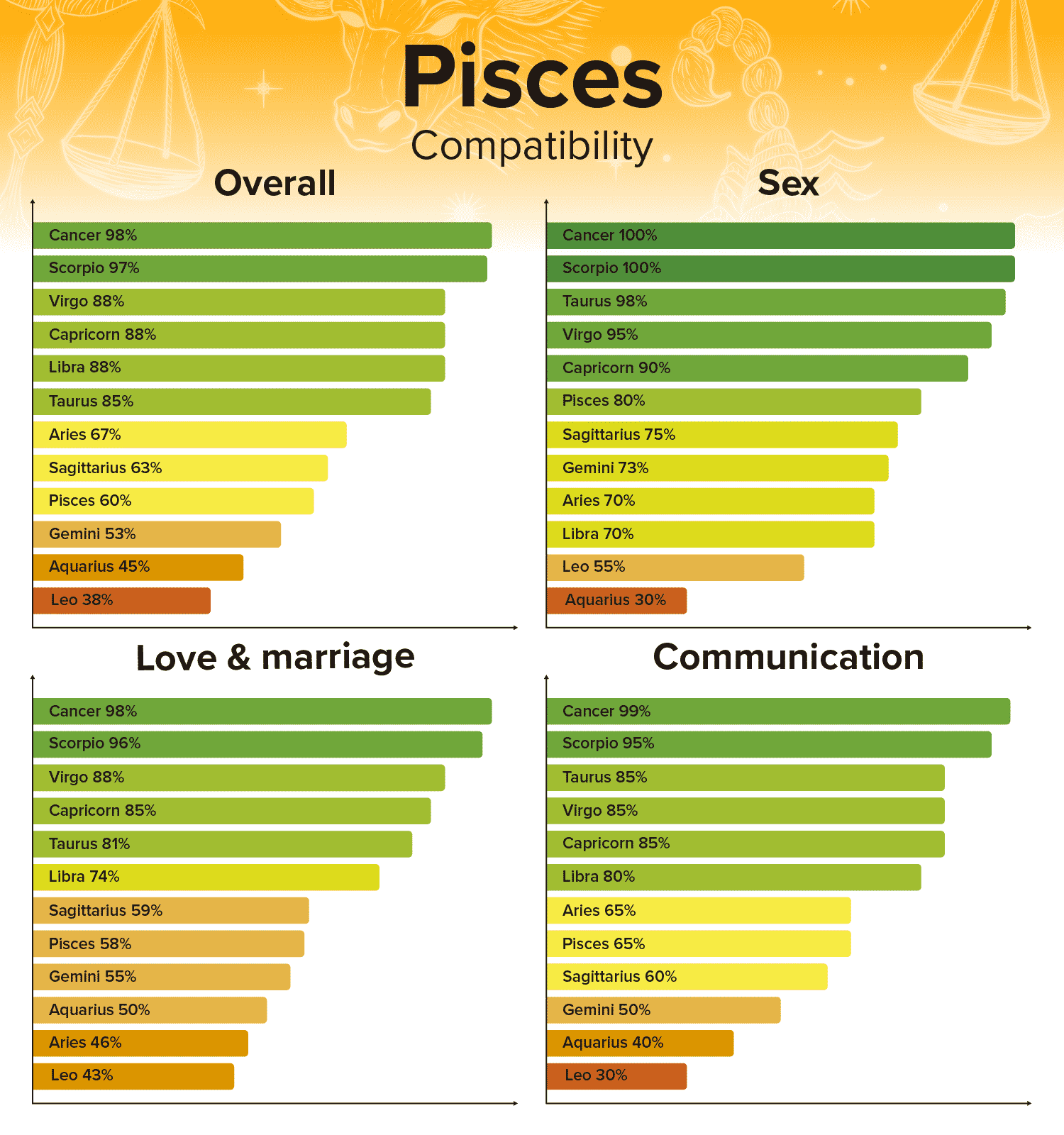 A Pisces man is a dreamer. He often seems a bit unusual in some way. This is because he does not quite fit in when it comes to the material world. He is not one to overtly rebel, but he also does not take much notice of his surroundings. A Pisces man is happiest in the world of dreams. He has a rich fantasy life, and it is common for him to be an artist of some kind. He might also be an actor or a poet. His lack of interest in the material world sometimes causes problems. It might be hard for him to organize his household or keep up with his bills, especially if he is single.
Even so, a Pisces man can come down to earth when he falls in love. He is completely devoted to a partner and will do anything for her. A strange thing sometimes happens to him when he cares for someone, though. He can go from seeing her with rose-colored glasses to being surprisingly critical. He can also begin to seem a bit controlling. This can catch a partner off-guard if she is not aware of it. The reason this happens is that he does come down from the clouds, and the physical world will never be able to match his visions.
Important traits of an Aquarius woman in relation to a Pisces man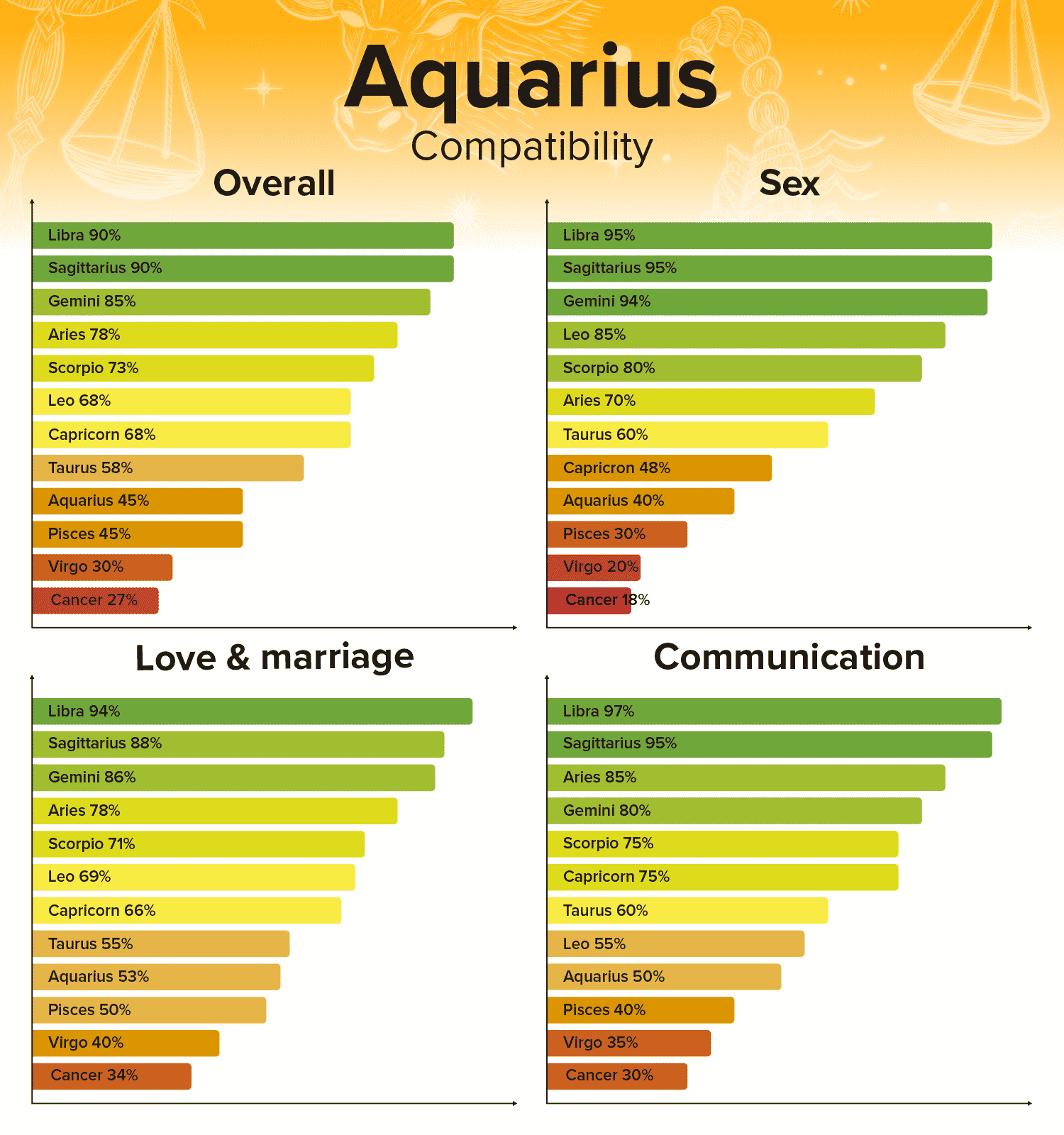 An Aquarius woman is a bit of an anomaly. She enjoys being with people, but she rarely initiates social contact. Aquarius often has the reputation of being progressive and open-minded, but that is only because she will listen with interest to anything anyone else has to say. Yet, once she has formed an opinion, she rarely changes it, or if she does, it happens very slowly.
It takes a long time for an Aquarius woman to fall in love. She is usually very set in her ways, and bringing someone new into her life is a big change. She needs to be intellectually stimulated before she can feel a physical attraction to someone. Although the natural partner for an Aquarius woman is someone who is flashy and larger than life, one never really knows who she may end up deciding to date.
Even though this sign has a reputation for independence, when an Aquarius woman gets into a relationship, she is very stable. Once she has gotten accustomed to someone, she will want him in her life forever.
Pisces man, Aquarius woman: Dating and early stages of the relationship
Generally, a Pisces man and an Aquarius woman will not find each other attractive. There is not much chemistry between these signs, and they are not natural partners for each other. He is emotional and intuitive, and she is rational and intellectual. This means that it is hard for them to find common ground.
Still, both of these signs are unpredictable. His otherworldly nature causes him to do things that are often surprising, and she makes it a point to regularly confound expectations. Also, a Pisces man is unusual enough that she may just find him fascinating. It is unlikely that she will agree with his ideas, but she will be curious about them.
Pisces man, Aquarius woman: Sexual compatibility
If a Pisces man and an Aquarius woman form a sexual relationship, it will likely be challenging for them to find common ground. For an Aquarius woman, sex is an intellectual exercise, and she likes to explore many different things. For a Pisces man, on the other hand, sex is an opportunity to form an emotional, and perhaps even psychic bond, with his partner.
Pisces man, Aquarius woman: Marriage and family life
If a Pisces man and an Aquarius woman get together, and if their relationship starts to deepen, the Pisces man will probably want to marry. It may take a while to convince an Aquarius woman to do so, however. She is not one to rush into anything. Also, she may have beliefs which make her reluctant to seek official recognition of her relationship by the government or any religious organization. A Pisces man is not one to push against resistance or make ultimatums, so he will go along with whatever she wants to do.
Whether they have an officially recognized marriage or whether they just live together for decades, the longer they are together, the better the odds are of them staying together. They are very different people, and they do not naturally understand each other. On the other hand, the natural tendencies of both of these signs help them to live together peaceably. The more otherworldly and eccentric the Pisces man is, the more she will find him interesting. Also, an Aquarius woman is set in her ways and does not like to be told what to do, and because a Pisces man is so adaptable, he will easily adjust to her.
If a Pisces man and an Aquarius woman have children, they will balance each other well. They will likely have a bit of a role reversal when it comes to the children. He will be the more sensitive and nurturing parent, and she will be the one to set limits. They will have an interesting household and provide many experiences. More conservative children may be embarrassed by what they see as eccentricities of their parents, but they may be the envy of their friends for having such cool parents.
Pisces man, Aquarius woman: Working together
Even if a Pisces man and an Aquarius woman have a job or a project that requires mutual cooperation, it is unlikely that they will actually work together. Both of these signs tend to go off and do their own thing. A Pisces man often has brilliant ideas, but it is hard for him to put them into practice. Left to his own devices, he is likely to flit from task to task, leaving many projects unfinished if he actually starts them at all. He does best when he has someone who can give him focus and direction.
An Aquarius woman would be able to give him this focus and direction if she were so inclined. The problem is that she really does prefer to do things by herself. She likes to do things her own way, without having to listen to orders or cooperate with anyone. She does not even like having to give orders if she can avoid it. This means that the Pisces man will probably be left to his own devices.
Typical fights between a Pisces man and an Aquarius woman and how to resolve them
It will take a long time for a Pisces man and an Aquarius woman to understand each other. They will not fight with each other per se, but there will be many opportunities for miscommunication. The reason for this is that both of these signs see the world in a different way. He is emotional and intuitive, and she is rational and intellectual. He has a natural sense of empathy, and he may not be aware that this is something unique to him. For this reason, he may not discuss his feelings and expect her to just "know" what he wants and needs. Likewise, an Aquarius woman does not really want to have to explain herself, so she may not communicate with him either. With other signs, this would not be as much of a problem, but an Aquarius woman can be extremely difficult to read, even for a sensitive Pisces man.
The advantage that they have is that even if they do not communicate well, a Pisces man and an Aquarius woman are able to peacefully coexist and stay out of each other's way. Over time, if nothing else, they will become accustomed to one another, which will facilitate their eventual communication.
Try Our Compatibility Calculator
Conclusion
A Pisces man and an Aquarius woman are an unlikely couple. Yet, of all of the signs in the zodiac, Pisces and Aquarius are the two that most often find themselves in unlikely combinations. Most of the difficulties between these signs will keep them from getting together in the first place or will cause them to break up early on in the relationship. This means that the longer they are together, the more likely it is that they will stay together. If they enter into a commitment, it will be stable and long-lasting.