Our readers support us. This post may contain affiliate links. We earn from qualifying purchases. Learn More
Mercury trine Mercury is an extremely positive aspect to have in synastry between two charts.
In some ways, it can be said that Mercury is the key to success in long-term relationships. This is because Mercury governs communication.
A trine is a lovely, harmonious aspect that helps people get along with one another.
Mercury Trine Mercury in Synastry
When Mercury is trine Mercury in a synastry reading, the people involved can communicate naturally and freely with one another.
They each understand how the other thinks, and they have an intuitive sense of what to say.
In most cases, they have similar interests, and they enjoy talking with each other.
While this aspect is extremely positive in its own right, it also enhances any other positive synastry aspects. Furthermore, it can go a long way towards mitigating any difficult synastry aspect the two may have.
The nature of this aspect will vary based on the element in which it is found.
Fire Signs (Aries, Leo, or Sagittarius)
If Mercury trine Mercury is found in Fire Signs, there could be the appearance of volatility, and the two may argue a lot.
On the other hand, the two will enjoy their verbal sparring matches. Their arguments will strengthen their relationship, not weaken it.
Earth Signs (Taurus, Virgo, or Capricorn)
With the exception of Virgo, people who have Mercury in Earth Signs do not tend to talk very much. Even so, they will understand each other so well, few words will be necessary.
If one of them has Mercury in Virgo, that person will be able to draw the other person out in a positive and helpful way.
Air Signs (Gemini, Libra, or Aquarius)
Mercury rules Gemini and has some dignity in all of the Air Signs. When there is a Mercury-Mercury trine in this element, the two will talk all of the time.
Indeed, they will talk so much, it could be hard for them to get anything else done.
Water Signs (Cancer, Scorpio, or Pisces)
If two people have Mercury trine Mercury in Water Signs, they will have an intuitive understanding of each other that can almost seem like telepathy. They will certainly be instinctively aware of each other's feelings.
Mercury struggles the most in Pisces. If one of them has Mercury in this sign, they will greatly benefit from this aspect with a partner.
House Position
The house that Mercury is in each other's charts will play a role in how this aspect manifests.
To learn more, see:
Mercury in Houses Synastry Meanings: 1st through 12th House
Man's Mercury Trine Woman's Mercury Relationship
By itself, Mercury trine Mercury can hold a romantic relationship together for the long term.
It may not be the aspect that brings people together, but it will keep them together.
This is because this aspect will promote excellent communication. For any relationship to survive past the initial romantic phase, the couple must be able to talk to each other and work through difficulties.
If the couple has other aspects promoting compatibility, Mercury trine Mercury can turn this relationship into one that seems to be "made in heaven."
If the couple has difficult aspects or seems otherwise incompatible, Mercury trine Mercury will enable them to work through any differences that they might have.
Even if they do not make it as a couple, they will split amicably and probably remain friends.
The one drawback of this aspect is that they will tend to agree on everything.
While this would seem to be a strength of the relationships, this will make it hard for them to balance each other. They will even agree on objectively bad ideas.
For this reason, if they run into trouble, it may be necessary for them to seek outside advice in order to give them perspective.
Mercury Trine Mercury in Friendship
Mercury trine Mercury is a very positive aspect in friendship synastry. Its very nature is conducive to friendships.
Indeed, no matter what the initial relationship is between two people, if they have Mercury trine Mercury, they will eventually become friends.
If the relationship moves on to a romantic one, the element of friendship will remain.
They will enjoy each other's company and can talk to each other about anything.
Even though these friends will enjoy open communication, they are not necessarily the best advisors for each other.
This is because they will agree on most things, so they will generally not be able to see a different perspective.
For this reason, it is best to go to a friend whose Mercury is trine your own when you need a cheerleader or someone to give you unconditional support.
This is not the friend who will be able to see if you are going in a direction that is bad for you.
How to Tell if Mercury is Trine Mercury in Synastry
A trine occurs between signs that are of the same element. The trines by element are show below: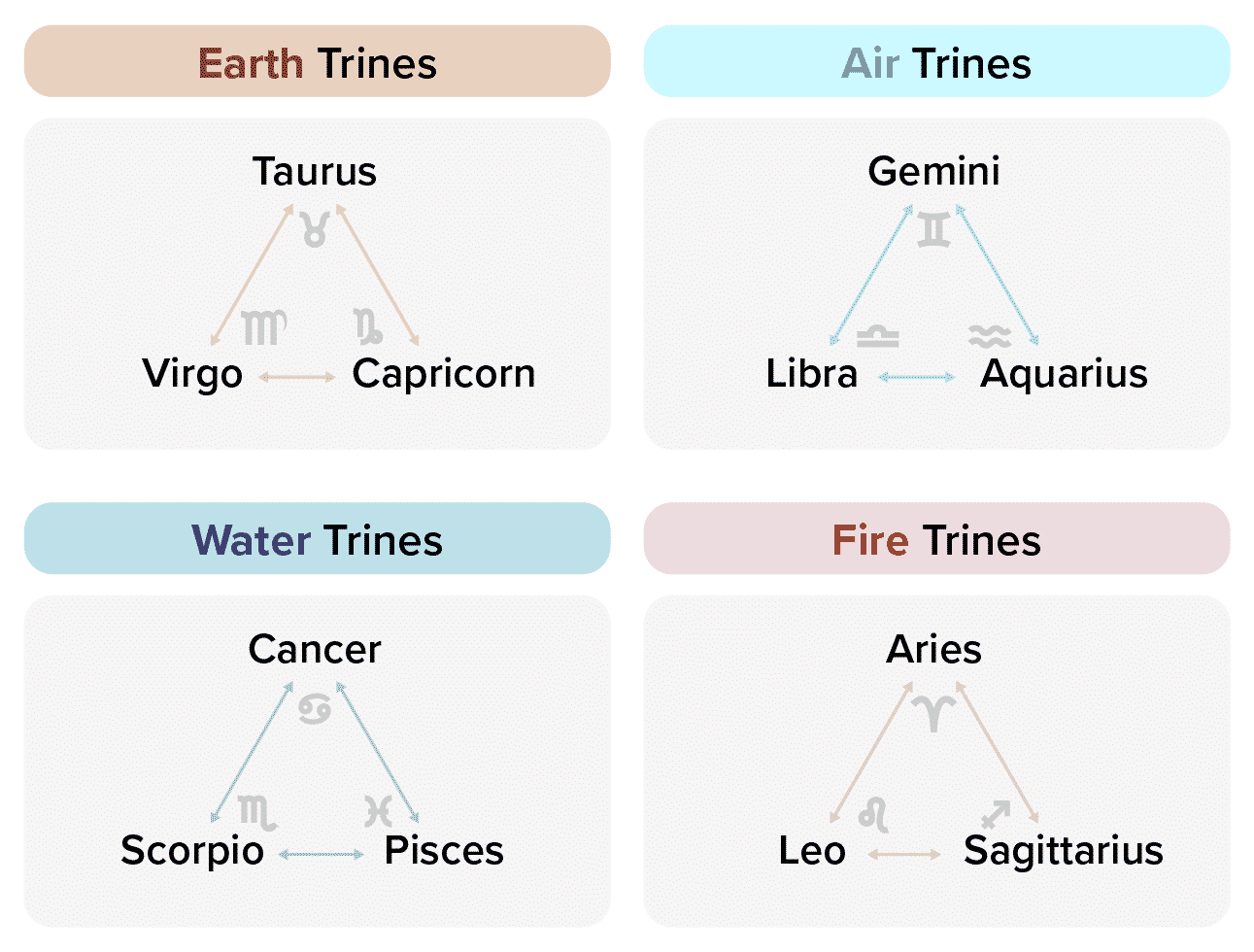 Being in the same element gives trines their natural harmony. Because of this, if two people have Mercury trine each other, they will enjoy some of the benefits of this element.
To get the full benefit of Mercury trine Mercury, the planets must be within seven degrees of a perfect aspect. This is because the orb, or allowable margin of error, for Mercury is seven degrees.
Even within orb, the closer the aspect, the stronger it will be.
Mercury can be trine if it is within orb from the wrong signs if one person's Mercury is in late degrees and the other's is in early degrees.
In this case, the two will still be able to communicate well with one another.
On the other hand, there will not be the same level of understanding as there would be if this aspect occurred in the proper signs.
Try Our Compatibility Calculator
Conclusion
Mercury trine Mercury will enhance any relationship by giving it excellent communication.
This aspect also gives a natural feeling of friendship between two people, regardless of how they meet.
It will strengthen other positive synastry aspects, and it will go a long way towards neutralizing negative ones.