Our readers support us. This post may contain affiliate links. We earn from qualifying purchases. Learn More
The compatibility between a Cancer man and Aries woman is complicated. Of all of the sign combinations, the one between Cancer and Aries is the most explosive match.
Despite this, there will be a strong chemistry between this couple, and such a relationship can work in the long run.
The success of this pairing will depend on two things. The first is whether the Aries woman will find respect for the Cancer man. The second is whether the Aries woman will be able to find peace with her mother-in-law.
A Cancer man, Aries woman couple has all of the challenges of an Aries man, Cancer woman relationship.
On top of that, unlike an Aries man, Cancer woman couple, this pair will not conform to traditional gender norms.
Cancer man, Aries woman: Strongest points of compatibility
Their loyalty
Their protectiveness towards their family
Complementary talents and abilities
Strong chemistry
Her courage and strength
His motivation to make a safe and happy home
Important traits of a Cancer man in relation to an Aries woman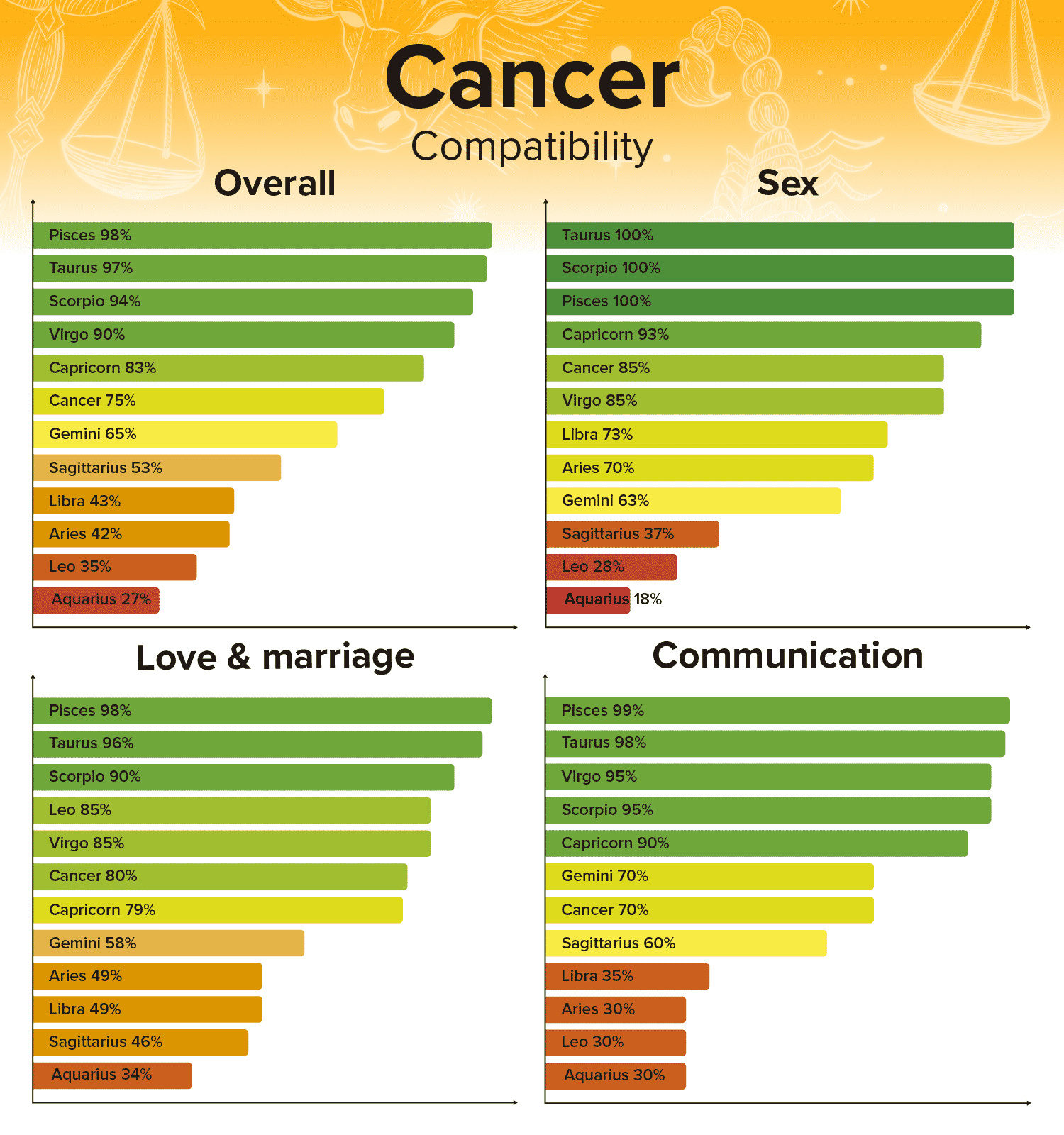 A Cancer man is often a bit of a "Momma's Boy," even as an adult. If his mother is alive, he will have a strong relationship with her.
If his mother has passed on, he will keep her memory close to his heart.
He may or may not develop a tough or crusty exterior, but inside, he is soft and sensitive.
Despite his sensitivity, he is not weak, but because he rarely conforms to common notions about masculinity, he is often misunderstood.
He very likely got teased and picked on as a child.
The strength of the Cancer man is in his loyalty and protectiveness towards those he cares about.
A Cancer man absolutely needs someone that he can nurture, just as a Cancer woman does.
It could be a child, a partner, or even a pet, but without someone to care for, a Cancer will exhibit the worst traits of this sign, which are moodiness, self-protectiveness, and self-pity.
Important traits of an Aries woman in relation to a Cancer man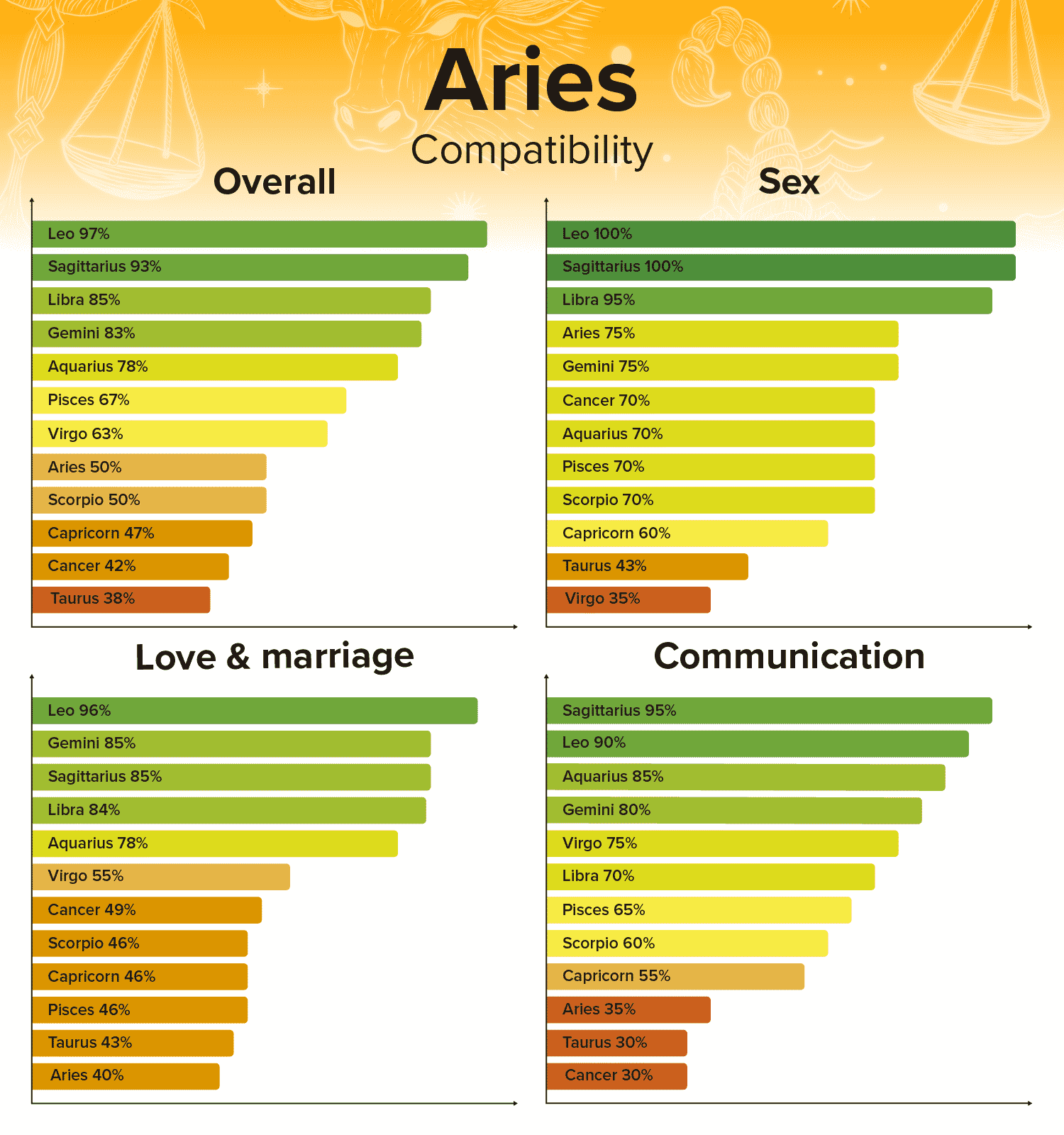 An Aries woman is a warrior and a fighter. She embodies this archetype as much as an Aries man does.
She will probably not present herself in a feminine way, but even if she does, she is a little too forceful to be seen to conform to common notions about femininity.
Nowadays, in many places, there is more social acceptance for strong and powerful women, as well as more opportunities for them to engage in sports and similar activities.
Because of this, a younger Aries woman will probably have less of a chip on her shoulder than an older one will.
Although she does not tend to conform to popular notions of femininity, she does not want a weak man as a partner.
Aries has very little respect or tolerance for weakness in anyone.
While an Aries woman will have some chivalry for another woman who is soft and sensitive, she will generally not extend that chivalry to a man.
She feels that she is the equal of any man or even his superior.
On the other hand, when she challenges a man and he can not meet her challenges, she will treat him with scorn and bully him mercilessly.
Cancer man, Aries woman: Dating and early stages of the relationship
In many cases, a Cancer man, Aries woman couple will never get off of the ground.
He will almost certainly find her attractive, but she probably will not give him the time of day.
The only way she will be interested in him is if he does something in front of her that earns her respect.
The most likely scenario for this to happen is if she sees him protecting someone.
Cancer is often mistaken for being weak, but this is far from the case.
The archetype for this sign is the parent, and there is nothing as fierce as a father or a mother protecting their young.
Cancer will extend that protection to anyone, human or animal, that he sees as vulnerable.
A Cancer man may seem timid, and he might not defend himself if he is attacked or bullied.
If he sees someone vulnerable in need of protection, however, he will rival the strongest of warriors of any zodiac sign!
If an Aries woman sees this, it will get her attention, and she will have instant respect for him.
It is then that her attraction for him will grow. Once they get to know each other, they will be able to find common ground.
Cancer man, Aries woman: Sexual compatibility
A Cancer man and Aries woman will do well in the bedroom. She will often take the initiative, which he will like.
His tenderness may annoy her at times, but at other times, she will enjoy it. These two will have a pretty good sex life together.
Cancer and Aries are in an aspect with each other known as a square. This aspect is very tense, and these signs tend to annoy each other.
On the other hand, this friction can turn into sexual heat, and signs that are square often find each other physically attractive.
Cancer man, Aries woman: Marriage and family life
If a Cancer man and Aries woman marry, they have a good chance of success.
The reason for this is that many relationships between Cancer men and Aries women will not get this far.
Although Aries isn't considered the best Cancer match, if they survive their initial relationship challenges, they will peacefully coexist and manage their differences within a marriage.
At this point, the only real hurdle they will still have to cross will be that of his mother.
In most cases, the most important relationship to a Cancer man will be the one he has with his mother.
If his mother is inclined to maintain her control over her son into adulthood, this will cause a lot of friction with an Aries woman.
This will be even worse if her mother-in-law tries to control her as well.
How the three of them manage this situation will make or break the marriage between the Cancer man and Aries woman.
The most likely ally for the Aries woman will be his father, who may be able to mediate between his wife and his daughter-in-law.
Like a Scorpio man and Aries woman, a Cancer man and Aries woman will make a very good parenting team.
An Aries woman can be a devoted mother, but she will have a hard time having understanding or patience for the ordinary vulnerabilities of her children.
A Cancer father, however, can more than compensate for her lack of sensitivity. He will adore his children, and they will bring out the best in him.
Both of them will be fiercely loyal and protective of their family.
Cancer man, Aries woman: Working together
The working relationship between a Cancer man and Aries woman will not be great, but it will not be awful either.
Cancer and Aries have a lot of friction between them. They both want to control and lead in their own way.
Moreover, he is water and she is fire, and water and fire do not mix very well.
On the other hand, the traits of Cancer are moderated a little in a man, and the traits of Aries are somewhat softened in a woman.
This will smooth some of the rough parts of their working relationship.
They will need to negotiate their respective responsibilities and learn to stay out of each other's way.
If they are able to do so, they should be able to work productively together.
Typical fights between a Cancer man and an Aries woman and how to resolve them
There are likely to be some difficult areas for a Cancer man and an Aries woman.
The most common argument will be about his mother and her potential interference in their relationship.
On the other hand, no matter the topic, the real problem will be their respective fighting styles.
When a Cancer man fights, he tends to move sideways like his symbol, the crab.
He rarely confronts directly, but instead takes quick jabs with his claws in the way of biting verbal shots that he can deny.
This will infuriate an Aries woman, whose fighting style is extremely direct. She charges forward like the ram who is her symbol.
She will see the fighting style of the Cancer man as cowardice, and it will make her all the angrier. This could turn into a vicious cycle.
In the case of a Cancer man and Aries woman, the best way to break this cycle is for the Cancer man to stop the sideways jabs and to stand up to her directly.
This she will respect, and it will cause her to back down, making room for them to talk calmly about their differences.
Try Our Compatibility Calculator
Conclusion
The relationship between a Cancer man and Aries woman will present a lot of challenges for both of them.
On the other hand, most of these challenges will be obvious from the beginning. For this reason, if they do get beyond the early hurdles, they can have a successful partnership.