Our readers support us. This post may contain affiliate links. We earn from qualifying purchases. Learn More
Born between October 23 and November 22, Scorpio women are passionate and assertive. However, finding the right gift a Scorpio woman will love is not an easy task.
While most Scorpio women are highly emotional, they do not share their emotions readily and prefer to play it close to the chest. They like to be in control and know exactly what they want, but she won't have everything she wants yet.
To help you find something she will like, we have handpicked a range of gift ideas for a Scorpio woman.
Best Gifts for a Scorpio Woman
Home Gadgets
Recommended Gift: Google Nest Thermostat
While not all women are fans of the latest gadgets, Scorpio women are an exception. This is even more true if the gadget gives her more control over an aspect of her life or her environment. Home gadgets are always a luxury gift idea for Scorpio women because their home is their sanctuary.
When looking for gadgets, think practical rather than frivolous. She might like something like the Nest Learning Thermostat that can let her control the temperature of every room in her home, even when she isn't at home.
A Christmas gift a Scorpio woman will like is something that helps her keep the place neat and tidy, like the iRobot Roomba Vacuum; just because she likes her house clean doesn't mean she enjoys spending hours doing the cleaning!
If she has a feline friend – Scorpio women tend to prefer cats over dogs – consider something like the SureFlap Microchip Cat Flap (See here on Amazon). This not only allows her to decide at what time the cat can come in and out of the house, but will text her updates on what her cat is up to. A Scorpio woman's sentimental side probably means that she is very attached to her cat!
As Scorpio women always like to know everything that is going on, the Ring Video Doorbell Pro (See here on Amazon) is ideal. It lets her see who is visiting and speak to visitors when she is not at home. She will never be left wondering if that neighbour really did come around, or if Amazon actually tried to deliver that package.
New Clothes
Recommended Gift: Hanging jewellery organiser
Scorpio women understand the importance of the image that they project in the world. They take the time to make sure that they are showing off the side of themselves that they want to, and that they look stunning doing it. As such, she probably has quite a large wardrobe with lots of pieces that she doesn't wear often.
She probably has quite particular tastes. If you know what she likes, then a nice dress or a cute top will make a great gift. If you aren't too sure what to go for, then play it safe and stick with accessories. A nice bag or a striking pashmina like this silky pashmina wrap always makes a thoughtful birthday gift for a Scorpio girl.
Although she has a lot of clothes, she always likes to know exactly where the item she wants is. Something to help her organise her wardrobe will also make a nice gift. Don't be afraid to give her something practical like some hanger expanders.
A Mystery to Solve
Recommended Gift: A visit to the local Escape Room
A Scorpio woman can't walk away from a mystery, sometimes to her detriment. But you can use her nosy love of getting to the bottom of things to make the perfect Scorpio gift. The latest mystery novel such as The Woman in the Window, by A. J Finn (See here on Amazon).
If you are looking for something a bit more fun, don't be afraid to make the mystery a social pursuit. A unique gift for a Scorpio woman might a group trip to the latest escape room, or organised murder mystery night with her nearest and dearest. Your Scorpio woman will also love the opportunity to dress up and get in character. She will enjoy reinventing herself as someone new for the night.
Inspiration
Recommended Gift: Daily Positivity Journal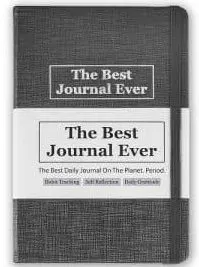 Scorpio women are very focussed on self-improvement. This isn't all about weight loss and beauty makeovers, though Scorpio women do like to look good. They are keen to improve their minds and expand their horizons and gain a better view of the world.
A good read always makes a good gift choice when looking for something to give her new ideas. She will enjoy true stories, memoirs and travel accounts over works of fiction. She probably also finds guilty pleasure in self-improvement books that let her look at herself in a new light.
Most Scorpio women probably have a journal to keep track of their goals and what they are doing at the moment to transform themselves. She might like one of the new journals that are designed specifically to support this kind of thing, like the Daily Positivity Journal shown above (See here on Amazon).
Something Metaphysical
Recommended Gift: Clear Quartz Crystal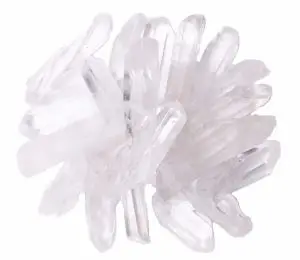 As well as enjoying a good mystery, Scorpio women tend to have an interest in the mysterious, metaphysical and the occult. They may not take it too seriously, but she is probably the type of woman who checks her horoscope whenever she gets a new magazine, just out of curiosity.
There's no harm in exploring that curiosity a bit further. Perhaps book her into a Tarot session, a palm reading, or have a full astrological chart drawn up for her. She will probably find the whole experience a bit of a laugh, but also quietly appreciate the time to self-reflect.
With her interest in the metaphysical, she might also appreciate a few tasteful items for her home with a new-age vibe. A striking and attractive clear quartz as shown above or yellow citrine crystal, which both look attractive and bring positive energy into the home, will make a great birthday gift for a Scorpio woman.
Jewellery
Recommended Gift: Classic Opal Pendant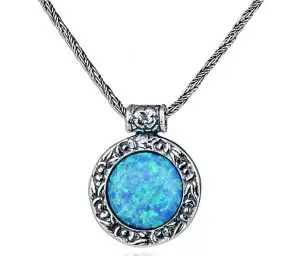 Just like Scorpio women like to have a lot of different clothes in their wardrobe. They also tend to have quite a lot of jewellery. She likes to have something for every occasion. This means that they are always happy to receive a new piece and excited to think how they might use it.
Scorpio women tend to be eclectic in their taste, but they definitely don't like anything that looks cheap. They will wear something art deco, but tend to prefer classic styles.
Topaz, tourmaline and opal are all perfect stones for a Scorpio woman gift. Consider something like the classic opal pendant shown above, or if you do want to get her something a bit different, consider this silver and opal ribbon pendant, which still feels classic.
Tourmaline can be a difficult stone to wear, but Scorpio women thrive off its energy. Consider something like this Raw Black Tourmaline Crystal Healing Pendant Necklace, which she will think is striking but will love. She will also probably like something like this Tourmaline Round Beaded Bracelet.
See more:
Final Thoughts on Scorpio Women Gifts
Scorpio women can be quite closed when it comes to sharing their emotions. They tend to prioritise rationality over emotional decisions. But you can be sure that their feelings run deep and affect them greatly. Just under their harder surface they are usually highly sentimental. They appreciate gifts that show that the other person cares.
They appreciate things which demonstrate that you have really thought about them as an individual. Never get her a gift card or a generic gift.
The way to make any gift more exciting for a Scorpio woman is to add an element of mystery. She loves a good mystery and enjoys getting to the bottom of things. It might seem a bit childish to disguise her gift in a strange sized box, or even make her hunt for it. But this is something that she will actually love.
Word of warning if you are planning a surprise party, she is very suspicious and might become a bit unhappy with you with all the secretive texting. But it will all be worth it in the end.