Choosing a gift for a Libra Man is no easy task. Libra men are very particular when it comes to material possessions and what he lets into his life, so make sure you get something of the quality that he would select for himself.
More romantic and sentimental than the other signs, if the Libra man in your life is your partner, don't be afraid to go down the romantic path, he will appreciate it. Whatever you do, resist buying a Libra man a gift card or anything where he needs to make a decision.
To help you with your search, here is a range of unique birthday and Christmas gifts a Libra man will love.
Here are the Best Gifts for a Libra Man
Quality Travel Accessories
Recommended Gift: Stylish travel bag
As we mention in our Libra man guide, he probably loves travelling, meeting new people and trying new experiences. But as a connoisseur of the finer things in life, he probably prefers to travel in comfort and style. As such, he will appreciate nice travel gear so he can always feel his best while on the road.
He is the type of person who likes to stay connected while he is on the road, so he probably takes a lot of electronics with him, all of which have their own cables. He will appreciate this travel organiser to keep call his cord, cables and chargers together.
He probably also likes to take all his favourite toiletries with him when he travels so that he can look and feel his best. He will like a nice toiletries bag, especially one like this expandable hanging bag so it is easy for him to keep it all organised wherever he is staying.
He will also be keen on something that makes actually getting from A to B more comfortable, so that he can arrive feeling fresh and ready for action. Think about an inflatable travel pillow to let him sleep on a long haul flight, or this adjustable flight footrest.
Latest & Interesting Reads
Recommended Gift: A Short History of Nearly Everything by Bill Bryson
Libra men appreciate intellectually stimulating gifts, and they always appreciate the latest good read. That's why we've chosen the best-selling book 'A Short History of Nearly Everything' by Bill Bryson as our recommended gift. The book covers the most intriguing and intractable questions that science seeks to answer and present it in a very interesting way. I've read it and can't recommend it highly enough!
Libra is primarily interested in people, so he will enjoy the latest political memoir, rags to riches biography or celebrity tell-all. Any book with people at its centre, fiction or non-fiction, will appeal to a Libra man.
He probably also likes to keep up to date with the latest news and events and probably has a few newspapers and magazines that he reads regularly. A subscription to one of his favourites will be a well-received gift for a Libra man.
If you are going for something in print, make sure it is picture rich. He is very inspired by trendsetters and will enjoy pouring over the pictures and see what the latest styles are.
3. Something from their Favourite Celebrity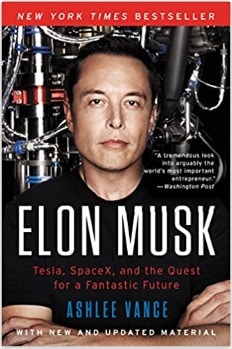 Recommended Gift: Elon Musk by Ashlee Vance
As a follower of the latest trends, he probably has a few favourite celebrities that he follows and emulates in terms of his style and the causes that he is interested in and supports.
He will enjoy a book or memoir about his favourite celebrity if he doesn't already have one. They'll like a framed poster of their favourite movie star or sportsman. Anything signed or personalised will be treasured.
If his favourite band or comedian is coming to town, front seat tickets would make one of the best gifts for a Libra man. It is something that you can do together, and if you can get a group of his friends on board, even better, as he will love the social element as well.
4. Tools for Entertaining
Recommended Gift: Fold-able Countertop Wine Rack
As a social animal, most Libra men love entertaining. As they are extremely house proud, they love to play the host whether it is drinks or dinner. However, they are also very particular when it comes to the things that they choose to keep in their home, and they always prioritise quality.
A good quality bottle of wine or a nicely aged bottle of whiskey will make a nice addition to his collection. When it comes to sharing, he might appreciate these good quality wine glasses or these nice whiskey tumblers.
He might also like a nice wine rack to show the excellent wines he has selected for the evening. Something like this Rustic Torched Wood Geometric Design or a Nutrichef Thermoelectric Wine Chiller. He might also like some nice plates and cutlery from when he is cooking, or some nice serving dishes for when he is serving up snacks.
When he is planning a good night in, the entertainment is probably the first thing on a Libra man's mind. He is not afraid to pull out the games to get the night started. While he probably already has a lot of great games at home, he is always up for something new.
If he doesn't already have his own set of Cards Against Humanity, he'll enjoy the novelty. Additionally, consider grabbing him the Expansion Pack to give the game a new lease on life. Any of the latest games will make a nice Libra man gift.
5. Music for his Ears
Recommended Gift: Bose noise-cancelling wireless headphones
Libra men are usually music lovers and probably have quite the collection. He probably has a lot of digital music, as well as a CD or record collection. He uses music to create calm in his space, as well as ambience when entertaining.
If you know who his favourite band is, a new CD or record for his collection will be a very welcome gift. When it comes to entertaining at home, so upgrading his home speaker system is probably always in the back of his mind somewhere.
He will love a Yamaha Home Theatre in a Box System or ABOX Sound Bar with Subwoofer. He also likes to have access to his music while on the road, so the latest wireless headphones will make a great gift.
He may well also play a musical instrument, like a guitar or piano, which he has probably played since he was a child. Some nice accessory for his favourite instrument will be one of the best gifts for a Libra man.
If he is into guitar, a DIY Guitar Pick Punch is the perfect gift. He will also get a lot of use out of something like this Snark Clip-On Tuner for Guitar. If the piano is his thing, how about a nice new page holder (See here on Amazon) or a professional Piano Tuning Kit.
6. Make a Donation
Libra men are big-hearted and care a lot about what is happening in the wider world. They do not like to see suffering and like to think of themselves as making a difference. As such, he will appreciate a gift to charity that he can feel good about.
If he has a favourite charity or cause, start there. If not, focus on something that helps people, such as children in poorer countries or homeless in the local community.
Whatever you choose, he will like to receive updates on the work of the charity to know that it is making a difference. If the charity is in the local community, he may even decide that he wants to help.
If there are charities in your local area, perhaps organise to volunteer together. If he does not already volunteer, it is probably because he is having trouble choosing where to give his time, and he will thank you for making the decision.
Also read:
---
A note from numerologysign.com:
If you want to feel that incredible, wonderful connection with your Libra man, then the following information is the most important that you will read on the entire internet.
Devoted astrologer and relationship consultant Anna Kovach teaches that there are simple techniques you can use to make it HIS idea to chase you, love you and commit to you. Most women make mistakes that push Libra men away.
Anna's exclusive Libra Man Secrets "roadmap" works like clockwork on almost every Libra man out there. It is without doubt the most comprehensive guide ever created to attracting, dating, and having a deep, loving relationship with a Libra man.
The secrets Anna reveals are very powerful and should be used ethically. It's the perfect blend of Astrology, Psychology and something called Sextrology.
Summary
Article Name
Best Gifts for a Libra Man – 6 Perfect Gift Ideas
Description
Find the best gifts for a Libra man, including 6 perfect gift ideas! Top presents include; Quality Travel Accessories, Tools for Entertaining and more!
Author
Publisher Name
Publisher Logo