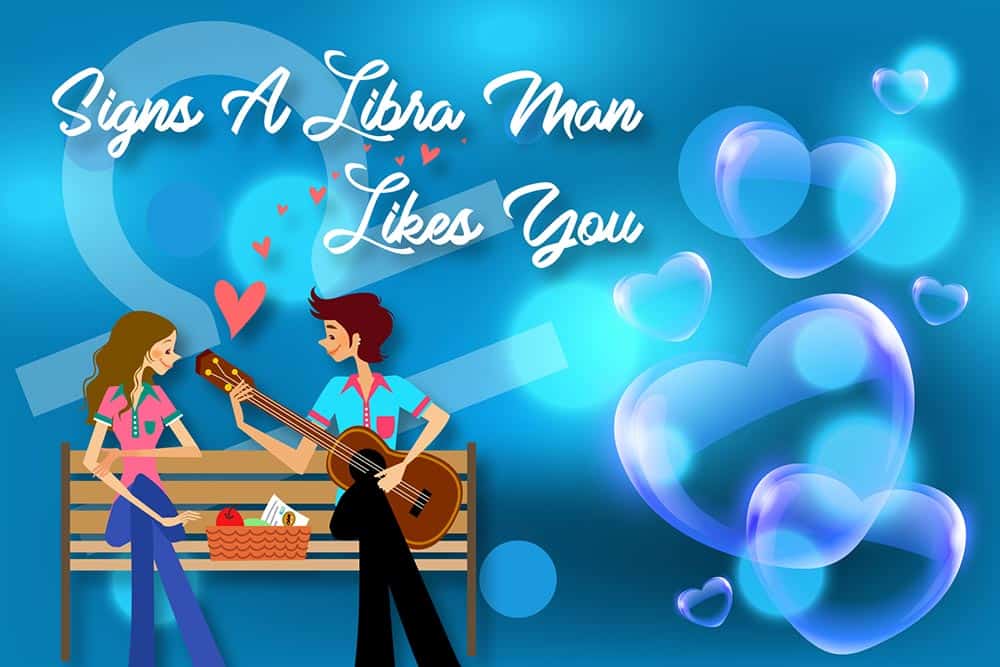 Social and friendly the charming Libra man may have you guessing whether he really likes you or you are just his passing fancy. A known flirt and typical "player" it may be hard to know where you stand with this Zodiac Sign. A Libra man knows how to prove his love and he can be a true romantic; attracted to beauty, and the finer things in life. Here are 12 obvious signs a Libra man likes you. So if you have been flirting and need to know if it is turning into something more serious then read on. Also see the obvious signs a Libra woman likes you.
12 Clear Signs a Libra Man Likes You
If you want to feel that incredible, wonderful connection with your Libra man, then the following information is the most important that you will read on the entire internet.
Devoted astrologer and relationship consultant Anna Kovach teaches that there are simple techniques you can use to make it HIS idea to chase you, love you and commit to you. Most women make mistakes that push Libra men away.
While the 12 clear signs below should help, Anna's exclusive Libra Man Secrets "roadmap" works like clockwork on almost every Libra man out there. It is without doubt the most comprehensive guide ever created to attracting, dating, and having a deep, loving relationship with a Libra man.
The secrets Anna reveals are very powerful and should be used ethically. It's the perfect blend of Astrology, Psychology and something called Sextrology.
1) He will be extra romantic
A Libra man knows how to impress a lady. He loves positive attention and for everything to go perfectly and as planned. If a Libra man likes you, he will go out of his way to be extra romantic.
Knowing how to put on a good show he will bask in his ability to show you a good time. Think candle lit dinners and the classic romantic date nights. A Libra man wants to make you feel extra special and he will do everything in his power to demonstrate that you are special to him. He will be especially conscious of what you want.
A true gentlemen, he will show you how much he likes you through romance; inviting you on a date or a special night at his place, think "Netflix and chill" style. Either way he will find his way into your heart with his charming romanticism. The Libra man will want to spend all of his time with you and be very affectionate. He will use romantic "pet names" such as baby, honey, and sweetie and expect your undivided attention in return.

2) He will tell you "You're the One"
Once a Libra man decides he likes someone he will usually tell them with confidence! With a tendency to rush into romance you will find the Libra man declaring his endless love for you and telling you that; "you're the one" for him and no one else has ever made him feel this way.
Known for playing the field make sure he is not professing his love to anyone else though! Expect the charming romantic Libra man to find a creative way to tell you he likes you.
Libra is an air sign which means he connects romantically to people through conversation and communication. He will need to be able to hash out his feelings with you and express how much he likes you in his own words. A Libra likes to profess his love and enjoys dramatic displays of affection. This is a sure sign he likes you!
3) He will Surprise you!
A true show stopper the Libra man will want to show you he loves you by getting you gifts and setting up fun little surprises. He really wants to impress you and knows that thoughtful presents are one way to do this. Be ready to have love notes left in your car, flowers delivered to your desk at work, or a cup of coffee waiting for you in the morning.
Not only will he surprise you with little gifts a Libra man will also excite you with other surprises like showing up to your work to take you to lunch. A Libra gets just as much pleasure seeing you excited over these little surprises as you get receiving them. He will plan exciting getaways and events to attend getting more extravagant each time. Expect last minute tickets to a concert or show you have been wanting to catch!

4) He will want to take you on a romantic vacation!
When a Libra man really likes someone he will not waste any time going through the typical relationship building steps. He will jump right into the exciting stuff and will want to take you on a romantic vacation! A Libra man will be interested in going on adventures and seeing the world with you if he loves you. There is a bit of a wild streak in the Libra man and he will want to make sure you can keep up with his lifestyle. He will pick the destination and make sure everything is taken care of down to the weekend brunch complete with mimosas and Bloody Mary's.
Taking a trip together really seals the deal for a Libra man and is an exciting and impressive way for him to demonstrate that he likes you. Be prepared to be swept off of your feet with a Libra man and have your weekend bag ready for a last minute jet set as he will most likely spring the trip on you last minute to keep it extra spontaneous and romantic!

5) He will bring you to "Guy's Night"
The Libra man is a little possessive of his "Guy's Nights" but if he likes you he will let you tag along. He really wants to show you off to his friends and since he struggles to choose between spending time with you and his buddies the logical step is for you to come along! One of the obvious signs a Libra man likes you is when he asks you to attend his plethora of social events with him. He will really want to spend time with you and that includes you being by his side at each event so he can show you off.
The Libra man will also be invited to plenty of parties and celebrations and he will definitely want you there with him if he loves you. The Libra man will have an extensive social network and he wants you to be a part of it!

6) He will want to be exclusive
Not the type to settle down if a Libra man likes you he will want you to be exclusive once he has decided on you. He likes to appear confident and act as if he is the only man in the room. Typically the "cool" guy he will act like it is no big deal to casually date you, have an open relationship or share you with other people, but in reality he can become pretty jealous knowing his lady is getting attention from other men.
He will not want to share you with anyone else and he will give up his player ways to settle down with someone he really likes. A Libra man needs commitment in this case to seal the deal for him.
Once he really likes someone you will be surprised by how fast he seems a changed man. A Libra man will be looking for serious commitment, moving in together, tying the knot, you know the drill. So be ready to fully commit to your man when the time is right! Hopefully, you are looking for commitment as well!

7) He will tell you how beautiful you are
A Libra man is very concerned with the aesthetics and beauty of the world around him. With a true appreciation for art and elegance, he will want everything surrounding him to be harmonious and balanced, including you. He will appreciate your natural beauty and will especially like when you get all dolled up for a night out. A Libra man loves to get ready for events and have his beautiful woman done up by his side. He will tell you how amazing you look and tune out other beautiful women around you when he likes you.
A Libra man is typically into fashion and his own appearance as well. He may want to coordinate outfits and colors with you so you do not clash in public. A Libra may want to take you shopping before an event to pick your outfit out for you. Do not be offended as he just wants to share with you his eye for fashion and artistic taste. He will make sure to tell you how beautiful you are and if nothing else he will pick something exquisite out for you to wear! So enjoy the special attention!

8) He will be Determined
If you play hard to get the Libra man will be determined to win your affection once he has decided he loves you. With a strong competitive streak, the Libra man is intrigued by the chase and will be determined to win your heart. He feels confident in his ability to land a lady and will employ these techniques to get your attention.
If you play hard to get and are unavailable to him he will be even more determined. Skip answering a few text messages and your Libra man is sure to put in extra effort to get himself noticed by you. This is an obvious sign he likes you if he keeps pursuing you even when you said you were busy.
Going on a date with another man while you are playing the field is a sure fire way to land a Libra man's attention. Their competitive side is sure to make an appearance and you will know he likes you when he comes to interrupt the date you are on with that "other guy"?. So use caution when playing this game with the Libra man and do not toy with his emotions too much. A Libra man is known to be jealous so play your cards carefully! If he shows his determination this is an obvious sign he is willing to put in the work to win you over.

9) He will call and text you constantly
If your Libra man likes you he will want to communicate with you constantly. Always attached to his smartphone, a Libra man needs to stay connected to all of his social media outlets and his many friends. While he is spending so much time on his phone you will find he uses that time to contact you constantly.
He wants to update you on his whereabouts, the parties he is at, and the people he is with. He will text you sweet romantic messages when he is with his buddies to remind you that he is thinking about you. You will receive a call before bed as he loves to communicate over the phone. He never runs out of things to talk about, especially if it is gushing to each other about how much you like you each other.
If he texts you messages like "sweet dreams" and "hope you have a great day!" each morning this is an obvious sign that your Libra man really likes you. He will make sure to keep you in the loop on what he is up to so stay connected to your social media apps and be sure to update your Libra man as well on what you are up to!
10) He will cook you dinner
A true show off the Libra man will want nothing more than to impress you with his well crafted romantic skills. He will want to do things to make you happy and cater to your wants and needs. Truly concerned with your happiness the Libra man will make sure to put out all the stops for you.
An obvious way to tell if a Libra man likes you is if he goes out of his way to cook you a romantic dinner. He will want to take care of you. He will whip up your favorite meal and set the scene for a romantic dinner at his place. Complete with candles and dessert. He will expect you to give something in return though and that is showing up looking beautiful and ready to enjoy his good company.
The astrological sign of Libra is associated with relationships and marriage; therefore, he will want to do things with you and he will probably invite you over to cook with him. Never wanting to do things alone your Libra man always has to have a partner by his side. He will want you there while he is doing chores around the house and running errands in town. He will always find a way to make you feel special in the process as he will be very grateful to have you around and for your excellent company.

11) He will take you home to meet his mom
A Libra man is a true "mama's boy," if you want to win him over you will also have to impress his mother. One sign a Libra man loves you is if he is willing to take the important step to introduce you to his mother. Get ready to put your game face on. Winning over mama is a tough one but a Libra man will be there to support you and help you seal the deal. Family is very important to him and he will put family above all else.
A Libra loves the celebrations surrounding the holidays and will invite you to all of his family gatherings. You will become part of the family in no time! A Libra will want you and his mom to be best friends so he doesn't have to choose between the two of you. Put in the extra effort to get to know her. You know a Libra man really likes you if you don't win over mama and he still stands by your side though! This man is a keeper in this case as that kind of support is priceless.

12) He will be extra cuddly and affectionate
Your Libra man will show he likes you by putting in extra effort to demonstrate his affection for you. A Libra man is very playful and flirtatious. He will want to show you he cares through affcetion and by very playful and flirtatious. He will lay on the flirtations extra thick and be sure to pay you a lot of compliments on your physical appearance. Your Libra man will show his love and interest in your courtship by holding your hand, pulling you in by his side, and snuggling up to you on the couch. He will be proud to have you near him and ultra-physical.
A Libra man enjoys expressing love through physical affection, his sign is ruled by Venus the planet of love after all! He will be sure to provide you with a lot of hugs and smooches to prove he cares. It will help him feel secure with his feelings that he can act them out physically. You may catch him staring at you thoughtfully as you are going about your day; an obvious sign that your Libra man likes you!
Also see:
In Conclusion
Knowing when a Libra man likes you can be tricky as he is naturally able to impress the ladies and has many admirers! He may show you some or all of these signs to make his affections for you known. So watch out for the 12 obvious signs a Libra man likes you!
Does this sum up the Libra man in your life? Let us know in the comments below.
Need some help getting your dream Libra man? Read Anna Kovach's highly recommended Libra Man Secrets "roadmap" today.
Summary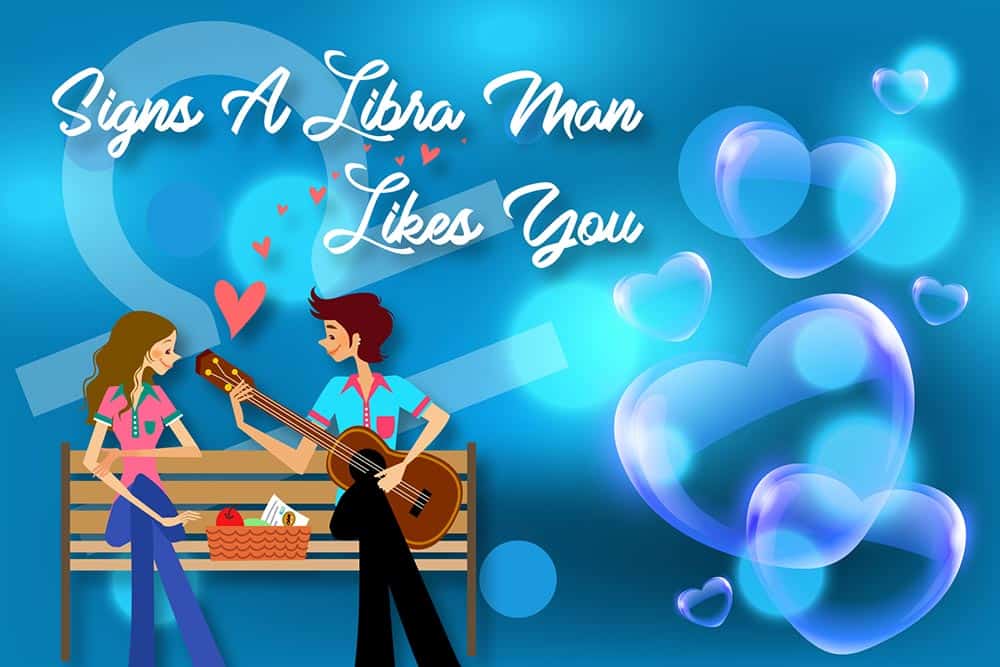 Article Name
12 Obvious Signs a Libra Man Likes You
Description
Check these 12 obvious signs a Libra man likes you. Social and friendly the charming Libra man may have you guessing whether he really likes you or you are just his passing fancy. Found of the signs your Libra man loves you
Author
Publisher Name
Publisher Logo