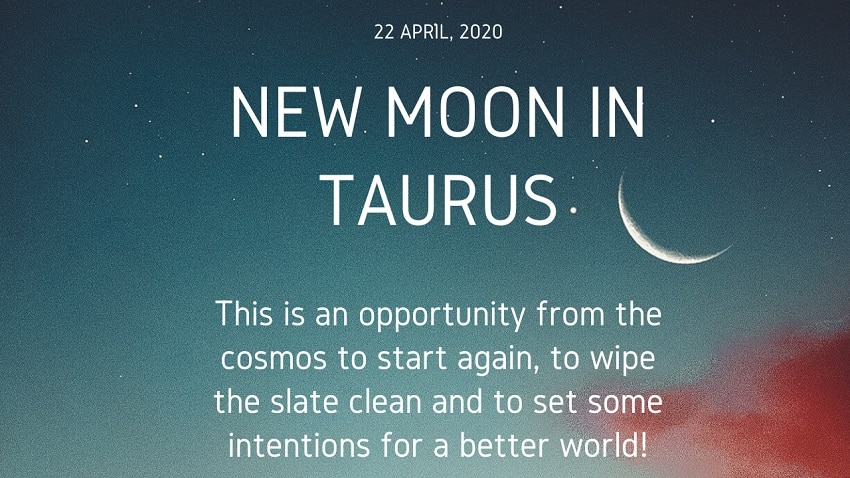 What can we say about a New Moon in the time of Corona? As with all New Moons, this is an opportunity from the cosmos to start again, to wipe the slate clean and to set some intentions for a better world!
On 22 April, 2020, this interesting, electrifying, complex New Moon is both grounding and destabilising, all at once! The next several months will certainly be interesting!
About the Taurus New Moon
Taurus is an earth sign, and after the relentless activity of Aries Season, it's a moment of pause and reflection. It's a moment to simply ground down and take stock of ourselves, our resources and our values.
Usually, a Taurus New Moon would be very slow, sensual and patient, but this one is a little busier as we will see! This is a complex New Moon, with beginnings that may be hard to see right away.
Keywords for this Taurus New Moon are: routines, grounding, change, money, resources, materialism, sensuality, responsibility, progress, tradition, communication and boundaries.
Energies affecting this New Moon
Venus rules this New Moon, and she's in her "shadow" period – meaning, she is already starting to manifest her Retrograde energy.
Relationships of all kinds demand clearer communication over this New Moon, and we have to be quite sure of what we are saying and what we are committing to.
This particular New Moon may have us quite frazzled, feeling as if the rug is being swept out from under our feet – yet we may not see why just yet. The New Moon in Taurus asks us to stay on our toes and not believe too much that we hear – and be careful of gossip and hearsay.
This New Moon also has a strong conjunction to the planet Uranus – planet of abrupt change, surprises, unpredictability and shocks.
In a grounded sign like Taurus, this can be hard to handle, because we may be craving some sort of certainty and stability. But, with Uranus so close by, it says that the next few months won't have us on solid footing. We need to be prepared for surprises!
With a square to restrictive Saturn, this New Moon may also have us pulling the reins ever tighter on all indulgences – be it food, pleasure or any kind of sensuality. This makes sense, as the pandemic has many of us struggling economically.
The abundance of Taurus is limited now, and will probably be that way for the next few months.
How to make the Most of the New Moon for each Sign
Aries and Aries Rising
This New Moon is going to bring some serious financial surprises over the new few months, Aries – get ready! You may be pushing for a raise or promotion, but there seems to be some obstacle standing in your way. Try to work through it.
Taurus and Taurus Rising
A New Moon in your sign is offering you a chance at starting again, Taurus – kind of like a new year for you. You may decide to abruptly shift gears over the next few months, and drastically alter your image, environment or even your career.
Gemini and Gemini Rising
A New Moon in the most hidden part of your chart, Gemini, tells you that secrets you may have been trying to stuff into a corner may come out in the most shocking ways.
This is the time to take stock and make sure that your conscience is clear and clean. Commitment in relationships will become very important for you.
Cancer and Cancer Rising
Money is a big deal over this New Moon, Cancer. You may decide to change your goals very suddenly, which has a direct impact on your finances. The earnings you generate now will likely be poured into any outstanding debts over the next few months.
Leo and Leo Rising
This New Moon is a big deal for work, Leo. Things change so swiftly that you may need to just take a moment to process it all – and there could be some clashes with a business partner or responsibilities to a sweetheart that create obstacles when it comes to your professional life. Try to communicate about it as kindly as you can.
Virgo and Virgo Rising
This New Moon might ask you to upskill or learn completely new things on the job, Virgo, in order to be able to grow.
It's a time for very hard work, which could limit you in some ways, but at the end of the day, will mature you enormously. Relationships at work will get you everywhere you want to go.
Libra and Libra Rising
This New Moon will bring some shocks financially, Libra, specifically with regards to loans, debts and payments.
You may crave stability, but it's hard to come by. Be as innovative as you possibly can right now, and take payment holidays if possible. Pleasure is not on the cards for this New Moon – responsibility is.
Scorpio and Scorpio Rising
For you, Scorpio, this New Moon happens in your relationship zone, which could shake things up a little.
It's possible that your closest relationships undergo some big and unexpected changes over the next few months, and there could be extra responsibility to take into account too. Try to go with the flow.
Sagittarius and Sagittarius Rising
Changes when it comes to your day-to-day routine unfold soon, Sagittarius, and you are faced with the opportunity to become a lot more flexible.
However, some changes may not be welcomed, and there will be quite a few extra responsibilities on your plate, Sagittarius. Try to focus your thoughts as much as you can.
Capricorn and Capricorn Rising
This could be a very creative New Moon for you, Capricorn – you may pick up a brand-new skill or hobby, which could bring some refreshing change into your life.
This is a welcome diversion from the financial responsibilities you may have going on. Be mindful of value clashes in your relationships.
Aquarius and Aquarius Rising
Things shift rapidly in your home environment, Aquarius – you may be faced with a sudden move of home or office, and you will have to just work through the insecurities that could arise. Extra family responsibilities may be a topic for you as well. Find some grounding through it all.
Pisces and Pisces Rising
If you are a blogger, this new Moon can be a good one for you, Pisces – new opportunities may come in from unexpected places, but there still seems to be instability. There are things going on behind the scenes that you may not be fully aware of.
5 Tips for Making the Most of the New Moon in Taurus
1. Communicate
The ruler of this New Moon is in the sign of Gemini, so make sure you are communicating well. Don't stoop to gossip and hearsay – speak only what you know about!
2. Invite change into your routines
With Uranus so close by, it's just not going to be possible to have the same old routine day in and day out. Things have to be changed whether it's your work or exercise routine. Don't cling onto old ways now.
3. Be innovative with your resources
Everyone has to move with the rapidly changing times – how can you be more innovative with your resources? Look at new ways to make money, or save money over this New Moon.
4. Take Responsibility
This New Moon asks us to step up and take responsibility – and to avoid getting negative or depressed. Things are going to feel a little heavier, but if we do the work required, we will grow a lot over the next few months!
5. Be prepared for surprises
Lastly, be prepared for the unexpected! This New Moon will shake things up in all kinds of ways, from money, to home, to relationships and everything else. Try and make your motto "out with the old and in with the new", and you'll do just fine!
See more:
Summary of the New Moon in Taurus
This is an unusual New Moon. Taurus is a sign that needs security, certainty and a predictable routine – but there's no predictability this time! Expect the unexpected, take responsibility where you can and be as innovative as possible. Adapt – and evolve!
Summary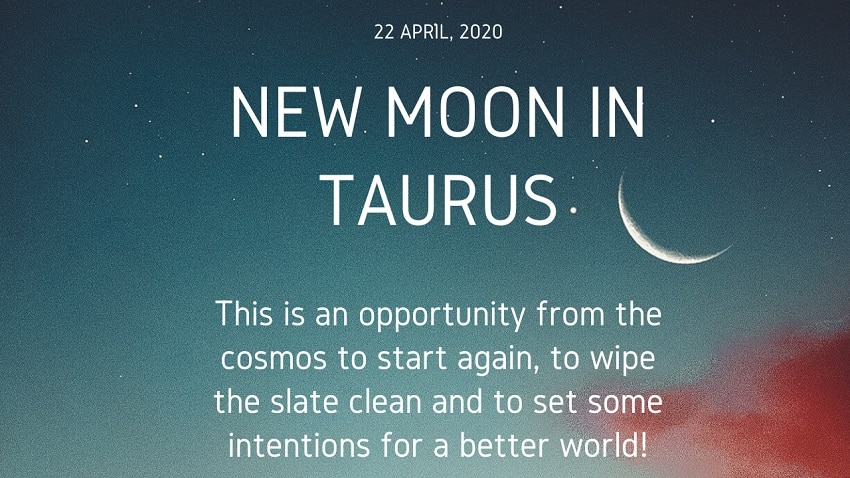 Article Name
How to Make the Most of the New Moon in Taurus, April 2020
Description
The New Moon in Taurus, April 22, is an opportunity from the cosmos to start again, to wipe the slate clean and to set some intentions for a better world!
Author
Publisher Name
Publisher Logo