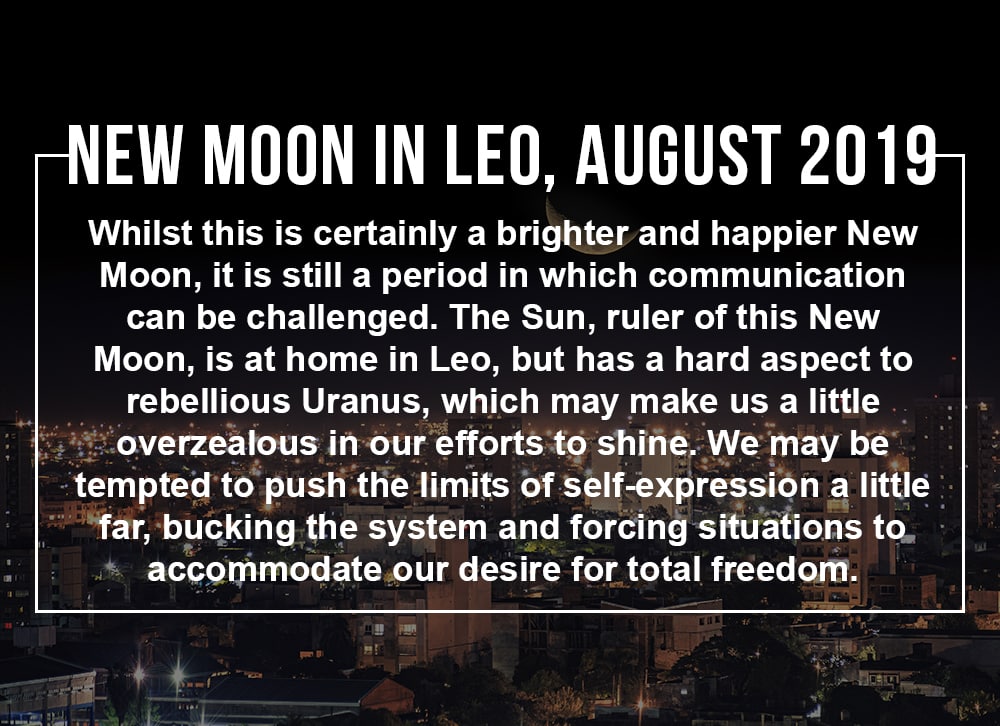 Many of us can breathe a sigh of relief – Eclipse Season is over for the moment, and we can welcome a bright and warm New Moon in Leo on 1 August 2019. This New Moon has a more positive flavour than the last New Moon, though the challenges around communication are still there to be worked on!
A New Moon always ushers in opportunity for a new beginning, and whatever we sow now at this Leo New Moon, can be manifested over the next six months or so. Leo is the sign of personal strength and perhaps our intentions can align with what this mighty sign represents.
About the Leo New Moon
With the Sun and the Moon both in the sign of Leo, the Lion, we can look at manifesting things in for ourselves along the lines of what this proud zodiac sign represents – such as more creativity, greater self-expression, building our self-belief and stepping into more of a leadership role in our lives. The Sun is particularly happy in the sign of Leo, since this bright luminary rules this sign. When the Sun is in Leo, we can all feel the collective upsurge of happiness, positivity and courage.
Leo is a sign that believes in itself, is confident and proud, ready to step out on a stage and be exactly who they are. With this New Moon, we too can be brave enough to step into the spotlight and claim a moment of fame!
Energies affecting this New Moon
Whilst this is certainly a brighter and happier New Moon, it is still a period in which communication can be challenged. The Sun, ruler of this New Moon, is at home in Leo, but has a hard aspect to rebellious Uranus, which may make us a little overzealous in our efforts to shine. We may be tempted to push the limits of self-expression a little far, bucking the system and forcing situations to accommodate our desire for total freedom. The advice here is to not kick back without awareness of who or what we are pushing against, as we may miss opportunities for assistance and judge friends as enemies.
Both the Moon and Venus are also involved in a hard aspect to Uranus, heightening the theme of personal freedom and to stand outside the norm – particularly in our personal relationships. If we can find ways to do this that don't upset all of our foundations, then we can embrace a brand-new way of being, and extend that to the external world – for example. Moving home or changing jobs out of the blue may be possible as we stretch our wings, but we have to be careful at not rushing into these changes or doing them foolishly just for the sake of independence. Some relationships can take strain as we try and break free, and we have to be careful of finding the balance between togetherness and freedom.
And finally, with Mercury in Retrograde, opposite intense Pluto, we have to be careful of allowing our ego or desire to win run the show. Being humble and reflective over this new Moon can help us to manifest more of the good stuff, and less of the bad!
How to make the Most of the New Moon for each Sign
Aries and Aries Rising
This New Moon is in a compatible fire sign, and in your love and romance zone, Aries! New beginnings can come in the form of love and togetherness, and those of you looking to start a creative project or have children can benefit from these warm energies. A word of caution is not to rush into anything!
Taurus and Taurus Rising
This can be a very impactful New Moon in your home zone, Taurus, and many of you may experience a sudden move of home, relocation or change in the family. This may come as shocking or unsettling, but the sooner you adapt, the easier it will be and you may even enjoy your newfound freedom!
Gemini and Gemini Rising
You're going to be more affected by Mercury Retrograde than this New Moon, Gemini. Be ultra-aware of the words you speak now, as they may have a powerful ripple effect and trigger quick changes that you won't be able to control. Think first, speak later is your best advice right now!
Cancer and Cancer Rising
This New Moon can offer you a surprising opportunity when it comes to your personal security. You may get a financial windfall, or may have to lay out a sum of money out of the blue. Make sure you have a bit set aside so that you are not caught unaware!
Leo and Leo Rising
This is a powerful New Moon in your sign, Leo, heralding a brand-new personal start, perhaps one that surprises everyone around you! It seems as if you wish to break free and stand out from the crowd, so go ahead – just make sure that you're doing it for the right reasons.
Virgo and Virgo Rising
This New Moon happens on the inside for you, Virgo, and can herald a new beginning when it comes to your internal sense of confidence. Planting seeds for inner growth, spiritual growth, can reap very positive rewards for you over the next couple of months.
Libra and Libra Rising
This New Moon offers you the opportunity to make some new friendships, and sow seeds for new goals or dreams you wish to accomplish over the next couple of months, Libra. Be careful not to completely throw your oldest and best loves friendships away, nor let go of your older, more long-term goals!
Scorpio and Scorpio Rising
This New Moon is a big one for you, Scorpio! Happening in your professional zone, you may find sudden events developing, which can push you into new directions. Embrace the change, yet be careful of being reckless and watch your words carefully, as they can have a long-lasting effect.
Sagittarius and Sagittarius Rising
You'll be happy to hear that this New Moon throws open the doors to adventure for you, Sagittarius! Occurring in your travel zone, you have the opportunity to expand your horizons, and this may include studying. Be careful not to be too impulsive and tread carefully before you rush in.
Capricorn and Capricorn Rising
This can be a New Moon to remember. Capricorn, and can herald a lot of personal change when it comes to your relationships. perhaps you get closer, or even take the next step in your romance and get more serious. Be mindful of moving too fast – there's no rush, to take it slow.
Aquarius and Aquarius Rising
This New Moon occurs directly in your relationship zone, Aquarius, and those of you who may be expecting a marriage proposal may just get one out of the blue, in the way that you least expect! Love is in the air, though there may be a little fear around commitment that you need to work through.
Pisces and Pisces Rising
New work can come your way over the next several months, Pisces, if you set out to make it so. In fact, you may impulsively leap into something new, which is not altogether a bad thing if you have been bored or restless recently. Just try and not unnecessarily disrupt things that can be preserved.
3 Tips for making the most of the New Moon in Leo
1. Be confident!
Leo is the sign of self-confidence, so make sure you go out there and step into the spotlight. Don't hide your light away on this New Moon – really allow yourself to shine.
2. Look before leaping
With so many links to rebellious Uranus, be sure to look before leaping – whilst it's wonderful to embrace new opportunities, try not to let your impulsiveness run away with you.
3. Express yourself
Express yourself in any area of life with this New Moon, whether it's your career, personal life or when it comes to your creativity! Embrace your unique individuality and inspire others through your confidence to be you!
See more:
Summary of the New Moon in Leo
Although this New Moon in Leo contains a few unexpected surprises, and may have us acting very impulsively indeed, it can be an exciting one, full of change and opportunity for personal freedom and unique self-expression. With Venus close by, relationships shift and change to allow room for greater personal growth though we have to be mindful that we don't push people away whom we really want to keep around! Good communication is key with a Retrograde Mercury opposite intense Pluto!
Summary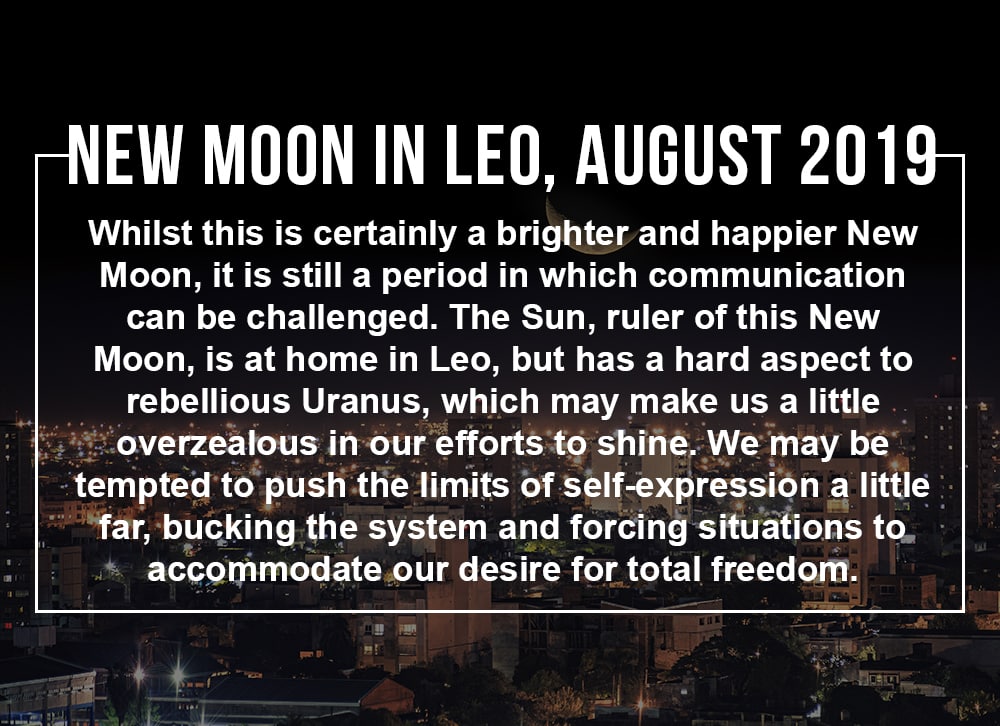 Article Name
How to Make the Most of the New Moon in Leo, August 2019
Description
The New Moon in Leo August 2019, can be an exciting one, full of change and opportunity for personal freedom and unique self-expression. Learn more!
Author
Publisher Name
Publisher Logo