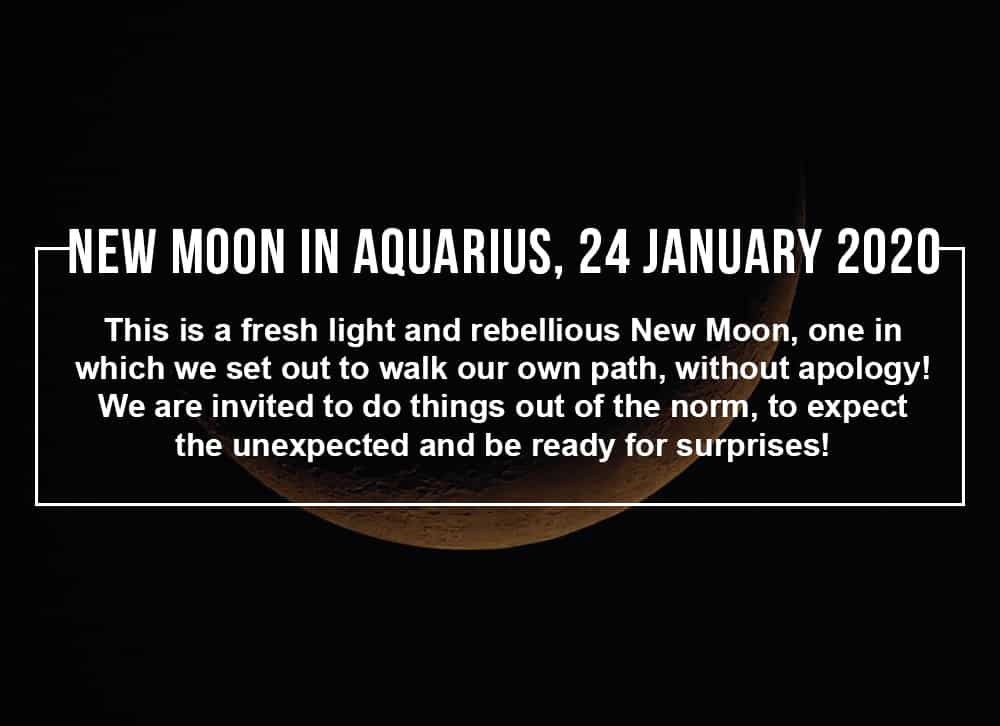 After what's been a truly wild ride this January, with an Eclipse as well as the Titans, Saturn and Pluto having joined up in formidable Capricorn, we are due a reprieve and a break! The New Moon in Aquarius on 24 January, 2020 offers just that, and is like a breath of fresh air, clearing out the cobwebs and complications of the last few weeks.
About the Aquarius New Moon
With the Sun and Moon in the rebellious, independent sign of Aquarius, we should be all feeling the need to break free and express ourselves more fully! Liberation is a keyword with this New Moon, so it's a wonderful time to cut ties from anything holding us back when it comes to being as authentic as possible.
New Moons are all about beginnings and sowing seeds, and the keywords for this Aquarius New Moon are: freedom, independence, friendship, ideals, hopes, dreams, wishes, originality and authenticity. Anything we start now in these areas will grow and bloom over the next several months.
Energies affecting this New Moon
The ruler of this New Moon is unpredictable Uranus, sitting in the sign of Taurus – this in itself promises a New Moon to remember! However, we can also see that the Aquarius New Moon has a square to this ruling planet, which is a double-dose of chaos!
Whatever intentions we plant now have the potential to grow, but in ways we would least expect. Prepare for surprises, and don't bank on anything turning out the way you thought it would. We could be subject to flashes of sudden insight, and it'll be important to pay close attention to what our intuition might be telling us!
Mercury, planet of communication is also close by, which allows for innovative thoughts and ideas to be brought to life, particularly when it comes to what we want for the future – this is a very progressive, forward thinking New Moon, so don't hesitate to put your wackiest ideas down for manifestation!
How to make the Most of the New Moon for each Sign
Aries and Aries Rising
This New Moon in Aquarius happens in your 11th house of hopes and wishes, Aries. What is it that you really, really want for yourself in the coming year? Find concrete ways to make those ideas a reality over the next several months.
Taurus and Taurus Rising
For Taurus, this New Moon is all about your vocation – your career, in the bigger sense of the word. This New Moon in Aquarius could see a positive unfolding when it comes to your profession – perhaps a promotion, new job or a different direction is taken!
Gemini and Gemini Rising
Education is on the cards for you, Gemini – you could find yourself going back to school, and some of you may take up a teaching or writing position with this New Moon. This is also an ideal time to make travel plans – try somewhere completely new over the next 6 months!
Cancer and Cancer Rising
The Aquarius New Moon offers change, Cancer – change that could come in the form of crisis initially, but will be transformative in the long run. It'll teach you how to let go and surrender, a valuable lesson indeed!
Leo and Leo Rising
A new, long-lasting relationship could appear in your life over the next while, Leo, or perhaps a deeper commitment in an existing one. Be sure to maintain your individuality and a sense of freedom, and make sure you are best friends as well as lovers. It's time to plan for the future together.
Virgo and Virgo Rising
This is a perfect time to embrace a new health regime, Virgo – in a way, it's like your own New year! Take this time to plan ahead and streamline your daily routine so that it includes friends and learning. You may be looking at a different direction at work in the near future.
Libra and Libra Rising
You could be connecting with some wonderful, new creative groups, Libra – and perhaps even falling in love with someone special! Your ideal "type" might be evolving into someone quite different from the norm – embrace it!
Scorpio and Scorpio Rising
If you're thinking about picking up and moving on, Scorpio, then go for it! The next few months could see a change of residence, as long as it sets you free to be able to do your own thing. Don't worry about what anything else thinks – follow your authenticity.
Sagittarius and Sagittarius Rising
Great ideas will be streaming in now, Sagittarius and it's a good time to jot these ideas down to make them a reality. Some of you may be embracing the teaching or blogging life, making use of technology to further your brand, and some of you may be travelling a little more to your favourite local hideouts.
Capricorn and Capricorn Rising
Plant intentions for financial freedom with this Aquarius New Moon, Capricorn! If you can think of some unusual ways to bring more income into your life, then go for it – don't worry about conforming, you could see your bank account grow nicely in the next few months.
Aquarius and Aquarius Rising
A New Moon in your sign is a New year for you, Aquarius! Along with your birthday month, this New Moon invites you to revamp yourself, your life and your environment. The next 6 months could see you re-orientate yourself in some big, new, self-expressive ways!
Pisces and Pisces Rising
This New Moon offers whispers of new beginnings when it comes to travel, spirituality and letting go of outworn patterns. It's time to set yourself free Pisces, mentally as well as in other ways. You may experience a deeper connection with Source over this New Moon.
5 Tips for making the most of the New Moon in Aquarius
1. Expect the Unexpected!
With a strong Uranus influence over this new Moon, it's important that you're ready for the unexpected to come into your life. What intentions you set, be sure to make room for surprises!
2. Form or join a like-minded community
A New Moon in Aquarius is all about the group, about a like-minded tribe of connection. Take this time to join a group that you have always had an interest in, whether it's a book club, meditation group, a yoga studio or a more athletic community.
3. Tap into your inner rebel
Aquarius is a sign that doesn't play nicely for anyone – they are expressive and rebellious. Why not allow your own, inner rebel to come out and play for a while – go out dancing, have some fun and break some rules – you know you want to!
4. Reconnect with friends
Life is busy, and we often neglect friendships for the sake of work, family or our partners, so make this time a time to connect with your people, and share memories together!
5. Join a Workshop or course
This is a sign that just loves to study – if Aquarius could study all the time, they would! This is an ideal time to buy a course, ideally one you can develop over the next
6 months or so. Online courses are totally an Aquarius thing, so don't be scared to try one out!
See more:
Summary of the New Moon in Aquarius
This is a fresh light and rebellious New Moon, one in which we set out to walk our own path, without apology! We are invited to do things out of the norm, to expect the unexpected and be ready for surprises!
It's a great time to plot out hopes for the next few months, and watch them come to life. It's also a perfect period to spend more time with friends, join a like-minded group or commence interesting new studies. This time is all about freedom and individuality, and making those keywords our guiding light will lead to interesting new developments in many areas of life!
Summary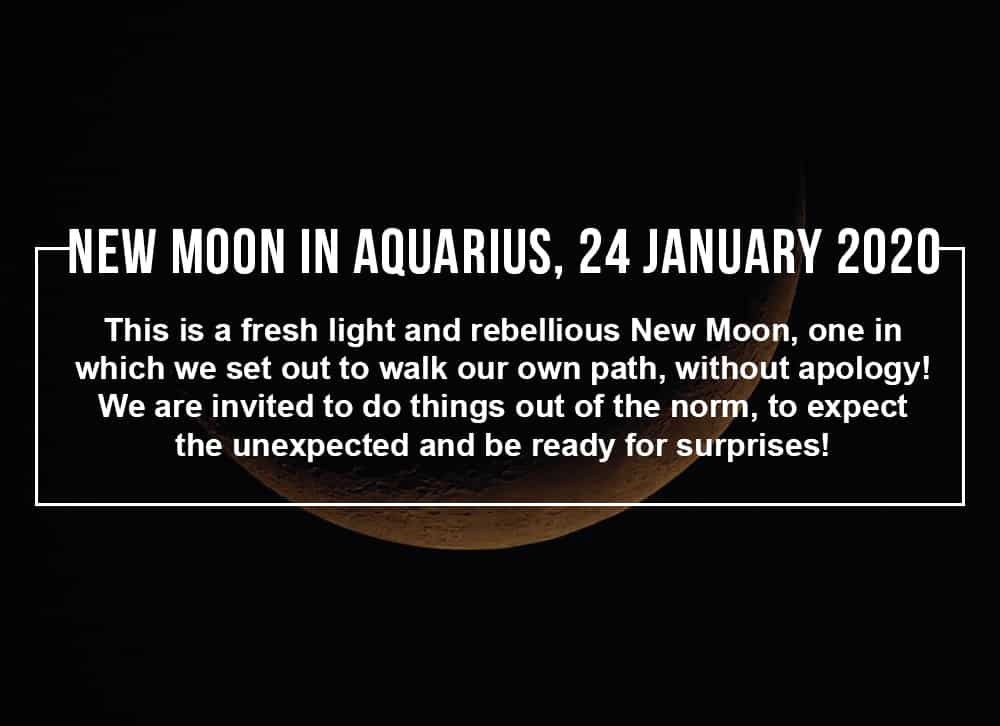 Article Name
How to Make the Most of the New Moon in Aquarius, 24 January 2020
Description
The New Moon in Aquarius on 24 January, 2020 is like a breath of fresh air, clearing out the cobwebs and complications of the last few weeks. Learn more!
Author
Publisher Name
Publisher Logo